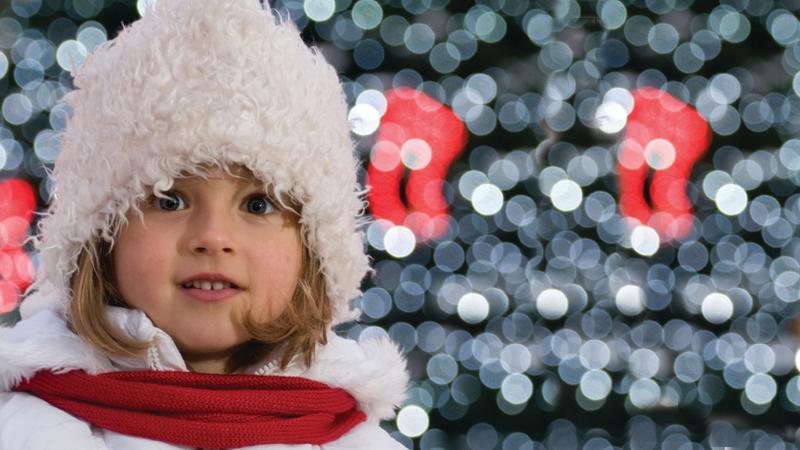 By Stephanie Fermin
We know it is hard to come to terms with, but the end of the year is near. Around here though, it's the start of one of our favorite times – the holidays!  And in the holiday spirit, we're sharing some favorite happenings to help end the year with a smile and a warm heart.
San Mateo County/Silicon Valley's special holiday traditions have something for everyone, many of which are FREE! Here is a list of 11 holiday happenings in our area that you will not want to miss!
1.) The Johnston House Foundation's Holiday Boutique | November 5-6 & 12-13, 10 a.m.-4 p.m.
Get into the spirit at the Holiday Boutique & Historic House Tour held at the one-of-a-kind Johnston House. Guests will delight in the rooms adorned with Christmas trees and holiday wreaths. Handcrafted items by more than 30 local and regional artists, gourmet treats and a selection of unusual gifts and holiday items are all available for sale.
2.) San Mateo on Ice: Outdoor Ice Rink | November 11 through January 16; hours vary.
Central Park in San Mateo will feature the Bay Area's largest outdoor ice skating rink, with 9000 square feet of real ice. Skaters of all ages are welcome to skate in the sunshine and under the stars. Stop by the rink on Friday, November 18 for the tree lighting ceremony!
3.) FILOLI Holiday Traditions | November 25 through December 3; hours and events vary.
Delight in shopping for special and unique gifts! Themed rooms that celebrate 100 years of holidays are decorated by talented volunteers and staff, and include specially selected merchandise for the event, authentic Filoli products, and creative one-of-a-kind items made by Filoli volunteers. Celebrate! 100 Years of Holidays with the Opening Night kick-off event on November 25, complete with yesteryear décor, appetizers, and champagne – black tie attire encouraged!
4.) Santa Claus Arrives by Helicopter | November 26, 9:30 a.m.-12 p.m.
Perfect for the whole family and free! Santa will arrive at the Hiller Aviation Museum by helicopter at 10:30 a.m. and will be available until 12 p.m. to listen to Christmas wishes. Enjoy Christmas Carols while you and the family get in the holiday spirit.
5.) Burlingame Holiday Tree Lighting | December 2, 5:00 p.m.
The traditional Burlingame tree lighting begins at 5 p.m., followed by a parade on Burlingame Avenue. Enjoy live entertainment, kiddie rides and a visit from Santa Claus himself.
6.) Redwood City Hometown Holidays | December 3, 10:00 a.m.
Join the party in downtown Redwood City to celebrate the holiday season. There will be a parade, entertainment, ice sculpture, and even snow! And a holiday celebration wouldn't be complete without a visit from Santa Claus.
7.) Rockaway Tree Lighting Festival | December 4, 4:00-7:00 p.m.
See Santa arrive on his fire truck at 5 p.m. and get your photo taken with him in his big Santa chair. Then, be ready at 6 p.m. for the Holiday Tree lighting in the Rockaway Beach Plaza.  There are plenty of activities for the kids -- free cable car rides, pony rides, snow flurries, and more. Enjoy the food truck offerings before you visit the local Rockaway Beach Merchant stores, which will have even more games, activities and treats in store.
8.) Palo Alto Tree Lighting Ceremony | December 4, 4:00-7:00 p.m.
Join the City of Palo Alto for their 5th Annual Tree Lighting Ceremony at Lytton Plaza (University at Emerson St). Bring the family and hear the bands and choirs perform, meet the secret faeries, and enjoy art activities. Plenty of hot drinks and treats will be available to keep you and the family toasty warm. The lighting of the 60 foot tree will take place at 6 p.m.
9.) CALTRAIN Holiday Train | December 3 & 4, times vary by station
The two-day Holiday Train event attracts thousands of families to watch the magical show train light up the community as it rolls through the Bay Area. The Holiday Train, decorated with glittering lights and holiday décor, stops at nine Caltrain stations from San Francisco to Santa Clara.  Santa Claus and Mrs. Claus, along with other holiday characters, ride the train to greet families at each station. 
10.) Brisbane Festival of Lights I December 4, 6:45 p.m.
The Festival of Lights is a celebration focusing on the holidays as a season of giving and enjoying the company of each other as a community.  The event begins with caroling downtown followed by the tree lighting and delicious treats for all! 
11.) Holiday Market at The Ritz-Carlton, Half Moon Bay | December 18, 12-5 p.m.
A visit to the Holiday Market is a must-do for last minute holiday shopping. The Ocean Lawn is transformed into a magical holiday shopping experience, with the oceanfront resort's 25-foot Christmas tree as the centerpiece.  The market features local food trucks, cocktails, and holiday music, complemented by a dozen booths showcasing wares from local Half Moon Bay shops and gourmet artisans. Supporting the resort's Community Footprints efforts, guests are invited to bring children's books or art supplies to be donated to Coastside Children's Program.