As many of you may already know, the fall season is arguably the best season to visit San Mateo County and Silicon Valley. From a sea of orange pumpkin patches and farms to delicious pumpkin-inspired menus, there are countless ways to experience autumn in the Best of the San Francisco Bay Area.

Although this has been an unprecedented year, our region has been resilient and has come together to make sure that you can still celebrate our favorite season and have the opportunity to indulge in all your favorite fall activities and pumpkin-flavored sweet treats. Whatever your interest is, here are six reasons to start planning your fall getaway!

1. PUMPKIN PATCHES & FARMS

Here is where the fun begins! Open from 9:00 AM - 5:00  PM, Farmer John's Pumpkin Farm is one of the most popular pumpkin farms in Half Moon Bay and offers more than 60 varieties of pumpkins and squash that are perfect for carving or cooking! Meanwhile, Lemos Farm specializes in family-friendly activities, which turns this farm into "Halloween Palooza" with a haunted house, Ghost Train, and tons of pumpkins from which to choose!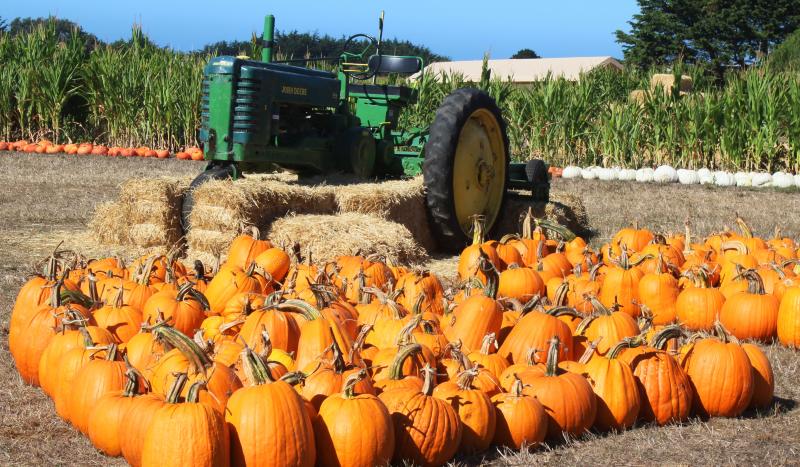 Farmer John's Pumpkin Farm
Want more options? Also located in Half Moon Bay, Arata's Pumpkin Farm is another great farm to visit this fall. Arata's allows you to lose yourself in their six-acre corn field and pumpkin river! Or plan a visit to Andreotti Family Farms. This family-owned farm produces almost every winter vegetable you can imagine and during the fall season, they offer a pumpkin patch and their sunflower field is turned into a fun corn maze! By the way, if you're brave enough, visitors can even go at night and experience the haunted corn maze in the dark!

2. FUN FAMILY ACTIVITIES THIS FALL

Looking for fun fall activities for the entire family? Well, you're in luck! Located in San Mateo, CuriOdyssey is hosting their special Autumn Nights this October! Every Friday and Saturday in October, this San Mateo museum offers an autumn-themed walk through the zoo. Costumes are encouraged for children, and face masks are required for all ages 5 and up.
Or plan a visit to the beautiful Filoli Mansion & Gardens! Located in Woodside, Filoli is offering a wide variety of events this fall including their Orchard Days every weekend in October from 10:00 AM - 5:00 PM. Every year, Filoli's fruit trees produce pears, apples, grapes, persimmons, and more! Additionally, by visiting on Orchard Days, you'll gain special access to the Gentleman's Orchard where hundreds of heritage fruit trees grow!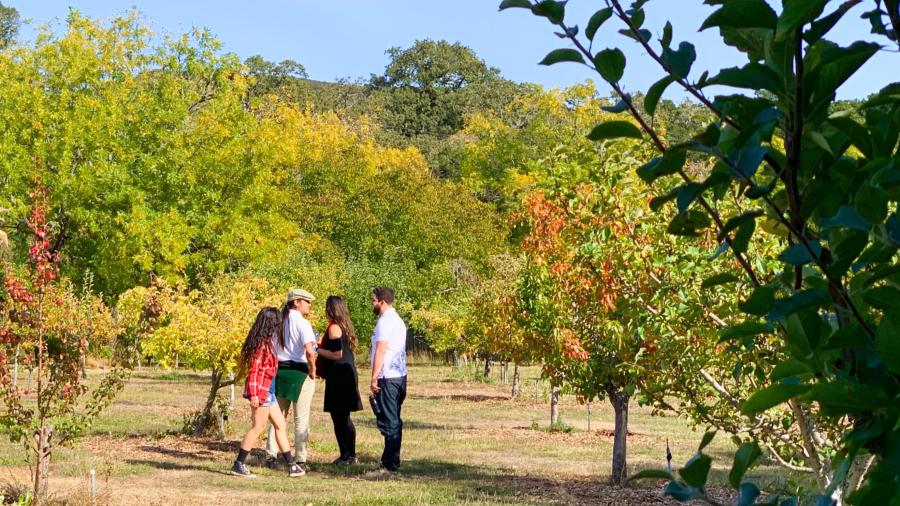 Orchard Days at Filoli
Now, if you're feeling adventurous, then you must plan a visit to Roaring Camp Railroads! Although they are located just outside San Mateo County in Felton, CA, they are worth the drive. Their Harvest Faire is taking place every weekend until November 1. Jump aboard and take the Redwood Forest Steam Train to Bear Mountain. Pick a pumpkin from the town's pumpkin patch, and have fun with COVID-safe children's heritage activities.

3. FALL-INSPIRED MENUS

The fall season also brings the harvest season and our restaurant partners are offering special menus featuring delicious fall dishes! Located in Palo Alto, the popular St. Michael's Alley is offering a seasonal fall menu that's available on their large patio or for take-out between 5:00 PM - 9:00 PM. Their menu features delicious items such as roasted heirloom carrots, seared sea scallops, short rib ravioli, pumpkin bread pudding, and more. Additionally, to-go wine bottles are 50% off!
Meanwhile, over in Half Moon Bay, the HMB Brewing Co. is offering their popular Pumpkin Harvest Ale. This full-bodied Amber Ale is made with locally grown sugar pie pumpkins roasted with a secret blend of spices, which result in a subtle pumpkin pie spice flavor balanced by a biscuit of maltiness. Their menu also offers seasonal favorites such as pumpkin soup, pumpkin cheesecake, and other specials made from local squashes. They are open for take-out and outdoor dining on their beautiful patio overlooking the Pacific!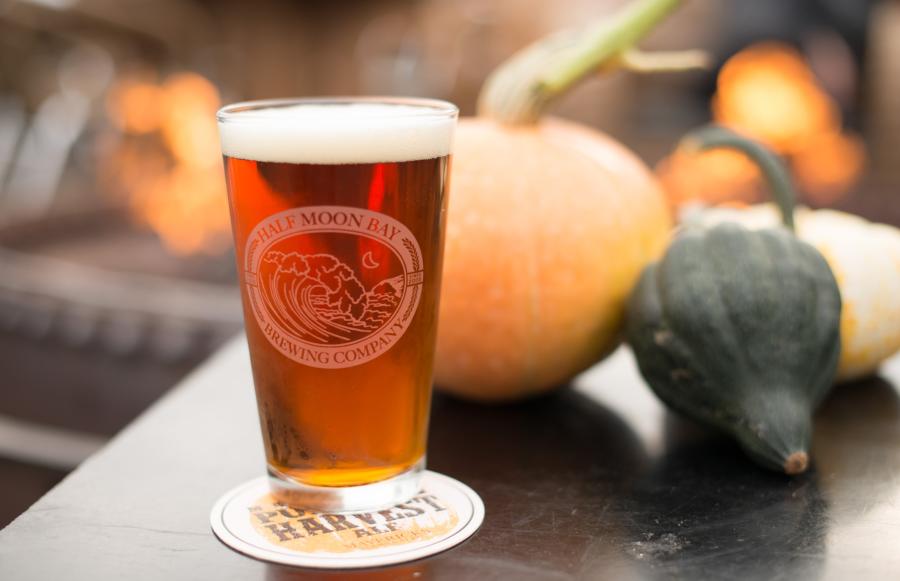 Pumpkin Harvest Ale at HMB Brewing Co.
Also located in Half Moon Bay, Sam's Chowder House is a seaside restaurant that is cooking up many seasonal dishes including their house-made pumpkin gnocchi with butter and sage, savory lobster bisque with red Kuri pumpkin, and yummy pumpkin ice cream. Pumpkin cocktails are available as well! Sam's is open for take-out and outdoor dining.
If cooking at home is your thing, Root Down Farms in Pescadero is offering some very special Fall & Winter Subscription boxes! Get a rotating selection of delicious, pasture-raised poultry or pork (or both) every two weeks. Home delivery is available to the Outer Sunset in San Francisco, while pick up is available at a central location in North Oakland and at each of their Farmers' Markets. This subscription runs every two weeks for seven weeks, from September 25 to December 21.
Any cheese lovers out there? Harley Farms in Pescadero is home to award-winning goat cheese! This fall season, Harley Farms is offering a seasonal Pumpkin-Spice Fromage Blanc, a slice of deliciously creamy cheese with a pumpkin flair. This is a must-have! They are open daily from 11:00 AM - 4:00 PM. Have a sweet tooth? You're in luck! You can now get a 4-pack of Caramel Caravan Co.'s limited release Candy Corn Caramels! Their classic caramel base is topped with candy corn for a fun, artisanal take on the quintessential Halloween treat. They use all-natural candy corn, which doesn't include any artificial flavors or colors. You may place your orders online.

4. HOTEL FALL SPECIALS

Looking for the perfect place to enjoy a fall getaway? We have it all here in San Mateo County! Located in Pescadero, Costanoa Lodge & Resort has some special offers and discounts for that perfect coastal getaway! Featuring the "Full Moon Special", guests can book a room during a full moon and receive 50% off your reservations. Accommodations are waning for these popular dates, so book now!
Or enjoy a mid-week retreat at the Oceano Hotel & Spa located at Pillar Point Harbor in Half Moon Bay! Book a stay from October 1 to October 31 and receive their fall promotion, including a 15% discount on the standard rate for Deluxe Ocean-View suites, with a minimum of 2-night stay on Sundays-Thursdays. To book your fall getaway, call Oceano at 650.726.5400 and mention the 'FALL20' promotion, or book online and use 'FALL20' when making your reservation.  
Next, we have the Beach House Hotel in Half Moon Bay. This coastside hotel has plenty of offers and discounts for visitors and locals alike! Their "Endless Summer" promo offers 10% off a stay of two nights or more and their "Hermosa Special" promo offers a second night complimentary if you stay in a Standard View Suite and pay $399 for the first night. Visit their website for more information on this promotion.
Over on the bayside, the Home2 Suites San Francisco Airport North in South San Francisco is offering a special discount for visitors and locals. Explore the Peninsula by booking a room at this gorgeous hotel right near the airport. For the discount, email or call Maricel Gobaleza at maricel.gobaleza@hilton.com or 650.410.5504 and mention "Winter Special".
 
5. WORLD CHAMPIONSHIP PUMPKIN WEIGH-OFF 

Although the 2020 Half Moon Bay Pumpkin Festival has been postponed until next year, the 47th Annual Safeway World Championship Pumpkin Weigh-Off is still happening! Pumpkin growers will gather for an opportunity to compete for the heaviest pumpkin at this annual event in the World Pumpkin Capital of Half Moon Bay.
This year, due to COVID-19, the weigh-off will be virtual and will be live-streamed on Facebook. The winner will take home a $7 per pound reward for their champion mega pumpkin and a special $30,000 grand prize will be awarded if a pumpkin breaks the world-record, which is currently 2,624 pounds (2016 weigh-off in Germany).
The 47th Annual Safeway World Championship Pumpkin Weigh-Off will take place on October 12 from 7-11 am.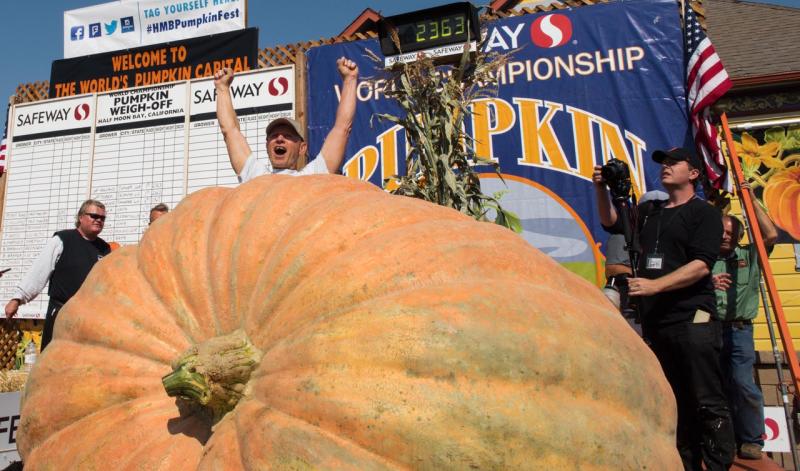 Annual Safeway World Championship Pumpkin Weigh-Off

6. VISIT A GLASS PUMPKIN PATCH

We're sure you know about pumpkin patches but have you heard about GLASS pumpkin patches? On October 10-11 from 10:00 AM - 5:00 PM, Half Moon Bay Art Glass will transform the grounds of La Nebbia Winery into a glistening glass pumpkin patch featuring the work of glassblower Douglass C. Brown. The event will feature hundreds of one-of-a-kind glass pumpkins available for purchase, each one personally handcrafted by Brown, who works year-round to create this spectacular display. La Nebbia Winery will be open for guests to partake in wine tasting and to purchase bottles of wine. Feeling crafty? Make your own Glass Pumpkin or one of 18 different other hot glass projects at Half Moon Bay Art Glass. Classes are on the weekends and sometimes Friday based on demand. Prices are as low as $40 and children 6 and above may make a holiday ball or a molded heart.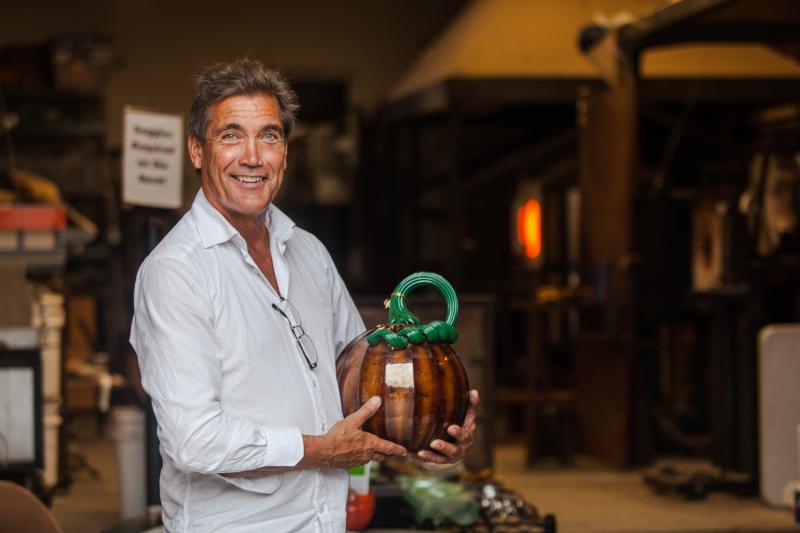 Douglass C. Brown, owner of HMB Art Glass

This blog was updated by Kristen Friis on 10/5/2020.
---
See all that San Mateo County/Silicon Valley has to offer! Download our visitor guide today and start planning your trip!