Fall is arguably the best season to visit San Mateo County/Silicon Valley. From a sea of orange pumpkin patches and farms to farm-to-table fare, there are countless ways to experience autumn in the Best of the San Francisco Bay Area. The fall season brings a great opportunity to indulge in all your favorite fall activities and pumpkin-flavored sweet treats. Whatever your interest is, here are six reasons to start planning your fall getaway!

1. Pumpkin Patches & Farms

Here is where the fun begins! Visit Farmer John's Pumpkin Farm to see how a local farmer grows 60 varieties of pumpkins and, of course, for a tractor ride, or browse the pumpkins, squash and mini hay bales at Cozzolino's Pumpkin Patch. Another option is Arata's Pumpkin Farm, which features a two-acre labyrinth hay maze and haunted barn, making it a great destination for children. The farm spans six acres and also features a petting zoo and children's train rides. Children also gravitate toward Lemos Farm's Pony Rides. The animals are gentle and parents can lead the ponies around the arena if they choose to.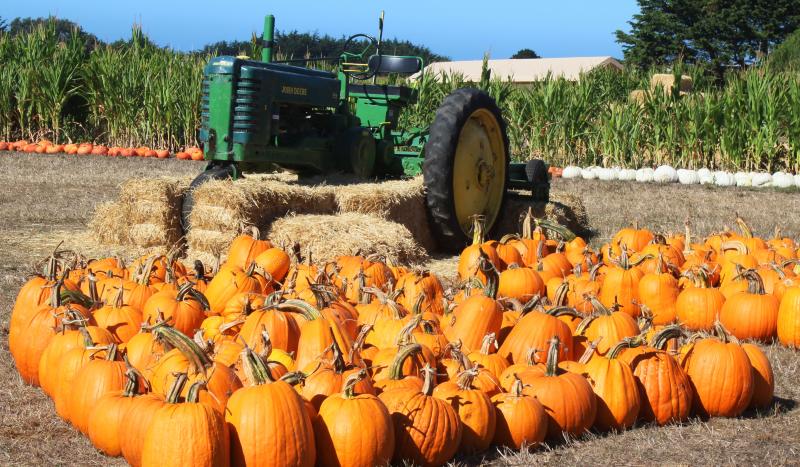 2. Pumpkin Festival in Half Moon Bay
 
The 49th Annual Half Moon Bay Art & Pumpkin Festival is back! This year, the dates are October 19-20; with events running from 9 a.m. to 5 p.m. Admission is free. There will be enormous pumpkins on display, live entertainment, carving stations, the Great Pumpkin Parade, a haunted house, plus several harvest-inspired crafts and plenty of food. Festival-goers may also watch Farmer Mike sculpt a 1,200-pound pumpkin into a work of art. When you get hungry, sample some sweet treats like pumpkin-flavored pancakes. Come a week early and attend the 46th Annual World Championship Pumpkin Weigh-Off on October 14th. Last year, Steve Daletas was crowned pumpkin king with a gorgeous and gargantuan 2,170-pound-mega-gourd!



3. Oktoberfest!
 
Who doesn't love Oktoberfest? We have the Peninsula Oktoberfest at the Hiller Aviation Museum on Saturday, October 12. The event will go from 6:00 – 11:00 p.m., and will feature great beer, music, plenty of sausages, bratwurst, sauerkraut and other fine fare. To close things out, the coast side joins in the fun with the Coastside Brew Fest in Half Moon Bay. The Brew Fest takes place on Saturday, October 26 at the Half Moon Bay Brewing Co. and will feature some of the best breweries from the Bay Area, food and more. The fun doesn't stop there, 37 North is putting on an Oktoberfest celebration at the DoubleTree by Hilton SFO on October 20th. Join for live music by Ron Borelli German Village Band in their outdoor courtyard and enjoy a delicious German-style menu! Receive 10% off when you come dressed in Oktoberfest attire; call 650-373-2237 to make reservations.
From a sea of orange pumpkin patches and farms to farm-to-table fare, there are countless ways to experience autumn in the Best of the San Francisco Bay Area.
4. Visit a Glass Pumpkin Patch or Make Your Own

Half Moon Bay Art Glass will transform the grounds of La Nebbia Winery into a glistening glass pumpkin patch featuring the work of glassblower Douglass C. Brown. The event will feature hundreds of one-of-a-kind glass pumpkins available for purchase, each one personally handcrafted by Brown, who works year-round to create this spectacular display. La Nebbia Winery will be open for guests to partake in wine tasting and to purchase bottles of wine, while bocce ball courts will offer fun for everyone. Feeling crafty? HMB Art Glass offers several classes year around. Classes start as low as $40 + tax for kids 6 years old and above.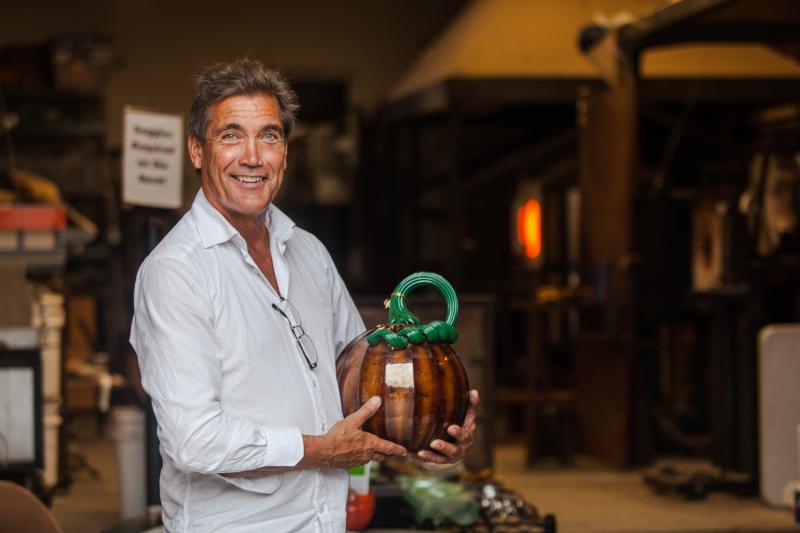 5. Fall-Inspired Menus

Have a sweet tooth? You're in luck! Caramel Caravan Co. has two special fall-inspired caramels for the season. Take a taste of their Pumpkin and Chai Spice Caramels to go perfectly with the fall weather! The Pumpkin Caramels are made with pumpkin purée and spiced with cinnamon. The Chai Spice Caramels are packed with a punch for a "fall kick"! Furthermore, this year's Annual Half Moon Bay Pumpkin Harvest Dinner also gives you an opportunity to celebrate fall with a four-course, farm-to-table dining experience featuring fresh local produce. This year's Harvest Dinner will take place on Wednesday, October 9th at the Mavericks Event Center and promises to be a magnificent event. Tickets are now available. 

6. Beer, Wine & Spirits!

Now, if you're looking for fall-inspired drinks, then we definitely have options for you! Moss Beach Distillery is known for its well-crafted cocktails but this fall, they are serving their widely popular Pumpkin Spice Martini, made with Half Moon Bay Distillery's, hand-crafted, Purissima vodka, pumpkin spice liqueur, and Irish cream, served up in a martini glass with a cinnamon-sugar rim. For the beer lovers, you may head to HMB Brewing Co. to taste their Pumpkin Harvest Ale! This full-bodied Amber Ale is made with locally grown sugar pie pumpkins roasted with a secret blend of spices, which result in a subtle pumpkin pie spice flavor balanced by a biscuit of maltiness.

Blog revised by the CVB from an article originally published by Megan Eileen McDonough.

See all that San Mateo County/Silicon Valley has to offer! Order a visitor guide today and start planning your trip!