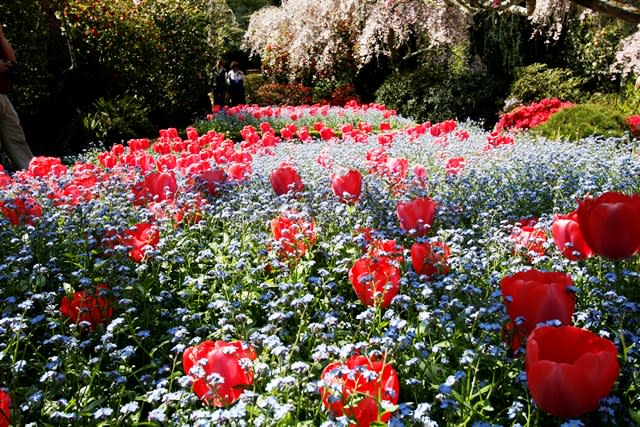 Gardens and Great Views in San Mateo County/Silicon Valley
By Megan Eileen McDonough
'Tis the season for flower frolics. San Mateo County/Silicon Valley is a picturesque destination any time of year, but the hills really come alive in the springtime. From the grand gardens of Filoli to the Japanese Tea Garden in Central Park, there is no shortage of colorful flowers to see and smell. Here's our ultimate guide to gardens and great views.
Events
With so many flowers in full bloom, spring fever is contagious. This year, the annual San Francisco Flower & Garden Show will be held March 16-20 at the San Mateo Event Center. Spanning more than five acres, this public exposition features designer showcase gardens, educational demonstrations on how to grow and prepare your food, and lots and lots of flowers. Feel free to simply stroll through the grounds or enjoy a free seminar. There's nothing wrong with getting your hands a little dirty.
Events roll into late spring and summer as well. In April, there's the annual Gamble Garden Spring Tour, which showcases Palo Alto's most decadent private gardens, and come summer, the San Mateo County Fair takes place. If last year's event is any indication, 2016 is already set up for success. Similar to previous years, there will be special exhibits aimed at unleashing your inner designer. That's right: You, too, can learn how to make floral arrangements and mini landscape creations. Get your green thumbs ready!
Walking Gardens
Filoli is arguably one the most picturesque attractions in all of San Mateo County/Silicon Valley. Included in this 654-acre estate are 16 acres of formal gardens and a 36,000-square-foot Georgian country house. As for the grounds, they are styled similarly to those of an English Renaissance garden and are extremely well maintained. As this is a historic site of the National Trust for Historic Preservation, guided tours are impressively in-depth. Plan extra time to walk at your leisure. At every angle, there's an Instagram-worthy shot.
Another historic property is the Elizabeth F. Gamble Garden, located in Palo Alto. While the grounds are certainly rich in both history and beauty, entrance is completely free. The annual spring tour (more on that later!) is always a hit, especially the display of private gardens. A community favorite, Gamble Garden dedicates its efforts to maintaining the house and gardens as well as being a tranquil oasis for visitors near and far. Finally, plan a visit to Central Park for an afternoon stroll through the vibrant Japanese Tea Garden. 
Nurseries
With an astounding assortment of fresh and local agriculture and food, San Mateo County/Silicon Valley is as fresh as it gets when it comes to nurseries and flowers, too. You might have never heard of Rocket Farms before, but it's actually the largest grower of indoor flowers in the county as well as one of the largest in the country. Thanks to the proximity to the Pacific Ocean and moderate year-round temperatures, it has really thrived over the years. On any given spring day, you'll see everything from orchids and calla lilies to poinsettias and roses. Make sure to check out the variety of herbs grown, too, like mint, basil, sage and rosemary.
The flower fun doesn't stop there! For something on a smaller scale, make a visit to Shelldance Orchid Gardens in Pacifica. The space feels extra cozy, probably due to the romantic white moth orchid candelabras that arch over the main path. Benches draped in Spanish moss allow guests to literally stop and smell the roses. After you've toured the grounds, don't forget to pop into the art gallery before you leave.
Heading to Half Moon Bay? Make a pit stop at the super-sustainable Ouroboros Farms along the way. They're very serious about sustainability and practice aquaponics, a farming method that uses 90% less water than traditional methods. The results are fresh and organic produce that minimally impact the environment. The best way to taste this produce is to place a direct order or swing by the area's farmers' markets.
Flowers in Bloom
Central Park is somewhat of a landmark in San Mateo County/Silicon Valley, especially in spring. The park is fairly spacious, with a large gazebo, tennis courts, a mini train for kids and a baseball field. To see flowers in bloom, though, head straight to the Japanese Tea Garden. Designed by landscape architect Nagao Sakurai of the Imperial Palace of Tokyo, it's easily one of California's most well-maintained gardens. If you're in town in late winter or early spring, you'll get the extra treat of seeing the colorful cherry blossoms hanging from the trees.
The Stanford Shopping Center in Palo Alto Alto is no ordinary mall. It's actually another great spot to see flowers in bloom all year long. The open-air complex features several beautifully maintained garden areas, sculptures and fountains, creating a truly unique and serene shopping experience.
Nicknamed after the Leland Stanford-owned horse farm on which it was built, the Stanford University campus, or "The Farm," showcases an outstanding assortment of blooms year-round. The university proudly maintains several themed gardens, including the Arizona (Cactus) Garden, the Citrus Courtyard and the stunning Oregon Courtyard, where soft white cherry blossoms peak in late March. Garden lovers can't miss the picture-perfect flowers of The Oval, a tear-dropped shaped lawn on Palm Drive, which features large raised beds of red and white begonias arranged around the iconic cardinal letter "S."
Restaurants With Gardens
The Fish Market in San Mateo has been a local favorite since opening in 1982. In addition to a full-service cocktail bar and plush lounge seating, it has an oyster bar that's almost always filled to the brim. Come spring, the best seat in the house is one on the outdoor patio. Vibrant flowers in bloom serve as quite the scenic backdrop. The Fish Market has several locations, but it all started in 1976 with the Palo Alto restaurant. To this day, it's one of the best places to go for the finest in fresh seafood.
Garden views don't end there! The Sea by Alexander's Steakhouse is the area's premier restaurant for seafood fare. Chef Yu Min focuses on blending contemporary cuisine with Japanese ingredients for a truly transformative dining experience. Another local chef working to innovate the local food scene is Kim Levin of Pasta Moon. They've been committed to producing Italian-style, farm-to-table fare for 25 years, and their menus get more creative every year. So, if you're in the mood for a glass of red wine and a bowl of pasta, this is your go-to spot. For fine dining and live entertainment, book a table at Angelicas. In addition to flavorful food, there's live music, shows and other nightly events.
When in San Mateo, B Street Station is a must. They have a "secret garden" outdoor patio with a veranda, waterfall grotto, herb garden and even heat lamps for those rare chilly nights. Order one of their classic cocktails or chow down on their bar food. The outdoor courtyard sits up to 50 people, making this a smart choice for birthdays and corporate events. Plus, weather in San Mateo is pleasant on most days, so the odds of good weather are in your favor.
See all that San Mateo County/Silicon Valley has to offer and plan your trip now.