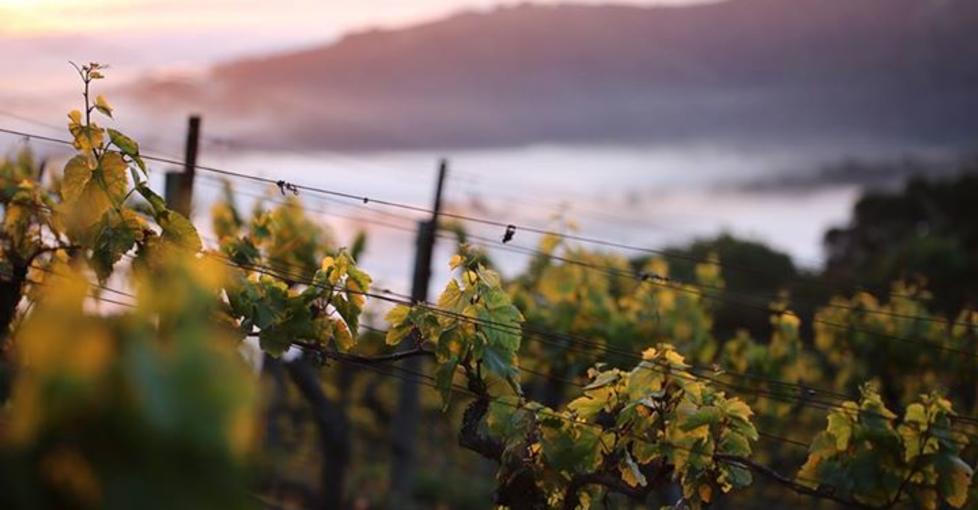 As some may know, September is California Wine Month! All month long, the entire state celebrates the annual harvest season with special events, wine tastings, classes and more. One may immediately think "Wine Country", but San Mateo County/Silicon Valley is home to numerous, award-wining wineries. Therefore, in honor of California Wine Month, we'd like to take the opportunity to let you know a little more about our local wineries and inspire you to come for a wine-filled visit!

Barterra Winery
Where: Half Moon Bay, CA
This small winery offers a range of fine wines from California's top vineyards. Barterra Winery was founded in 2005, but its roots go back to 1901 when Bart Colucci's grandfather left his native Italy to seek a better life for his family in America. Bart inherited his grandfather's name 'Bartholomew Colucci' and his passion for good wine. Bart has a nose (and palate) for exceptional wines, and he personally curates Barterra's selection of unique, premium wines from California. Visiting Barterra Winery is truly like taking a tour through wine country, where you're likely to find Bart and Mary Colucci behind the counter, ready to pour. The tasting room is open Thursday through Monday from 12:30-5:30pm, so make sure to plan a stop when visiting Half Moon Bay.

Cuvée Wine Cellars
Where: San Carlos, CA
The story of this winery began with a passionate, home-winemaker's intent on producing quality wines. After a run of successes in amateur-winemaking contests across California, owner Paul Rogerville decided to tackle the daunting task of becoming a bonded winery. Cuvée Wine Cellars' location on the central Peninsula does not permit growing their own grapes, but it does allow premier access to some of the most outstanding vineyards in Northern California. Its wines have won numerous awards, such as its 2012 Sonoma County Cabernet Sauvignon, Nun's Canyon, which won a gold medal at the 2017 Orange County Fair Wine Competition. Cuvée's tasting room is open to the public every first and third Saturday of the month, where you can meet Paul and purchase some of his wonderful wine.

Domenico Winery
Where: San Carlos, CA
Family-owned, Domenico Winery is another boutique winery located in San Carlos. Specializing in Cal-Italia varietals, Domenico has been making award-winning wine for over 20 years. Their vineyard is located in the Sierra Foothills in Amador County, California, where their two estate wines, Syrah & Primitivo, are grown. Additionally, owner Dominick Chirichillo is a member of the Santa Cruz Mountains Winegrowers Association, where he sources Chardonnay and Pinot Noir grapes. As of 2016, the wines of Domenico have won 350 Medals for wines produced from these various regions! The tasting room is open every Saturday and Sunday from 11:00-5:00pm and features live music every third Sunday of the month, so plan ahead!
One may immediately think "Wine Country", but San Mateo County/Silicon Valley is home to numerous, award-wining wineries.
Flying Suitcase Wines
Where: San Carlos, CA
Continuing the trend, this San Carlos winery was born simply from a passion for drinking wine. The Flying Suitcase Wines story begins in 2007 when winemaker Anders Vinther and his wife Vikki moved from Denmark to California with their three-month old son, Kristoffer. A former quality executive at a local biotech firm, Anders had a background in biochemistry and a passion for good wines. Several trips to Wine Country inspired him to experiment with a colleague and fellow winemaker. The result? Its first release, a 2012 Sauvignon Blanc from Lodi, which would launch Flying Suitcase Wines. The winery is open every weekend for wine-tasting in their family-friendly Tasting Room. Kids are welcome, as they have a great indoor play area to keep them occupied while you sip!

La Nebbia Winery
Where: Half Moon Bay, CA
This winery is located in Half Moon Bay and specializes in offering the entire California wine experience, all in one place. La Nebbia Winery features a quaint and old-world tasting room, gardens, picnic areas throughout the property, and two bocce ball courts. During California Wine Month, the winery will be offering Sangria Sundays and Mimosa Mondays ($8/glass) from 12:00-5:00 pm, in addition to their regularly offered Barrel to Bottle events.

Russian Ridge Winery
Where: San Carlos, CA
A small, family-owned winery in San Carlos, Russian Ridge Winery sources all of its fruit from single vineyards - from their Paso Robles Petit Sarah to their Berry Lane Chardonnay and Lower Chiles Valley Pinot Grigio - from Napa Valley. Russian Ridge's red wines feature dark colors and rich fruit, while their whites feature a balance and refreshing tropical fruits. Taste some of their award-winning wines every Friday-Sunday. Furthermore, Russian Ridge will be present at the 2nd Annual Horsepower Car Show on Saturday, September 8th, so make sure to keep an eye out for them.

San Francisco Wine School
Where: South San Francisco, CA
Although this is technically not a "winery", we had to mention them because there is just SO much to learn here! Founded by Master Sommelier David Glancy, the San Francisco Wine School is the largest wine school in the country offering the most thorough approach to wine study. Thus, during California Wine Month, the Wine School is hosting a number of fun events to celebrate our home state and its world-class juice. Start from the beginning with Intro to California Wines on Sept. 11; join Tilar Mazzeo, author of "The Widow Clicquot" in celebrating  200 years of Veuve Clicquot on Sept. 20 and, finally, get to know California's 138 AVAs like never before with their one-of-a-kind California Wine Appellation Specialist® program, which will run from Sept  18 - Nov 13.

Sante Arcangeli Family Wines
Where: Pescadero, CA
This winery is located in the small coastal town of Pescadero. The winery focuses on Pinot Noir and Chardonnay, with the majority coming from the Corralitos region of the Santa Cruz Mountains. Sante Arcangeli Family Wines grow their own fruit and also purchase fruit from select coastal mountain vineyards in cool sites - with an eye on creating nuanced, approachable and ethereal wines. Although, the winery is mainly focused on harvest activities during the month of September, one may still visit its tasting room Friday-Sunday from 12:00-5:00pm.

Thomas Fogarty Winery
Where: Woodside, CA
At Thomas Fogarty Winery, you will see five different vineyards used to make its appellation blends and Single Vineyard bottlings. The winery's farming practices reflect their respect for the land, by respecting and working with the soils' natural microbiological systems. The Tasting Room is open weekly (except for Tuesdays) where you will be able to experience their small production, high-end wines, many of which are not available anywhere else. In addition, the winery also offers a new 60-minute vineyard tour, where you will experience a guided tasting of five of its estate wines. Through this experience, you will also witness a true study in terroir and how the "sense of place" makes all the difference in the world to your wine experience!
 
Photo above courtesy of Thomas Fogarty Winery.
 
See what else is happening in San Mateo County/Silicon Valley! Check out our digital Visitors Guide or order a printed version today, and start planning your trip!