The holidays can be stressful, especially when it comes to shopping and picking out the best gifts for your loved ones. Luckily, San Mateo County/Silicon Valley has plenty of places to find the perfect holiday gift, and their holiday décor and activities make shopping more enjoyable! Learn about our shopping centers below and the fun holiday events they have to offer.

HILLSDALE SHOPPING CENTER
Located in San Mateo, Hillsdale Shopping Center offers over 100 stores and restaurants to fit any holiday shopping needs. The shopping center includes a balanced blend of luxury and lifestyle stores with plenty of diversity to fit any price range. In between shopping, enjoy a mix of casual and fine dining locations and check out the newly opened and remodeled dining terrace.
Also newly opened, just in time for the holidays, is Hillsdale's new outdoor plaza which currently features a giant lighted holiday tree. Each Friday evening between November 22 and December 6th there will be a "'Nights of Lights Holiday Spectacular" with a synchronized holiday tree and fountain light show in the plaza. Click here to learn more about the events at Nights of Lights.

STANFORD SHOPPING CENTER
At Stanford Shopping Center, enjoy an open-air shopping experience with over 140 specialty stores ranging from luxury to local. Located adjacent to Stanford University, the shopping center is decorated with beautiful sculptures and flowers to make it a truly enjoyable outdoor experience. Stanford Shopping Center also offers a diverse mix of restaurants and cafes to match anyone's cravings.
The shopping center is already decorated for the holidays and even has their annual photos with Santa set up!

SPORTS BASEMENT - REDWOOD CITY
Shopping for someone who is all about sports? Look no further – Sports Basement in Redwood City has all the goods to fit anyone's sporty needs. Sports Basement has you covered for snow sports, biking, baseball, football, soccer, and more! They even sell camping and travel items. Find the best athletic brands and deals.
Sports Basement is doing different sales specifically for the holidays, so be sure to check out their website to find the best deal!


 
San Mateo County/Silicon Valley has plenty of places to find the perfect holiday gift, and their holiday décor and activities make shopping more enjoyable!
SERRAMONTE SHOPPING CENTER

Serramonte Shopping Center in Daly City, right off Highway 280, is an indoor mall with over 130 stores and restaurants to fit any shopping need. Serramonte has a food court with a diverse range of cuisines and snacks so you may take a pause while shopping and recharge.
Serramonte has many fun holiday activities planned, including holiday giveaways, challenges, and photos with Santa! Click here to look at their holiday events.
 
PIER 39
In the heart of the San Francisco waterfront lays PIER 39, an outdoor, two-level dining, entertainment, shopping, and attraction destination. Known for being the home to the world-famous sea lions, PIER 39 is also home to over 50 shops and 14 full-service restaurants.
For the holidays, PIER 39 is hosting "Happier Holidays", with a nightly tree lighting of its 60-foot tree. Enjoy a light show synchronized to holiday music every half hour from 5:00 – 10:00 PM, November 26th – January 5th.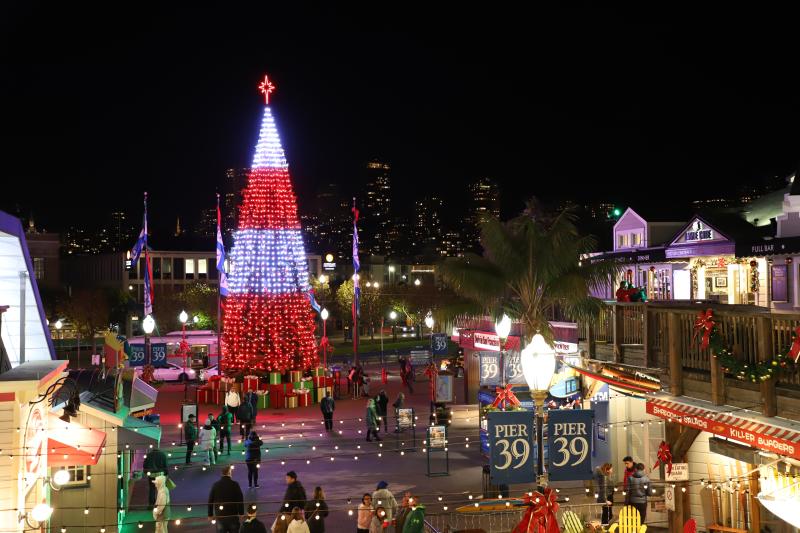 Shopping for someone with a sweet tooth? Check out a few of our sweetest partners for a treat!

CARAMEL CARAVAN CO.
Caramel Caravan Co. out of Redwood City offers homemade delicious, creamy caramels that make the perfect present during the holidays. Not only do they offer holiday gift sets, but they've made special peppermint and pumpkin caramels only offered during the holiday season.

SEE'S CANDIES
See's Candies in South San Francisco has been making quality chocolate and candies for over 95 years – so you could say they know what they're doing. Made with the finest and freshest ingredients, See's Candies are a classic holiday gift perfect for any chocolate lover. See's offers a host of holiday-themed gift sets and special flavors to get you in the holiday spirit.

SWEET55
SWEET55 Swiss Chocolates & Confections in Half Moon Bay works with the world's most sustainable Swiss vendors to make the best, purest chocolates you can find. Check out their newly redesigned website to order their beautifully made and decorated chocolates and truffles. This gift will surely "WOW" your loved ones.

See all that San Mateo County/Silicon Valley has to offer! Order a visitor guide today and start planning your trip!