The holidays can be stressful, especially when it comes to shopping during a pandemic - let alone trying to pick out the best gifts for your loved ones. Luckily, many shopping centers in San Mateo County and Silicon Valley have reopened and offer you the opportunity to find the perfect holiday gift!
Not just that but these shopping centers also feature fun holiday décor and activities that will make your shopping experience even more enjoyable! Learn about the shopping malls in San Mateo County and Silicon Valley below and all the fun and safe holiday seasonal events they are offering this year!

HILLSDALE SHOPPING CENTER

Located in San Mateo, the Hillsdale Shopping Center offers over 100 stores and restaurants to fit any holiday shopping needs. The shopping center includes a balanced blend of luxury and lifestyle stores with plenty of diversity to fit any price range. In between shopping, enjoy a mix of casual and fine dining locations (offering safe and warm outdoor dining options, like Pinstripes).

Be sure to visit the new outdoor plaza at Hillsdale Shopping Center, which currently features a giant lighted Christmas tree. Each Friday evening starting on November 20 there will be a "Nights of Lights Holiday Spectacular" with a synchronized holiday tree and fountain light show in the plaza. This year, they are even offering the show virtually so you can watch from the safety of your own home!

Looking to socially-distance with Santa? The Hillsdale Shopping Center is offering safe visits with Santa Claus this year, virtually brought to your home. Santa will be able to listen to those all-important wish lists and interact with children online as if they were propped up on his knee.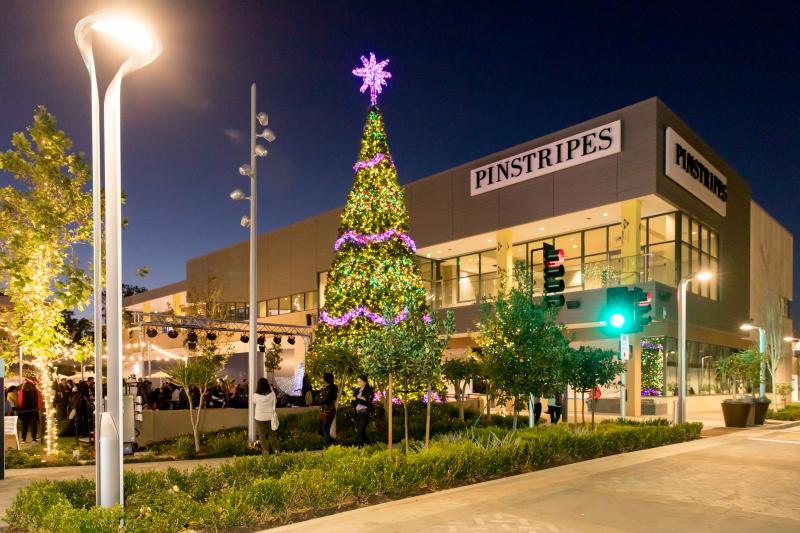 STANFORD SHOPPING CENTER

Hanging out in Silicon Valley? We highly recommend visiting the Stanford Shopping Center this year since it's an open-air shopping experience, and they sure know how to spread the festive cheer! With over 140 specialty stores ranging from luxury to local and located adjacent to Stanford University, the shopping center is decorated with beautiful sculptures and flowers to make it a truly enjoyable outdoor experience. Stanford Shopping Center also offers a diverse mix of restaurants and cafes to match anyone's cravings. The shopping center is always decorated for the holidays and with their ever-changing flower garden, you are sure to fall deep into the holiday spirit! By the way, be sure to check out their holiday deals page before heading out, you may find some awesome savings.

To provide their customers with a myriad of shopping options this holiday season, Stanford Shopping Center will also be providing dedicated parking spaces for Curbside Delivery and for Express Pickup Parking.

Santa is also planning to visit Stanford Shopping Center this year! The popular Santa Photo Experience gets a magical makeover with a new setup sensitive to social distancing protocol. It may be different from the last time you visited, but it is sure to create holiday magic for the whole family! Things to Know Before You Go: A reservation is required, for everyone's safety this will be a socially-distanced experience, Santa and his helpers will be wearing masks throughout the duration of your visit. Make your Santa Photo Reservation today.
TOWN & COUNTRY VILLAGE

Another excellent upscale open-air shopping experience is at the Town & Country Village located in Palo Alto. With over 70+ unique stores, restaurants and services, you will find something different at every storefront! Parking is easy and convenient, and you'll love strolling their walkways and gardens while you shop. Visit their website for a complete list of their seasonal events and promotions.

SERRAMONTE SHOPPING CENTER

Located in Daly City, right off Highway 280, Serramonte Shopping Center is an indoor mall with over 130 stores and restaurants to fit any shopping need. They are so excited to welcome back shoppers for the holiday season with their recent reopening. To keep visitors safe, their entry doors have one-way enter/exit signage to adhere to social distance guidelines. Face masks are required at entry, and hand sanitizer is provided at all entrances. Seats and tables in the food court are now open at very limited capacity. However, they have provided an outdoor seating area right outside of the food court for your convenience. By the way, Santa Claus returns to Serramonte Shopping Center starting on November 27, so make sure to make your reservations soon!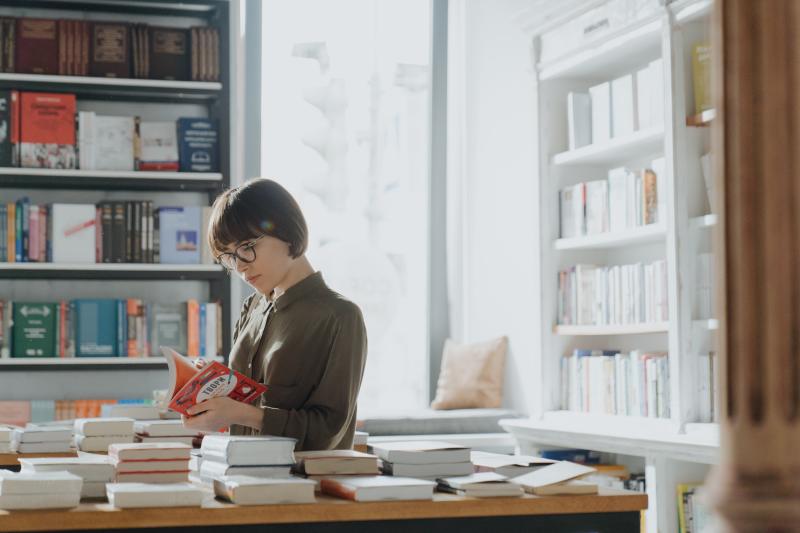 THE SHOPS AT TANFORAN

We also wanted to mention that The Shops at Tanforan located in San Bruno are ready to welcome visitors this holiday shopping season too! We know this year has been unprecedented and everyone is looking for a little more magic in their lives and a visit with Santa is an experience you'll never forget! So, bring your family and friends for professional Photos with Santa and a chance for children to share their holiday wishes. The visit with Santa this year will create memories for years to come.

PIER 39

Located in the heart of the San Francisco waterfront lays PIER 39! This outdoor, two-level dining, entertainment, shopping, and attraction destination is known for being the home to the world-famous sea lions. But, additionally, PIER 39 is also home to 14 full-service restaurants and to over 50 shops where you can find that perfect Christmas gift. The PIER is also taking every precaution to keep visitors safe with hand sanitizer located throughout the area and sectioned off entry and exit points to control the number of visitors for social distanced shopping and fun.
 

HOLIDAY EVENTS
The holidays in San Mateo County come alive with tree lightings, festive downtown holiday street fairs, shopping specials, and Christmas events. If you are looking for a festive holiday event, you will find it here.
SHOPPING FOR SOMEONE WITH A SWEET TOOTH? WE HAVE YOU COVERED!

CARAMEL CARAVAN CO.

Caramel Caravan Co. offers homemade delicious, creamy caramels that make the perfect present during the holidays. Not only do they offer holiday gift sets, but they've made special peppermint and pumpkin caramels only offered during the holiday season. If you have a foodie lover that you are shopping for be sure to check out their Bay Area Foodie Gift Box set or consider a 3 or 6 month caramel subscription box which also makes for a thoughtful holiday gift.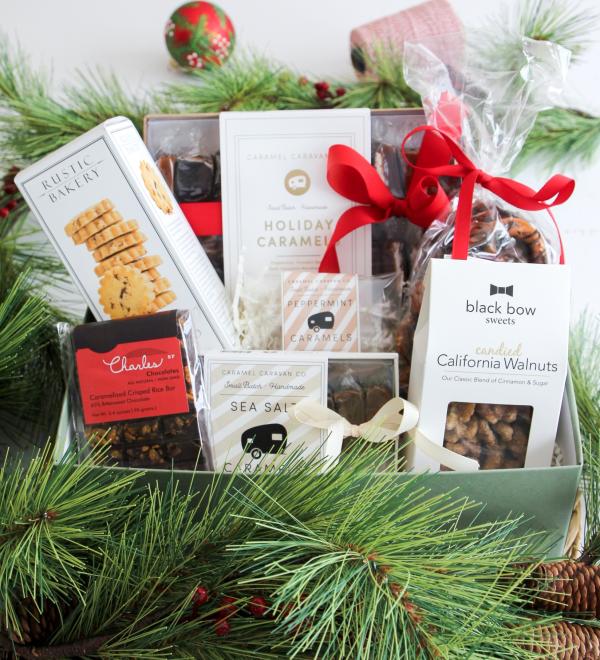 SWEET55

SWEET55 Swiss Chocolates & Confections in Half Moon Bay works with the world's most sustainable Swiss vendors to make the best, purest chocolates you can find. Their custom Advent Calendar is one of a kind! It features 25 reusable fabric gift bags filled with SWEET55 confections: mini chocolate bars, caramelized chocolate almonds, mini branchli, fruit jellies and much more. Open gift number 1 on December first and then enjoy a sweet surprise each day until Christmas Day. You may also add a Special Message to your gift - in this case we mean that quite literally. Choose what you want to say and SWEET55 will spell it out in one of their seasonal chocolate messages: Happy Holidays and Thank You. This gift will surely "WOW" your loved ones.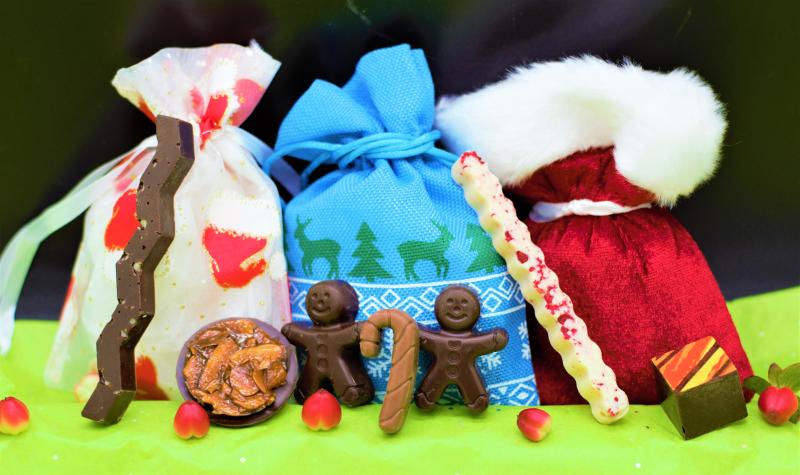 GOURMET HAUS STAUDT

If you are looking for a unique, one-of-a-kind holiday shopping experience be sure to visit Gourmet Haus Staudt located in downtown Redwood City. They not only go all out with festive holiday décor, but they have chocolate Santas, Marzipan, Stollen, Advent calendars, festive beers and so much more to make anyone's spirits bright! While shopping you can also stop into their garden beer Stube and have a pretzel and liter before stuffing those stockings.

SEE'S CANDIES

See's Candies in South San Francisco has been making quality chocolate and candies for over 95 years – so you could say they know what they're doing. Made with the finest and freshest ingredients, See's Candies are a classic holiday gift perfect for any chocolate lover. See's offers a host of holiday-themed gift sets and special flavors to get you in the holiday spirit.
---

See all that San Mateo County/Silicon Valley has to offer! Order a visitor guide today and start planning your trip!