An affordable, accessible and family-friendly Northern California really can be for an easy weekend or day getaway that makes even grandma and grandpa happy.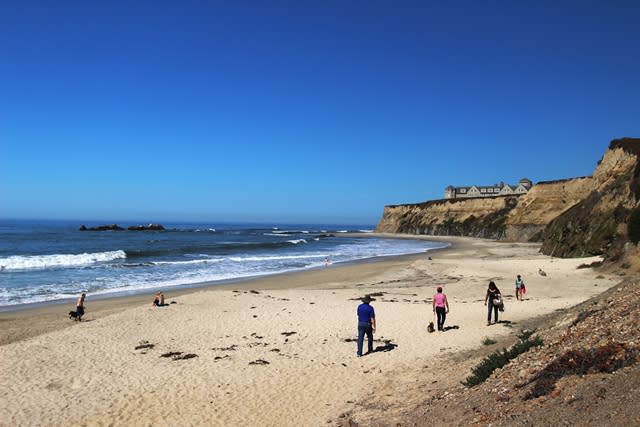 Multi-Generational Family Vacation Guide to San Mateo County/Silicon Valley
By Joe Kukura
Everyone knows that Northern California is one of the greatest vacation spots on earth. But not everyone knows just how affordable, accessible and family-friendly Northern California really can be for an easy weekend or day getaway that makes even grandma and grandpa happy. All the best of what Northern California has to offer can be found in San Mateo County/Silicon Valley, San Francisco's neighbor to the south that features fun, sun, plenty of spectacular coastline and a long list of both natural and man-made attractions that will delight family members of every age.
Getting to San Mateo County/Silicon Valley for a weekend or day trip is easy. Finding things to do in San Mateo County/Silicon Valley is even easier, with beaches, parks, museums, shopping and outdoor recreation that would be the envy of any region. There's something for everyone in the family in San Mateo County/Silicon Valley, a safe and friendly low-cost alternative to the big California cities.
San Mateo County happens to be the actual home of San Francisco International Airport (located in Millbrae, California), but there are plenty of other ways to get around the area. Clean and modern public transit systems like the Caltrain commuter rail line allow travelers to hop from Silicon Valley to San Francisco, with stops at numerous, thriving downtowns in between. The Bay Area Rapid Transit (BART) heavy rail and subway system connects San Mateo County to San Francisco and the greater Bay Area.
For some uniquely Californian transit options, any generation will love getting around on the San Francisco Bay Ferry, which provides calming and scenic boat rides from San Mateo County to San Francisco or Oakland, with snack and beverage service available on the boat. To really enjoy the great California outdoors, Bay Area Bike Share is the largest bike-sharing system on the West Coast and lets you pedal around the San Francisco Peninsula in style, with very affordable 24-hour or three-day passes.
The built-in scenic beauty of San Mateo County/Silicon Valley provides a fantastic backdrop for an endless range of outdoor activities. If you're on the bike share, the gorgeous Bay Trail is a bike-friendly route covering 500 miles, nine counties and seven major bridges. Or, hit the waters of the Pacific Ocean, San Francisco Bay or California lagoons with a rental or lesson from California Canoe & Kayak. For a more placid paddle, the Foster City lagoons afford paddle boating or stand-up paddle boarding in the warm California sun. The family will also enjoy a stunning array of starfish, anemone and other marine life at the Fitzgerald Marine Reserve at Moss Beach, or stroll the stunning coastlines of the beaches of Half Moon Bay or Pescadero State Beach.
For a more elevated experience with the California coast, climb atop the Devil's Slide Coastal Trail, which has hiking trails ranging from pleasant strolls to challenging nature hikes. The panoramic views of the Pacific Ocean and the Bay on the Sweeney Ridge Trail have been popular for hundreds of years, including the Portola Discovery Site, which marks the European discovery of the area in 1769. Or, for an indoor "natural high," Sky High Sports in Burlingame has a wide range of bouncy, gravity-defying trampolines and "airobic" activities that will surely be the high point of your kids' California weekend or day trip.  Thrill seekers of all ages can let the good times roll, splash and spin at the amusement park wonderland of California Great America in nearby Santa Clara—located right across from the San Francisco 49ers' Levi's Stadium.
In addition to the great outdoors, San Mateo County/Silicon Valley has some great indoor activities with can't-miss museums and attractions. Filoli is a majestic early twentieth-century country house surrounded by picturesque formal gardens. With many educational opportunities including in-depth tours and classes, visitors can explore this California State Historic Landmark while expanding their horizons. San Mateo's CuriOdyssey is an exotic indoor zoo with detailed naturalistic habitats and inspiring scientific exhibits. Google's home town of Mountain View is also home to the Computer History Museum, a fascinating gallery of exhibits for anyone interested in high-tech. The Cantor Arts Museum at Stanford University has renowned collections of original works by Jackson Pollock, Mark Rothko, Rodin and others. The Hiller Aviation Museum in San Carlos features everything from vintage aircrafts to the new, cutting-edge Drone Plex.  
When the sun goes down, the lights come up at the Magic Lantern 3D Light Show, a dynamite, large-scale 3D video mapping show projected onto a large building at Courthouse Square in Redwood City. It's part of the Redwood City Events series, a year-long calendar of concerts, festivals, outdoor movie screenings and more. The building walls that serve as the screen for the Magic Lantern 3D Light Show is the San Mateo County History Museum, and it looks pretty darned good in the daytime, too. This architecturally magnificent structure houses a series of interactive and fun exhibits highlighting the history of San Mateo County/Silicon Valley from the Native American era to today. And no California day or weekend is complete without a trip to San Francisco's PIER 39, home to seals, seagulls, ships and the celebrated, delicious Dungeness crab and Boudin's chowder bread bowls.
No matter the timing of your weekend or day visit, you'll always find great events in San Mateo County/Silicon Valley. Of particular note, Half Moon Bay's Pacific Coast Dream Machines Show combines all the qualities of an air show, a car show, a motorcycle show and a Maker Faire. The original Maker Faire is also held annually in San Mateo. Pescadero's legendary luxury spa and resort Costanoa hosts fantastic nature events and barbecues where the whales, birds and wildlife are the stars of the show. San Mateo County/Silicon Valley is always a quick trip to a San Francisco Giants game or Stanford University basketball or football game, featuring the always-entertaining Stanford marching band.
It's easy to plan a family weekend getaway when you have all the fun and affordable options of San Mateo County/Silicon Valley. With numerous transportation options, a variety of family-friendly hotels to choose from, some of the world's greatest scenery and an always-awesome calendar of events, San Mateo County/Silicon Valley is the natural choice for nature lovers and city slickers alike. Plan your next family day or weekend getaway in San Mateo County/Silicon Valley, and you'll see why it's the crown jewel of the Golden State.
See all that San Mateo County/Silicon Valley has to offer and plan your trip now.