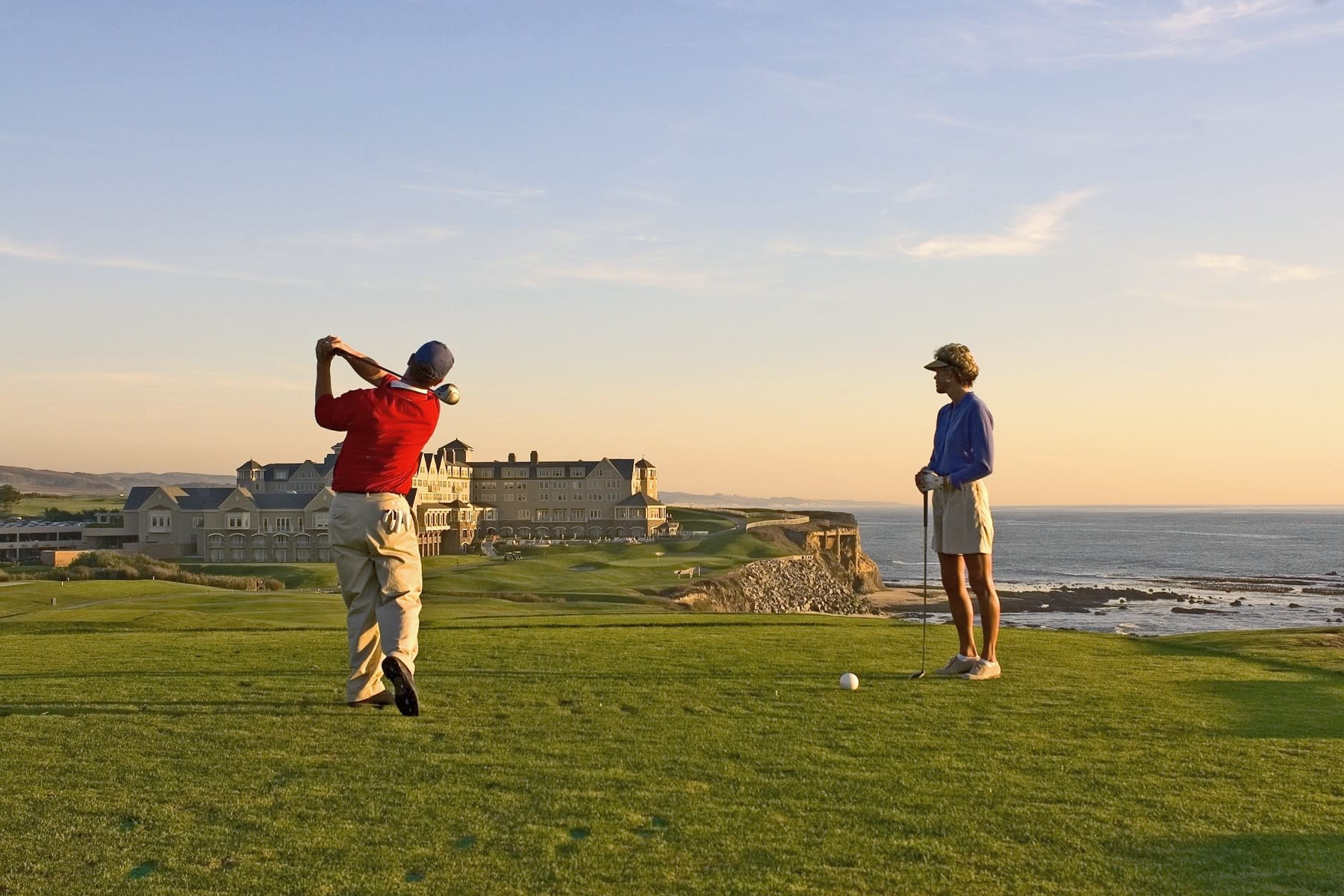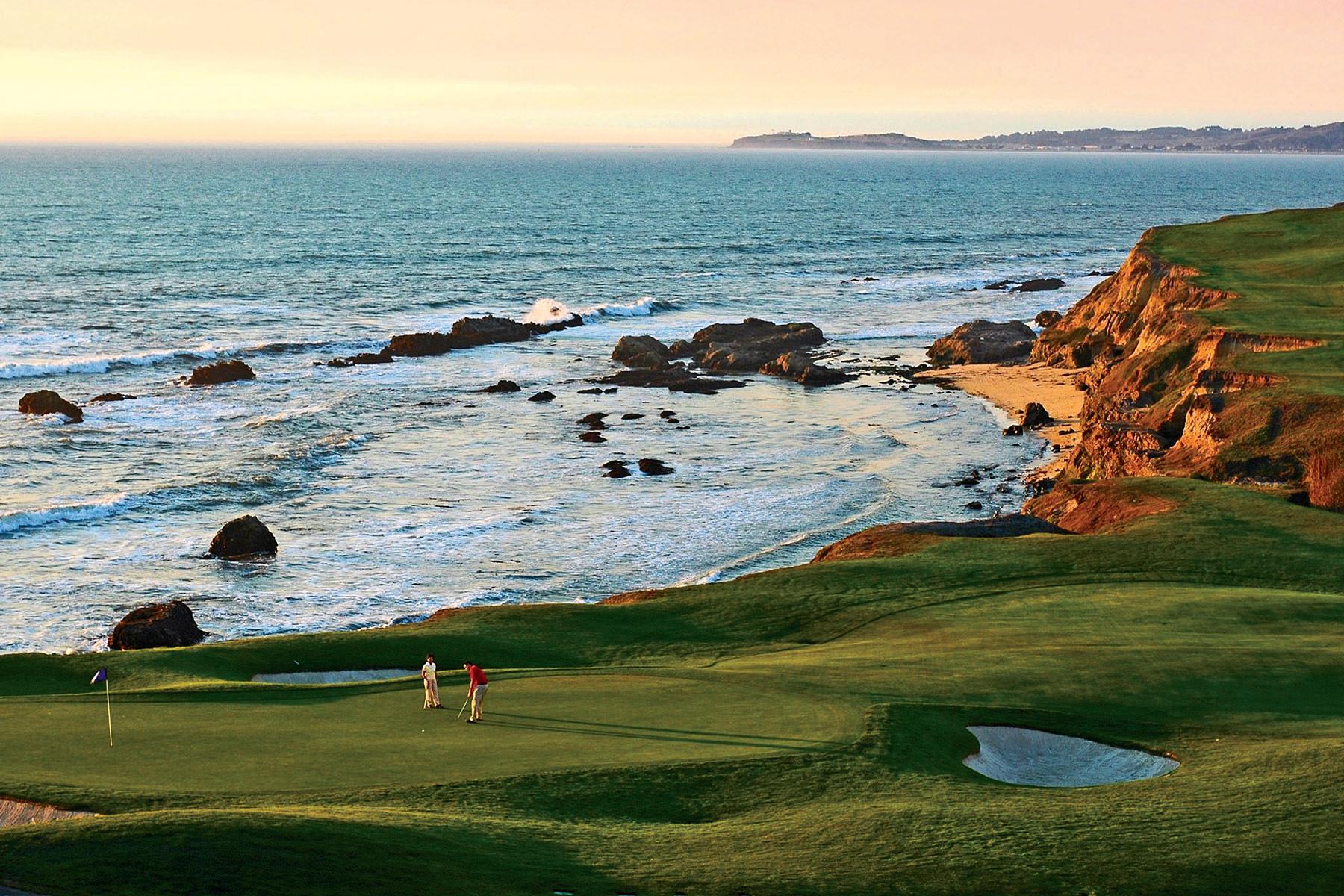 By Joe Kukura
Ask any golfer where to find the best golf courses in the United States, and he'll always say you'll find them in California. But some of the best-known California golf courses have exorbitant green fees, and often require a multiple-day stay at their resort to get a tee time. This is not the case in San Mateo County/Silicon Valley, home to some of the finest coastline golf courses along the Pacific Ocean. These are golf courses with world-famous names, but with public and semi-private booking options. They're all a short drive from San Francisco and they all come with unforgettable, spectacular views of the Pacific Ocean coastline or the San Francisco Bay.
The golf courses of San Mateo County/Silicon Valley are well known and have prestigious reputations, and some even have PGA Tour dates scheduled on their greens. Whether you're swinging for a daytime golf outing or a full golf weekend, there are terrific golf courses in San Mateo County/Silicon Valley that you'll find well above par.
Half Moon Bay Golf Links
One of the most iconic images in American golf culture is that of a beautiful fairway overlooking the Pacific Ocean coastline, with waves crashing up against the shore. Half Moon Bay Golf Links is an elite course offering plenty of these beautiful Pacific panoramas, with the magnificent European-style castle of The Ritz-Carlton, Half Moon Bay as an added backdrop. Often ranked as one of the most scenic golf courses in America, Half Moon Bay Links really has two of the most scenic golf courses in America. With two separate 18-hole courses known as the Old Course and the Ocean Course, which offers views of the Pacific at each hole, Half Moon Bay Golf Links makes for a full weekend of golf with surroundings you will never forget.
TPC Harding Park
One of the most prestigious golf courses in California is also one of its most affordable. TPC Harding Park is the only city-owned public golf course in America that's managed by the PGA Tour. Indeed, the course hosted the 2009 Presidents Cup and is scheduled to host the 2020 PGA Championship—in what will be the first PGA Championship played in the western US in more than 20 years.
And while the course's pedigree is incomparable, it is once again the scenery that makes TPC Harding Park so exceptional. You won't realize that you are actually within the city limits of San Francisco, with lakes, ponds, and cypress and eucalyptus trees that give this course more the feel of Monterey. Located within a mile of San Mateo County/Silicon Valley, TPC Harding Park has both 18-hole and nine-hole courses that give you a chance to play the very same links that have been golfed by Rory, Tiger, Phil and other pros.
Lake Merced Golf Club
Located just minutes south of TPC Harding Park in Daly City, Lake Merced Golf Club offers golfers another gorgeous and challenging 18-hole course. The beautifully manicured, tree-lined course has played host to many amateur and professional competitions in its 84 years, including the Swinging Skirts LPGA Classic.
Now in its third year of existence, the Swinging Skirts LPGA Classic at Lake Merced Golf Club is much more than a competition among the top female players in the world; it is also a celebration of art and culture. Taiwanese artist Hung Yi provides a number of large and colorful pieces for display around the course during the competition, adding to an already memorable and picturesque environment.
Poplar Creek Golf Course
There is no bad time of year to play at the Poplar Creek Golf Course, a San Mateo course nestled right next to the San Francisco Bay at the Coyote Point Recreation Area. Though located right within the city of San Mateo and just a mile south of San Francisco International Airport, Poplar Creek has a wonderfully idyllic feel. Lakes, ponds, waterfalls and immaculately maintained greens help keep Poplar Creek very popular, with roughly 70,000 rounds played annually to make this one of the most frequently played courses in Northern California.
Golf Packages With Overnight Stays
When you want to make a golf weekend out of your San Mateo County/Silicon Valley stay, there are a number of overnight lodging deals for golfing at Half Moon Bay Golf Links. With a Ritz-Carlton right next to the course, it's no surprise the Ritz offers Stay-n-Play packages that also include complimentary massages and Champagne. If you're traveling with a pet, the Half Moon Bay Lodge also offers a luxury overnight golf package at its location right next to the golf course. Just up the road at the Beach House Hotel, visitors can enjoy spectacular views of the Pacific Ocean in close proximity to Half Moon Bay Golf Links. Also nearby, at Pillar Point Harbor, site of the famed Mavericks surfing competition, the Oceano Hotel & Spa, with its stunning harbor views, offers package deals combining Half Moon Bay Golf Links play with an overnight stay.
The views are spectacular and the golf courses are legendary in San Mateo County/Silicon Valley, an area that should be on every golfer's must-see list. Make plans to tee up in San Mateo County/Silicon Valley, where the renowned golf courses, breathtaking scenery, luxury accommodations and California sun combine to win a grand slam.
See all that San Mateo County/Silicon Valley has to offer and plan your trip now