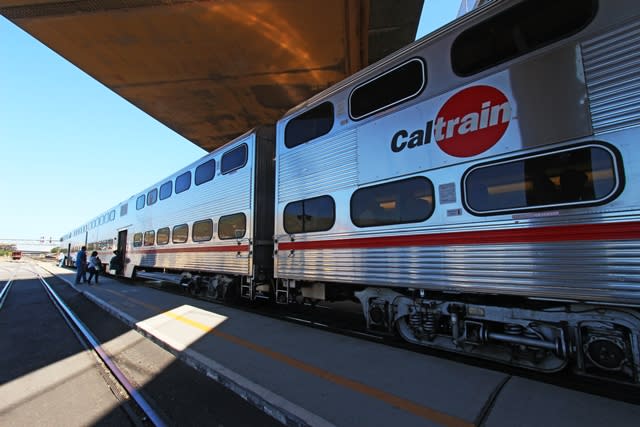 San Mateo County/Silicon Valley Hotspots Along the Caltrain Route
By Joe Kukura
The 58,000 people who ride San Mateo County/Silicon Valley's Caltrain every day can't be wrong—the Caltrain commuter rail line is a fantastic and smart way to get around San Mateo County/Silicon Valley. Tens of thousands of Northern Californians hop on the Caltrain each day for a fantastically comfortable and affordable transit experience. The seats are plush and cozy, and some have tables or electrical outlets to charge up your device. And the majestic scenery you'll watch pass by just can't be beat.
But Caltrain isn't just a great way for San Mateo County/Silicon Valley commuters to get to work; it's also a great way to get to play. Whether you want dining, shopping or entertainment, you'll find it all conveniently located on the right side of the tracks in San Mateo County/Silicon Valley.
The attractions located conveniently right by Caltrain stations read like a who's who of Bay Area locales. Let's start at the southern end of San Mateo County/Silicon Valley and work our way north with a list of can't-miss attractions you can easily ride to on the Caltrain.
California Avenue Station
The Fish Market Restaurant - A favorite all over California for nearly 30 years, the Palo Alto Fish Market Restaurant was the very first location of the award-winning fine-dining franchise that now spans all the way to San Diego. With an adjacent fresh fish market that lets you take some seafood goodies home, the Fish Market in Palo Alto is just five blocks from the California Avenue Caltrain station.
Palo Alto Station
Cantor Arts Center at Stanford University - One of California's premier art museums since its opening in 1894, the Cantor Arts Center at Stanford University features traveling and permanent exhibits from many of the world's most renowned artists.
Stanford Shopping Center - Fountains, gardens and beautiful California palm trees adorn both the indoor and outdoor strolling areas of the vanguard Stanford Shopping Center.
University Avenue - Just as Stanford University is a preeminent university, Palo Alto's University Avenue is a preeminent college-town collection of restaurants, cafes and shops. Many of them are located right near the Caltrain station.
Redwood City Station
Redwood City Courthouse Square - Redwood City is one town where going to the courthouse is a lot of fun, as the Redwood City Courthouse keeps a regular schedule of festivals and fairs.
Fox Theatre - Nationally known musical acts and Tony-winning musicals routinely grace the stage at the Fox Theatre in Redwood City, an authentic living tribute to the Roaring '20s.
Club Fox - Right next to the Fox Theater, Club Fox is a more intimate but still quite classy setting for live jazz, blues and salsa.
Angelica's Bistro - Fine dining, a bar and live entertainment make Angelica's Bistro an all-in-one hotspot with a beer garden and an impressive calendar of live events.
Dragon Theatre - There's always a great play "on Broadway" in Redwood City, as the Dragon Theatre on Broadway Street brings great works of theater to the stage.
San Mateo County History Museum - The unbelievable sight of the San Mateo County History Museum building and rotunda is matched by its fascinating collection within, a fun and interactive history of the San Mateo County/Silicon Valley area going back to its earliest roots.
San Carlos Station
Downtown San Carlos - The quaint and charming San Carlos offers shops, urban wineries and Devil's Canyon Brewing Co. microbrewery in the downtown area of the "City of Good Living."
Hillsdale Station
Hillsdale Shopping Center - More than 130 stores and restaurants dot the impressive Hillsdale Shopping Center, right across the street from the Hillsdale Caltrain station.
Hayward Park Station
San Mateo County Event Center - The "unconventional convention center," the San Mateo County Event Center is the 48-acre original home of the popular Maker Faire plus numerous other art shows, consumer trade shows and fun annual events.
The Swingin' Door -  Have a drink at the gastropub The Swingin' Door and enjoy dueling pianos, karaoke, trivia nights and live, local music.
San Mateo Station
Downtown San Mateo - Downtown San Mateo offers many terrific shopping and dining options right as you step off the Caltrain, plus lots of downtown art, Central Park with its Japanese Tea Garden and annual events like the Wine Walk and the Bacon & Brew Festival.
Burlingame Avenue Station
Downtown Burlingame - There's a wealth of options in downtown Burlingame to eat and shop your California days away, including the renowned Straits Singaporean restaurant, the incredibly popular Pizzeria Delfina and the olive oil sampler's paradise of Del'Oliva.
Millbrae Station
Downtown Millbrae - The hub of Bay Area transportation, the Millbrae station connects Caltrain with the San Francisco International Airport, the BART for travel around the Bay Area and a fantastic collection of restaurants and shops.
South San Francisco Station
Downtown South San Francisco - Step right off at South San Francisco for the restaurants or to enjoy the panoramic view from the nearly 100-foot-tall Wind Harp, one of the largest aeolian harps in the world.
San Francisco Station
Downtown San Francisco - The end of the Caltrain line is the beginning of a great time in downtown San Francisco. The San Francisco Caltrain station is right next door to the San Francisco Giants' AT&T Park, just a few blocks from the cable cars and the ferry to Alcatraz and a gateway to world-class cuisine and entertainment.
Enjoy everything the San Francisco Peninsula has to offer with a comfy and affordable Caltrain ride. Caltrain is the easy, smart and savvy way to travel the bay and enjoy the great weather and fabulous attractions of San Mateo County/Silicon Valley.

See all that San Mateo County/Silicon Valley has to offer and plan your trip now.