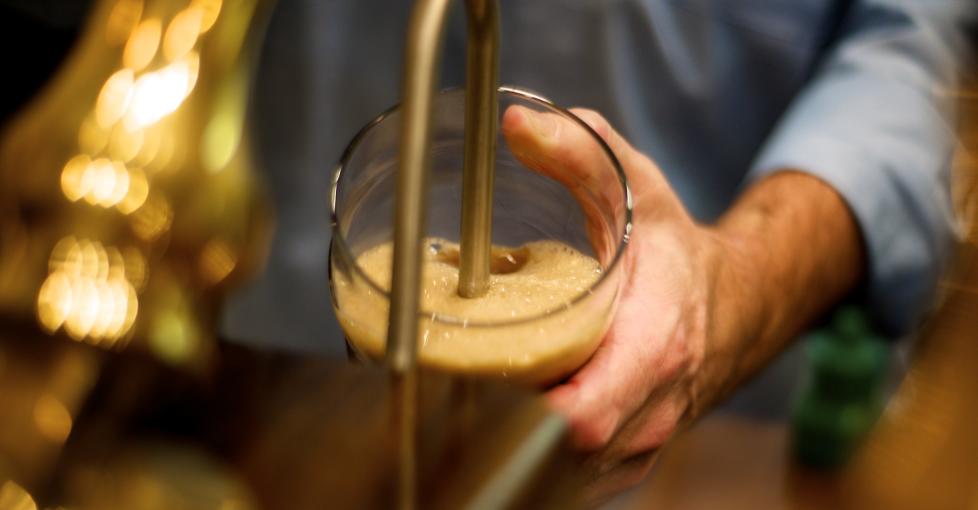 The SF Beer Week is celebrating its 10th Annual Anniversary and the San Mateo County/Silicon Valley area is joining in the fun! For those that may not be aware, SF Beer Week is a collection of events spanning multiple days, celebrating craft beer and the craft beer community. This year, Beer Week will take place from February 9 -18, and it is loaded with special events, fun times and, of course, great beer. Breweries, venues and distributors from across the entire San Francisco Bay Area are participating, so we've listed some top events featuring some of our local partners to help you better plan your celebration!




SF Beer Week Opening Gala
Location: Pier 35, San Francisco
The grand celebration kicks off on Friday, February 9th with the SF Beer Week Opening Gala at Pier 35 in San Francisco. The gala is the largest gathering of the Northern California craft beer community and it's the start of the nine-day craft beer festivities. This year's gala will feature 120 Northern California breweries and will include some of our local favorites such as Armstrong Brewing Co., Half Moon Bay Brewing Co., Freewheel Brewing Co., Hop Dogma Brewing Co., Sacrilege Brewery, Highway 1 Brewing, among others! Tickets are still available but are sure to sell out - so make sure to purchase yours now.
 
Armstrong Brewing Company
Location: South San Francisco, CA
Northern San Mateo County is also joining in the fun and Armstrong Brewing Co. is leading the way! Located in the heart of downtown South San Francisco, Armstrong has lots of fun events planned for SF Beer Week that are sure to keep you busy. Some of the events include a Beer, Patrami & Music Rooftop Party (at Waystone SF) on February 10th, a Special Porter Beer Release Party on February 13th, and a "Tap Takeover" by Portland's own Deschutes Brewery on February 16th. More events are being added so make sure to visit Armstrong's website often to find out the latest updates. Therefore, if you happen to be in "South City" that week, make sure to come by Armstrong Brewing Co. - we highly recommend their Nitro Coffee Stout!
 
Devil's Canyon Brewing Company
Location: San Carlos, CA
The Devil's Canyon Brewing Co. has a couple of annual events planned for SF Beer Week that you have to check out! The first event is the 5th Annual West Coast Craft Can Invitational that will take place on Saturday, February 10th. This Craft Can Invitational brings the best West Coast breweries together to show off their finest canned brews. Awards will be given at the end of the day, so arrive ready to judge and cast your vote. There will also be live music, entertainment and food trucks in the Beer Garden. The second event is the 9th Annual Women Only Beer Tasting & Appreciation that will take place on Sunday, February 11th. The event aims to celebrate women and beer, so plan a visit and enjoy sampling beers in a casual setting among other like-minded women and embrace the joy that is craft beer. Some light tasting snacks will be provided, but you're free to bring your own food. Just keep in mind that both of these events are very popular, so make sure to buy your tickets as soon as possible!
 
Half Moon Bay Brewing Company
Location: Half Moon Bay, CA
If you're looking for a coastside brewery, then Half Moon Bay Brewing Co. is the perfect place for you! In honor of SF beer Week, the brewery will be introducing their new tap system with a total of 12 taps, along with a few other special releases such as the Bat Flip Triple IPA (10.3% ABV 120+ IBU's) and the Swing for the Fences Double IPA (8.0% ABV 90 IBU's). We also recommend the Barrel Aged Imperial Stout which features chewy malt sweetness with suggestions of dark fruit and flavors.  Oh, and in case you can't make it to Half Moon Bay during SF Beer Week, you'll also have the opportunity to try the brewery's taps at other locations such as at Taplands in Santa Clara on February 12th, at Hopwater Distribution in San Francisco on February 13th, or at TAP'T Beer & Kitchen in Sunnyvale on February 14th. 
 
Freewheel Brewing Company
Location: Redwood City
If you happen to be in Redwood City during SF Beer Week, then you have to visit Freewheel Brewing Co. The brewery has lots of events planned for this week, most notably their 5th Annual Firkin Friends Fest on February 15th, where they invite some of their local brewery friends to take over their Beer Engines for one-night only. This is a mini Cask Ale festival with some of the Bay's best breweries such as Alpha Acid Brewing Co., Hop Dogma Brewing Co., Armstrong Brewing Co., among others. Freewheel is also hosting Beer Week Trivia Night on February 12th and their 3rd Annual Battle of the Brew Clubs on February 18th - both events promise to be great fun! In addition, in case you can't make to the brewery, Freewheel will also be releasing their new Chestnut Brown Ale on February 13th at Hops & Hominy in San Francisco and will also be part of the 9th Annual Meet the Brewers Beer Festival on February 17th at Hermitage Brewing Co. in San Jose. 
 
Barrelhouse
Location: Burlingame, CA
Next we have a friendly contemporary bar that's conveniently located in Downtown Burlingame and offers a great selection of beer, wine, spirits and craft cocktails. However, during SF Beer Week, Barrelhouse it's all about the brews! In order to join in the celebration, Barrelhouse will host a Tap Take Over with San Francisco's very own Speakeasy Ales & Lagers. A special beer release will take place on February 14th, while a "Meet the Brewer" Happy Hour will take place on February 16th. If you happen to be in the area, make sure to come by the Peninsula's Neighborhood Bar and enjoy a nice cold glass of beer! 
 
SF Adventure Tours
Location: San Francisco, CA
Lastly, if you want to take part in the celebration but aren't sure which breweries to visit, then SF Adventure Tours has you covered! Their "Dogpatch Plus" Opening/Closing Weekend Brew tours offer the perfect opportunity to experience some of the best of San Francisco Beer Week in style. The tour will be led by Certified Cicerone Eric Schaefer, and will take place on February 10th and 17th. The tour includes tasting flights at three breweries, a private facility tour at one of them, unique local food pairing and a special gift. Make sure to purchase your tickets soon since space is limited. So, head out there, meet their open-sided "woody" bus near Powell Street BART and bring your thirst for the best beers in the City on this adventure!
 

See what else is happening in San Mateo County/Silicon Valley! Check out our digital visitor guide or order a printed version today and start planning your trip!