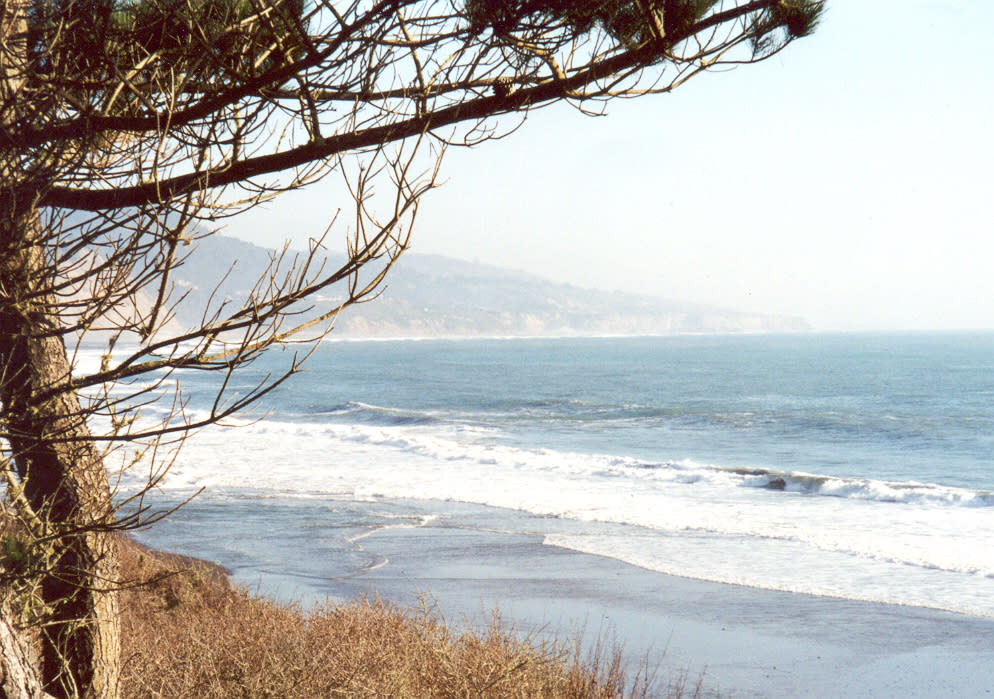 By Joe Kukura
The world-famous Northern California scenery of coastlines, mountain bluffs and wine country wonderfulness is on display year-round in San Mateo County/Silicon Valley. A one-of-a-kind soft adventure hotspot, San Mateo County/Silicon Valley offers active opportunities via foot, boat or aircraft, which we've detailed below.
Slow Adventure
The self-guided walking tours of Slow Adventure showcase the mountains and California coastline up close and even more immersive than a drive down the celebrated Highway 1.
These incomparable inn-to-inn leisure hikes are available in four-, five- and six-day packages and employ no motorized vehicles whatsoever. Instead, walkers receive detailed walking maps and notes to guide them through the coastal bluff trails and spots with spectacular lookouts, with all meals provided, daily luggage transfers handled by the company and stays at California's most scenic shoreline resorts and inns. With walking tours of iconic stretches like Santa Cruz, Monterey, Half Moon Bay and San Francisco, these multi-day walking tours with luxury lodging will let you experience California "inn" style.
Half Moon Bay Coastside Tours
Half Moon Bay has a richly deserved reputation as one of the most scenic places on earth, and Half Moon Bay Coastside Tours provides experiences to immerse yourself in every aspect of this one-of-a-kind Northern California region.
Whether you want horseback riding, whale watching, deep-sea fishing, bird watching or wine tasting, Half Moon Bay Coastside Tours can provide a custom experience suited to your tastes. Redwood groves, cliffs, canyons and views of some of the biggest waves on the Pacific Ocean await with Half Moon Bay Coastside Tours' itineraries that cater individually to your schedule and budget.
Traeger Travel
The whole bouquet of charms that San Mateo County/Silicon Valley has to offer is available in a custom tour through Traeger Travel. From wine-tasting tours of the Santa Cruz Mountains and tech tours of Silicon Valley landmarks to a walk through San Francisco's historic Chinatown or a scenic San Francisco waterfront walking tour, Traeger Travel gives you a custom tour experience with a guide who knows San Mateo County/Silicon Valley inside and out.
Guided Elephant Seal Walks
The elephant seals are out all year long at Ano Nuevo State Reserve, and guided seal walks are available daily (except during the first half of December, a sensitive time for the pregnant mother seals!).
See these magnificent creatures right in their natural habitat in Pescadero. The baby seal season (mid-December through late March) is understandably the most popular time of year to see the seals, but plenty of the little guys still relax on shore during molting season (April through August) and limited numbers of seals appear during the fall haul-out season (September through November). Mobility assistance is available for equal-access guided walks on Saturdays and Sundays during the peak baby seal winter months.
And in nearby San Francisco…
California Canoe & Kayak
With the Pacific Ocean on one side and the San Francisco Bay on the other, San Mateo County/Silicon Valley has astonishing, scenic boating opportunities for every skill level. And every skill level is welcome at California Canoe & Kayak, with locations in San Mateo and San Carlos providing boat rentals and lessons for canoes, fishing kayaks, sea kayaks and the newest California craze of stand-up paddleboarding. The expert staff at California Canoe & Kayak will keep your sailing smooth for a scenic ocean or bay boat trek with unforgettable coastline views.
RocketBoat
Things speed up on the RocketBoat, a high-velocity humdinger boat tour that zips you all over the San Francisco Bay at incredible speeds. You won't believe that a boat with so many people on board can travel this fast, but the experienced captains of the RocketBoat fleet keep the ride fun and safe for everyone. Tours can span points of interest like Sausalito, Tiburon, Angel Island and more, with a rock 'n' roll soundtrack that provides an experience not unlike a roller coaster in the waters.
SF Adventure Tours
You've never seen San Francisco like you'll see it on SF Adventure Tours—from a small aircraft, a customized open-air truck or a barge floating through the beautiful San Francisco Bay.
SF Adventure Tours is an inspiring departure from the typical double-decker buses doing the same old San Francisco tours, instead shuttling you to hidden gems, such as iconic movie scene locations, historic points of interest and architectural wonders. The scenery and photo opportunities are unforgettable with options to tour Marin County, Muir Woods, Alcatraz and even San Francisco's craft beer breweries. If you've been to San Francisco before, SF Adventure Tours will uncover something new, quirky or spectacular that you've never seen before.
Seal the deal for your San Mateo County/Silicon Valley getaway, where unparalleled scenery mixes with a can-do set of experts who'll tour you through this region in style.
See all that San Mateo County/Silicon Valley has to offer and plan your trip now.