Summer is finally here and temperatures are on the rise! Luckily for you, our destination is surrounded by water and therefore we are home to many beautiful beaches. To make things easier for you, we've listed some of top beaches in San Mateo County, along with some of the best places to grab a bite to eat either before or after going to the beach.

Linda Mar Beach (Pacifica State Beach)
Location: Pacifica, CA
Starting out in northern coastal San Mateo County, you'll find the most well-loved and well-used beach in Pacifica. Linda Mar Beach, also known as Pacifica State Beach, is a popular beginner surfing spot and offers a recreation trail along the ocean, surfing and surf camps, restrooms and showers, and it is very popular with dogs. The beach is open from 5:00 am to 10:30 pm during summer months, making it the perfect place to hang out with the entire family.
Where to Eat or Drink: A Grape in the Fog, The Green Enchilada, Moonraker, Nick's Seafood Restaurant and Tripp Distillery.

Click here for hotels in/near Pacifica.
 
Montara State Beach
Location: Montara, CA
Continue driving south on Highway 1, passing Devil's Slide Trail, and you will find Montara State Beach. This is a popular location for visitors to explore beach tide pools, fish or just relax. It offers convenient access to several beaches for swimming, surfing, kayaking, windsurfing, and horseback riding. In addition, the historic Point Montara Lighthouse is located here, offering dramatic and breathtaking scenery of the California coast.
Where to Eat: Moss Beach Distillery
 
Click here for hotels near Montara State Beach.



 
Our destination is surrounded by water and therefore we are home to many beautiful beaches!
Half Moon Bay State Beach
Location: Half Moon Bay, CA
Half Moon Bay State Beach is a stretch of sandy beaches located just off Highway 1 in the city of Half Moon Bay. These picturesque beaches are popular among local residents and are ideal for sunbathing, fishing and picnicking. The breakwaters of Pillar Point have a buffering effect on the surf, and the waters at this end of Half Moon Bay State Beach form calm surf. Pillar Point Harbor is located here and offers visitors the opportunity to purchase fresh seafood right off the fishermen's boats. The beaches are open from 8:00 am to sunset, but a campground provides accommodations for those who wish to visit longer.

Where to Eat: Cameron's Pub, Flying Fish Grill, Pasta Moon, Sam's Chowder House, San Benito Ale House, Half Moon Brewing Co.

Click here for hotels near Half Moon Bay.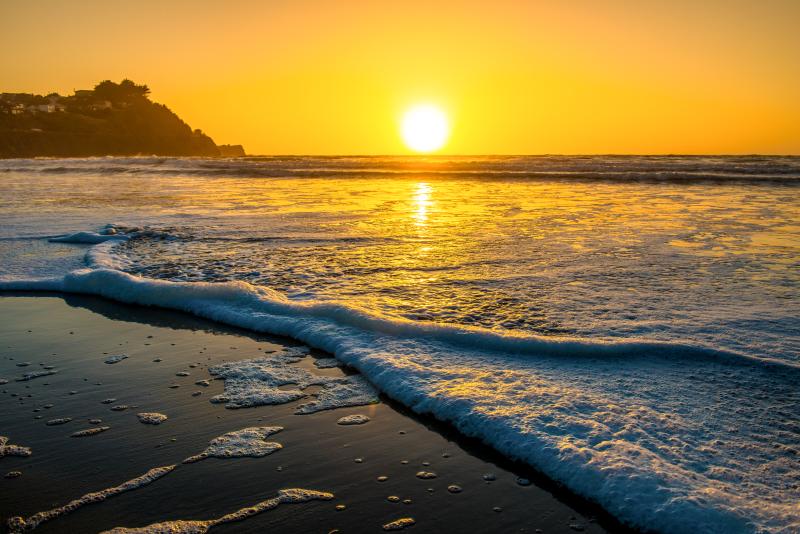 Pescadero State Beach
Location: Pescadero, CA
Continue driving south to Pescadero and pass artichoke, bean and lettuce farms before reaching your destination. Pescadero State Beach is great for watching tide pools, fishing, strolling and sunbathing. Furthermore, just east of Highway 1, you will find the Pescadero Marsh Natural Preserve, which is a sanctuary to migratory birds, waterfowl, and numerous types of resident birds, making it one of the top spots for bird watching in San Mateo County.
Where to Eat: Cascade Bar & Grill, Arcangeli Grocery Company and Wine Tasting Room.
 
Click here for hotels near Pescadero.

Parkside Aquatic Park
Location: San Mateo, CA
Don't have enough time to drive over the hill towards the coast? Parkside Aquatic Park offers a nice beach alternative on the bayside. The park is bordered by the Marina Lagoon and is the site of San Mateo's only boating launch ramp. Open year-round from sunrise to sundown, this park is a perfect spot for a hot summer day!
Where to Eat: The Fish Market, Pausa Bar & Cookery, Amici's East Coast Pizzeria, Pacific Catch, CamboWan, Espetus Brazilian Steakhouse, Jack's Prime, Joy Sushi, Paul Martin's American Grill, Porterhouse or The Swingin' Door.
 
Click here for hotels near San Mateo.

Photos by Bradley Wittke. 

See all that San Mateo County/Silicon Valley has to offer! Order a Visitor Guide today and start planning your trip!