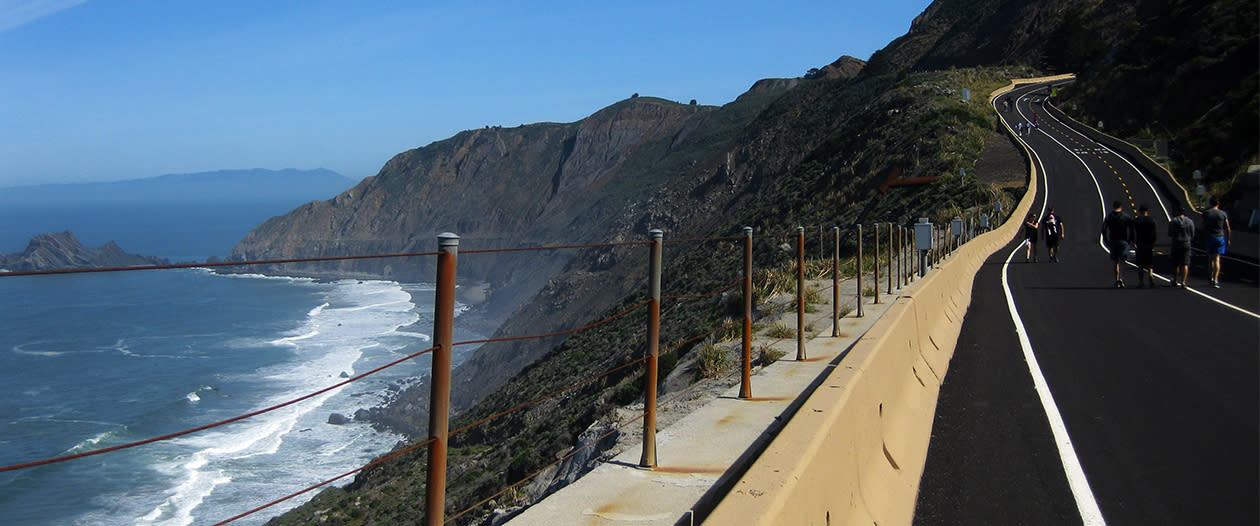 Water Views—Can't Get Enough of the Water?
By Megan Eileen McDonough
 
One of the biggest perks of living out West is all those gorgeous seaside views. Not surprisingly, one of the biggest tourist attractions is the San Francisco Bay, and with its iconic Golden Gate Bridge, it's no wonder thousands of travelers visit every month. After you've toured the big city, slow things down with a scenic drive south to San Mateo County/Silicon Valley. Home to a slew of beaches, picnic spots, natural reserves and award-winning seafood restaurants, there's never a dull moment (or a bad view!) here.
San Francisco Bayside
No trip to San Mateo County/Silicon Valley is complete without a cruise along the bay. Hop on the San Francisco Bay Ferry, with service between East Bay and South San Francisco's Oyster Point Marina terminal. Alternatively, walk the trail along the bay that weaves through Brisbane, South San Francisco, Millbrae, Burlingame and San Mateo. There are plenty of viewing points on the route. For something even more adventurous, sign up for a windsurfing or kite surfing experience at Coyote Point. What better way to experience the bay than by learning a new sport.  Prefer to relax and have top notch food brought to your table, while enjoying the San Francisco Bay views? Beat a path to Kincaid's in Burlingame or Dominic's at Oyster Point in South San Francisco.
Pacifica
While views of the Pacific are nothing new for California residents, others will find the change of scenery surprisingly refreshing. Hike the trail overlooking the Pacific (just south of Nick's Restaurant and Rockaway Beach) or hike to the San Francisco Bay Discovery Site instead. If you're up for the challenge, hike the Devil's Slide Trail. Spanning 1.3 miles, there are segments of the trail that overlook the coastal waters below. There are also signs along the path with historical fun facts. When it's time for dinner, swing by Moonraker Restaurant or Nick's Restaurant at Rockaway for some great cuisine and live music. Or head to Puerto 27 for a Pisco Sour with a view. With so much hiking earlier, you deserve a break!
Half Moon Bay
Start the day at Fitzgerald Marine Reserve, which is where many Native Americans settled about 5,800 years ago. The reserve is home to a variety of seaweed, sponges, sea stars, mollusks and more. Come lunchtime, if you're craving great food and cold beer, there's no better place to quench your thirst than Half Moon Bay Brewing Co.  Want a clam bake or seafood with a great view? Make a beeline to Sam's Chowder House.  Traveling with an avid golfer? Head to Half Moon Bay Golf Links and enjoy cocktails or a meal afterwards overlooking the Pacific at the Ritz Carlton or Mullins Restaurant, adjacent to the course.  Not only is the course one of the best in the area, but the views of the Pacific are tough to top.  It might just inspire a hole-in-one!
Pescadero
Pescadero is basically synonymous with picnics, what with all those wide-open spaces and parks. Pack some snacks or a full lunch and hit the beaches. For dinner, enjoy a fresh, decadent meal at the Cascade Grill at Costanoa or opt for something lighter at Highway 1 Brewing Company.  
Millbrae, Burlingame
Outdoor adventurers will gravitate toward the Sawyer Camp segment of the Crystal Springs Regional Trail, a six-mile trail along a beautiful reservoir open to rollerbladers, bikers, runners and even parents with strollers. Only in the mood to bike? Canada Road, which runs right along the reservoir, is your best bet.
Foster City, (City of) San Mateo, Redwood City Lagoons
San Mateo and Foster City have some of the most picturesque little beaches. Go windsurfing in San Mateo or paddle boarding in Foster City. Classes are open to all skill levels, with semi-private and group lessons available. If traveling to Foster City in mid-June, make sure to see the Dragon Boat Festival on the lagoon. The event is free and full of colors and sound. Dragon boats measure 44 feet long and fit 20 paddlers plus a drummer in the front. For the ultimate in luxury, sit poolside with a cocktail in hand at the Sofitel San Francisco Bay in Redwood Shores. That, or watch the Stanford crew team practice along the lagoon.
See all that San Mateo County/Silicon Valley has to offer and plan your trip now.