By Joe Kukura
A stay in California's scenic San Mateo County/Silicon Valley becomes even more scenic when your restaurant or hotel room has its own magnificent fireplace. Art deco fireplaces and fire pits are popular calling cards at several hospitality hotspots in San Mateo County/Silicon Valley, where the days are mild and the cool evenings pair perfectly with a romantic fire. We've sized up these restaurants, hotels and bed-and-breakfast resorts to create a list of the finest fireplaces and fire pits to sit, stay or dine alongside when you visit San Mateo County/Silicon Valley.
Some of these crackling fireplace locations have indoor fireplaces; others have outdoor fire pits. Some even offer incomparable views overlooking the Pacific Ocean or San Francisco Bay to take in while warming up by the fire. Let's blaze through San Mateo County/Silicon Valley's premier hospitality venues where a beautiful fire is included.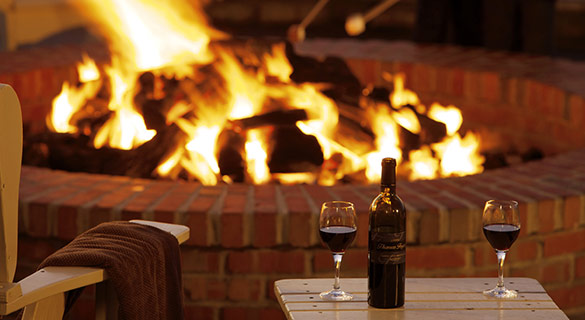 -- photo credit to THE RITZ-CARLTON, HALF MOON BAY.
Restaurants
Outdoor dining by the Pacific Ocean is an exquisite experience, though sometimes a little cool. But a fire pit near your table is the perfect accessory for an oceanside outdoor dining experience.
Waterfront dining and a nice, warm fire are always on the menu at Sam's Chowder House in Half Moon Bay, a five-star seafood experience. Half Moon Bay Brewing Company, named by Travel and Leisure magazine as one of America's best beach bars, also features fire pits and locally brewed beer on its dog-friendly oceanfront patio. Distinguished Peruvian cuisine is served at La Costanera in Montara, with an outdoor seating option that has a fire pit, heat lamps and glass windows to protect you from the wind.
Also overlooking the ocean, Moonraker Restaurant in Pacifica offers fine dining by the Pacific, and its indoor fireplace area offers one of the finest sunset views in Northern California.
Moving inland, Fattoria e Mare in Burlingame has a vanguard outdoor patio with fire pit where locally-sourced Italian cuisine is served California style. It's Italia in Half Moon Bay offers refined Italian dining and an outdoor fireplace on its distinctive Mediterranean-style outdoor patio. The historic San Benito House hotel is connected to the fun and friendly San Benito Ale House, whose outdoor fire pits always offer a crackling good time.
For indoor fireplace dining to stoke your appetite, MacArthur Park in Palo Alto serves New American cuisine with a fine-dining flair by a large brick fireplace in its historic colonial location. Mullins Bar & Grill in Half Moon Bay has a distinctive indoor fireplace with views of the ocean and the Half Moon Bay Golf Links course. San Mateo's Fish Market Restaurant serves upscale fresh seafood with a lovely indoor fireplace and gorgeous views of San Francisco Bay's Seal Slough. Or, for gorgeous views of the majestic California redwoods, The Mountain House Restaurant in Woodside has panoramic forest views and fine dining right next to the fireplace.
For private events, the Green Hills Country Club in Millbrae has exclusive event space accommodations with a giant fireplace overlooking the golf course.
Hotels
You can also fire up your overnight stay with a hotel with a fireplace or fire pit. The outdoor fire pits put some spark in your stay at the Sofitel San Francisco Bay in Redwood City, the Ritz-Carlton, Half Moon Bay, the Courtyard San Mateo Foster City, the Hyatt House in Belmont, the San Francisco Airport Marriott Waterfront and the DoubleTree by Hilton Hotel San Francisco Airport North. All these facilities offer incomparable views of the San Francisco Bay or Pacific Ocean.
A giant outdoor fireplace with a view overlooking the golf course awaits your stay at the Half Moon Bay Lodge, while the Best Western El Rancho in Millbrae and the DoubleTree by Hilton Hotel San Francisco Airport both offer inviting fireplaces in their hotel bars.      
To stay in a room with your very own fireplace, South San Francisco's Inn at Oyster Point and Residence Inn San Francisco Airport/Oyster Point Waterfront both offer this red-hot amenity. Pescadero's Costanoa Lodge and Resort has rooms in the lodge area equipped with fireplaces.
In Palo Alto, the Westin Hotel and Garden Court Hotel both offer rooms with individual guest fireplaces. And for rooms with fireplaces plus views of the Pacific Ocean, the Pacifica Beach Hotel and Half Moon Bay's Oceano Hotel, the Beach House and the Inn at Mavericks all have rooms available with this outstanding scenic combination.
Bed-and-Breakfasts
Or combine your room and meals with the fireplace ambience thrown in with San Mateo County/Silicon Valley's bed-and-breakfasts with fireplaces in rooms. Half Moon Bay's Mill Rose Inn and Zaballa House both offer fireplaces in rooms, and Pescadero's McCormick House features fireplaces in rooms plus an outdoor fire pit to enjoy the cool Northern California evenings.
San Mateo County/Silicon Valley offers incredible scenic coastline views, and you'll enjoy them more warmly with food and hospitality by an open fire. Find a facility with a fireplace for your next stay in San Mateo County/Silicon Valley, one of the greatest places in the world to enjoy earth, wind and fire.
See all that San Mateo County/Silicon Valley has to offer and plan your trip now.