Part Two: Wine from the San Mateo County Vine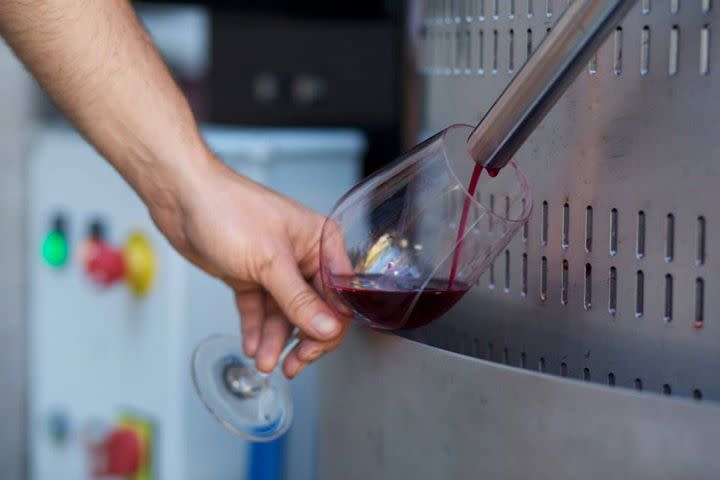 By Stephanie Fermin
As promised, here is Part Two of your San Mateo County/Silicon Valley booze guide. This time around we're focusing on wine! And you won't need to travel far to stock up for all of your festivities. If you really want to impress your holiday guests, bring them along to sample before you buy.  From tasting rooms to vineyards, we have wineries that are sure to impress everyone.
Barterra Winery - Located in downtown Half Moon Bay, this cozy and unique tasting room is run by husband and wife team, Bart and Mary Colucci. As they pour Barterra's selection of premium California wines, they will entertain you with stories and wine notes. Tasting room hours are Thursday through Monday 12:30-5:30 p.m. You'll also find wine accessories and a selection of Italian snacks, antipasti, and gourmet chocolates. They also offer 100% Extra Virgin California olive oils in unique, delicious flavors – the perfect gift for that person who has everything.

BONUS TIP: While pets are not allowed inside the winery tasting room, they may sit outside in the courtyard. So bring your four-legged friend along on this outing and enjoy your wine alfresco.
Cuvée Wine Cellars - This urban winery has access to some of the best vineyards in Northern California. Cuvée Wine Cellars is open every first and third Saturday of the month, from 1:00-4:30 p.m., making this a perfect day trip. The name Cuvée is a French term for blends of wine, which expresses the winery's collaborations with local winemakers. (Approximately one mile from the San Carlos Caltain station.)

BONUS TIP: You won't want this wine missing from your holiday table, so if their hours don't suit your schedule, call ahead of time to make an appointment for your pick-up.  
Domenico Winery - Specializing in Italian varietals, Domenico Winery is a boutique-sized, family-run winery. It's been open for over 20 years, with their vineyards located right in the Sierra Foothills. Go here to taste the two estate wines: Syrah and Primitivo. The 24-foot mahogany bar makes for a nice photo, too. Regular business hours are Mondays through Saturdays from 12:00-5:00 p.m.  If you're lucky, Owner/Winemaker, Dominick Chirichillo will be pouring when you stop by.  Make sure you get your haul before they close for the holiday season! (Approximately one mile from the San Carlos Caltain station.)
BONUS TIP: Domenico throws some pretty fabulous parties! Check their calendar for seasonal events, such as their Annual Ladies Night Holiday Boutique.
Flying Suitcase Wines - Flying Suitcase Wines is the new kid on the block. Established in 2013 by another husband and wife team, it stemmed simply from their passion to drink wine. Make sure to ask about their Hans Christian Anderson inspiration. They're open to the public on Friday from 5:00-9:00 p.m. and Saturday and Sunday from 1:00-5:00 p.m. (Approximately one mile from the San Carlos Caltain station.)

BONUS TIP: Can't find a babysitter? No problem! This is a stop on your to-do list for the whole family.  They have a play area for the kids to enjoy while you explore their wine selection.  And their wine labels are so fun, they make for the perfect hostess gift.
La Honda Winery - With wines made from Santa Cruz Mountain grapes, it's easy to forget that La Honda is actually an urban winery. That's probably why so many guests consider it a best-kept secret, an unassuming exterior with a beautiful stonework interior. La Honda is generally closed to the public, but if you book in advance, they do offer private tours and group tastings. Otherwise, plan your visit to coincide with the winery's Open Day and Wine Tasting, which is usually held on the third Saturday of the month.

BONUS TIP: Do you have that one eco-friendly person on your list? They can feel good about drinking this wine.  Each vineyard is sustainably farmed with a vigilant respect for nature. Every farming practice they employ is deliberate and intended to enrich the vineyard soil and the immediate environment. No heavy equipment ever enters their vineyards.
La Nebbia Winery – In the mood for a hearty red wine? Or do you need the perfect bottle to pop at midnight? La Nebbia Winery in Half Moon Bay is your spot. Tastings are offered daily, from 10:00 a.m-5:00 p.m. (Corporate and private events require booking in advance). Best of all, their outdoor gardens serve as the perfect picnic spot. Play some bocce ball, sip a little wine and indulge in a culinary feast. You may want to pop in next door to make a glass pumpkin afterwards.

BONUS TIP: Bring your own clean and empty bottles to their Barrel to Bottle events and get a deal on their wines – perfect to slap a custom label on and give to your coworkers before you say, "See you next year!".  These events evolved out of a common practice started nearly 40 years ago. Back in the 1970's many of their local customers would make a run to the winery and, instead of buying a bottle or two off the shelf, they would bring their empty bottles or jugs to fill from the barrels.
Russian Ridge Winery – Neighbors to Cuvée Wine Cellars, Domenico Winery, Flying Suitcase Wines, and Devil's Canyon Brewery (see Part One: Cheers to Beers), Russian Ridge is run by the Townsend family and produces fewer than 1,000 cases of wine every year. It focuses heavily on local products, with all fruit coming from vineyards in Napa Valley, the Santa Cruz Mountains, and Santa Clara County.  One of the most popular wines is the Concerto, which pairs nicely with everything – perfect for when you're not sure what's being served at that holiday party. Tasting room hours are Fridays from 5:00-9:00 p.m. and Saturdays and Sundays from 12:00-5:00 p.m. (Approximately one mile from the San Carlos Caltain station.)

BONUS TIP:  This is the perfect tasting room for a shopping break!  Escape from the holiday rush by grabbing some lunch downtown and then stopping by Russian Ridge for a glass of wine. The Townsend's hospitality will be just the afternoon pick-me-up you need.
Sante Arcangeli Family Wines – Red and white drinkers, unite! Located in scenic Pescadero, Sante Arcangeli Family Wines specializes in handcrafted Burgundian varietals, in particular the California Pinot Noir and Chardonnay. Wine tastings are extra special because, more often than not, the winemakers themselves do the pouring. Tasting room is open from 12:00 p.m. – 5:00 p.m. Friday- Sunday. Can't get enough? Buy some wine, stop at their grocery store for garlic artichoke bread, cheese and head to the beach for a picnic.

BONUS TIP: Need to please a big crown? Purchase one of their 1.5L Magnum bottles.
Thomas Fogarty Winery – Serving a slew of varietals, from reds and whites to sparkling and even dessert wines, Thomas Fogarty is easily one of San Mateo County/Silicon Valley's most visited wineries. Like many wineries in the region, Chardonnay and Pinot Noir are among their most popular varietals, but they've also got quite a flavorful Gewürztraminer. Their tasting room, with an expansive view of the vineyards and the San Francisco Bay, is open Monday, 12:00-4:00 p.m., and Wednesday through Sunday, 11:00 a.m. - 5:00 p.m. (Closed Tuesday).

BONUS TIP: Their tasting room has special wine varieties that may only be tasted and purchased in there. Many of these are limited in quantity, so once you find one you like, buy it!
Woodside Vineyards – Located in the hills above the San Francisco Bay, Woodside Vineyards has been family owned since its founding in 1963. They are credited for being one the first wineries to pioneer the "boutique winery" movement in California, as well as the oldest winery in San Mateo County. Some of their vines are over a century old. Also, their grapes are grown on some of the most expensive land spread throughout Woodside, California.

BONUS TIP: Their unique tasting room shares space with AutoVino. You'll taste with a backdrop of extraordinary rare and exotic cars from past and present.  A trip to AutoVino for a lunch of wood fired pizza and wine tasting is a great "experience" gift. Open Saturday and Sunday from 11:00 a.m.- 4:00 p.m.
Waxwing Wines – Last up on our list is Waxwing Wines. This winery's goal is to make wines you want to keep drinking! The winery named after the Cedar Waxwings, a strikingly handsome North American songbird, was started in 2006 by a stay-at-home dad. Waxwing focuses on what the proprietor/wine maker knows and loves -- Pinot Noir and Syrah from the Sonoma Coast. (Approximately one mile from the San Carlos Caltain station.)

BONUS TIP: Their tasting room is only for "Friday Night Flights" from 6:00-9:00 p.m., so plan accordingly. If you can't make it for a Night Flight, not to worry! You can find Waxwing Wines in plenty of local wine bars and retails shops. Check out their website for a full list.