As Fresh As It Gets
SAN MATEO COUNTY'S FARM-TO-TABLE PROGRAM
Looking for the freshest local fare? The "As Fresh as it Gets" (AFAIG) Program ties together the area's hospitality, agriculture, fishing, and wine and beer making industries, rewarding and promoting establishments serving our outstanding fresh and local products.

These establishments, serving our amazing fresh local produce, seafood, wine, and beer, make San Mateo County and Palo Alto a world-class culinary tourism destination!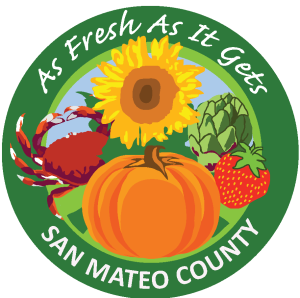 Look for the Logo!

Keep an eye out for the AFAIG logo when you are visiting local Farmers' Markets, Restaurants, Hotels, and Farm Stands.

Businesses that go out of their way to use fresh, local products are each awarded a special San Mateo County "As Fresh As It Gets" plaque and window decal for display, to let customers know they serve the freshest local fare.
Join us on Wednesday, November 18th for our annual "As Fresh as it Gets" awards virtual ceremony! More details coming soon!
Read More
We are now accepting applications for the 2020-2021 "As Fresh As It Gets Awards". The deadline to submit an application is September 30, 2020.
Read More
Events
Through A Local's Lens
Don't take our word for it. Check out what others are discovering with #playbythebay