Meet our Award-Winning chefs
As Fresh As It Gets
37 North & Bar at the DoubleTree SFO
Paul Maloney, Executive Chef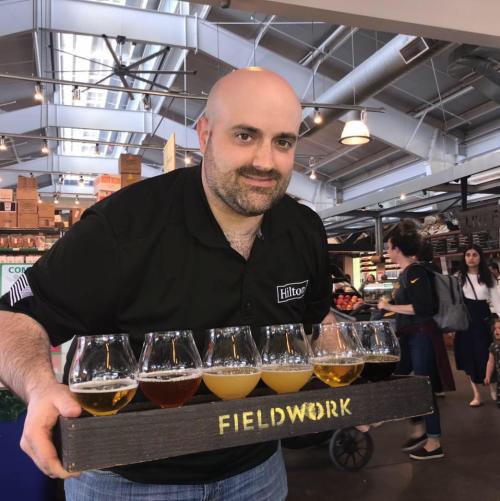 Bio:
For the last three years, Paul Maloney has been the Executive Chef of 37 North Restaurant & Bar located inside of the DoubleTree SFO Airport. He is also the Director for the Food and Beverage Department and oversees catering/banquets and special events. He is originally from outside of Philadelphia, Pennsylvania, and was a U.S. military vet of 16 years in the U.S. Navy and served as a military chef/cook and personal chef.

While serving he got into a special program that assigns specific people with certain skillsets to top-level 4-star Admirals and Generals and Paul got to be a part of their personal staff and work in their home as a personal chef preparing daily meals and overseeing and executing official receptions, formal dinner events for foreign visiting dignitaries. During Paul's time in the military, he got to be in this special program for 12 years and served in: Naples, Italy, Jacksonville, Florida, San Diego, California, Pearl Harbor, Hawaii, and Washington D.C.

While in DC he got to serve as the personal chef to the U.S. Naval Academy Admiral in Annapolis, Maryland working in the historic "Buchanan House" and also spent some time as an on-call special event chef for large events held at the White House. During this period Paul spent time getting Culinary certifications through the American Culinary Federation and the Culinary Institute of America. After the military, Paul spent some time as Food Service Director, Country Club Chef, Private Event Catering Chef, and as Executive Chef of a 400-acre theme and amusement park in Virginia before he took his current role at the DoubleTree.

Arcangeli Deli & Wine
Chris Benedetti and Humberto Perez​, Baker & Manager
 

Bio:
Established by Sante Arcangeli in 1929 and managed by his family for five generations, Arcangeli Deli and Wine is a Pescadero institution. Next in line to run the family business are Chris Benedetti and longtime manager Humberto Perez, who are currently learning the ropes to take over when current owner Mike retires in a few years. Arcangeli Deli and Wine's bakery is known for its specialty Garlic Herb Artichoke Bread but offers a wide selection of delicious bread and other baked goods, a number of which are baked from recipes created by Sante himself back in the 1930s.

Bay Watch Restaurant - Burlingame
Norman Saballa (Manager), Jesus Astorga (Executive Chef), Fernando Hernandez (Chef)​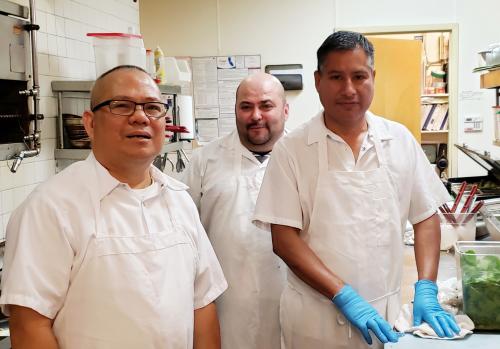 Bio:
For over thirteen years, Norman has led the Bay Watch kitchen with the highest standards. With his strict principle of using only the freshest locally sourced ingredients, Norman takes pride in high-quality foods made "locally for the locals".  Jesus "Chuy" has been instrumental in the creation and execution of the extensive Bay Watch menu for the last 13 years.  Chuy thrives on inventing new tasty dishes from what is available without having to look further than an arm's reach… like magic, seemingly from nowhere. Fernando completes the triple threat that feeds our guests.  Rooted in healthy cooking, Fernando loves working with the variety of fresh produce we use at Bay Watch.
These three men are true as fresh as it gets!
Beach House Hotel
Michael Reining, Chef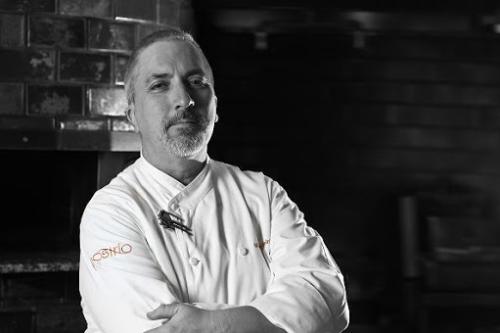 Bio:
The Beach House Hotel Chef Michael Reining's experience in the food industry is quite varied. He has headed the kitchen at Postrio Cafe and Bar (San Francisco), Piacere and most recently The Wine Project (San Carlos). He's also been a private chef in the San Francisco bay area for a number of years. There was the season in 2004 where he led the cooking team on a fish processing ship on the Bering Sea in Alaska. As well as other corporate catering assignments, like cheffing at Chevron, Sybase, Wells Fargo, etc.  A brief contract consulting at Jasper's Corner Tap and Kitchen (San Francisco). Chef Mike also enjoyed catering events at the South Beach Yacht Club and the Golden Gate Yacht Club (the home club of America's Cup).

It was his honor to work with some great chefs and business owners, like the Fifth Floor Restaurant in San Francisco, the Pleasanton Hotel Restaurant in Pleasanton, California. And some of the top caterers in the bay area including Paula Le Duc, Trumpetvine, and Gimanelli's. 

Chef Mike has been with the Beach House for over 2 years and truly enjoys his co-workers and the family-like environment shared by the entire staff. Plus, being able to step out of the kitchen door and be right on the water at Half Moon Bay is inspirational. Before attending and graduating from the California Culinary Academy in San Francisco, Chef Mike was in radio broadcasting for over 15 years. 

AWARDS 

His proudest moment was in1995 while attending the California Culinary Academy, Chef Mike won the wine and food pairing contest sponsored by The House of Sandeman. The House of Sandeman has been making and shipping wines from Spain and Portugal for over two hundred years. Sandeman specializes in Port and Sherry wines.

The Grand Prize was an all-expenses-paid tour of The House of Sandeman's operations in Portugal. 
The Conservatory (The Ritz-Carlton, Half Moon Bay)
Alain Zhang, Chef​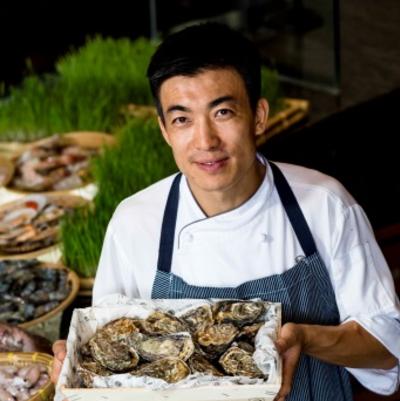 Bio:
Zhang was raised in Hohhot, the capital of Inner Mongolia, China. Surrounded by cooking throughout his childhood – his mother's exceptional cooking was famous around town and his aunt and uncle owned a restaurant in the Ordos – Zhang knew at an early age that he wanted to pursue a career in the culinary arts.

After completing his general education and working in his aunt and uncle's restaurant for a year, Zhang began his formal culinary career as a cook at the Portman at Inner Mongolia International Hotel, Hohhot before working his way up to Chef de Partie. For the next five years, Zhang continued honing his gastronomic skills before advancing to Sous Chef as part of the opening culinary team at Shangri-La Hotel Hohhot at Xin Café, the first restaurant in the capital to feature an open-theatre kitchen concept inviting diners to view the quality of ingredients that go into every dish.

Looking to expand his culinary scope internationally, Zhang joined the opening team of Quest Restaurant at Jumeirah Etihad Towers, Abu Dhabi as Chef de Partie. During his year there, the fine-dining Pan Asian cuisine restaurant won the "Best Newcomer Restaurant Abu Dhabi" and "Best Chef" awards in 2011 and 2012 by What's On Awards Abu Dhabi. 

Shortly after, Zhang sought out new opportunities in his homeland with a continued focus on fresh regional ingredients, including serving as Chef de Cuisine at Le Meridien Qingdao where he crafted menus and oversaw all culinary outlets. In 2014, he accepted a Sous Chef position at Sand restaurant at The Ritz-Carlton Sanya, Yalong Bay before being promoted to Chef de Cuisine.

Zhang looks forward to developing relationships with the local farmers and fishermen of the Half Moon Bay coast to source the finest produce and sustainable meat and seafood that is, and will continue to be, at the heart of The Conservatory menu.

In his spare time, Zhang loves to travel and visit parks and beaches. He lives in the Bay Area with his wife and two children.

Dinah's Poolside Restaurant 
Gerardo Naranjo, Chef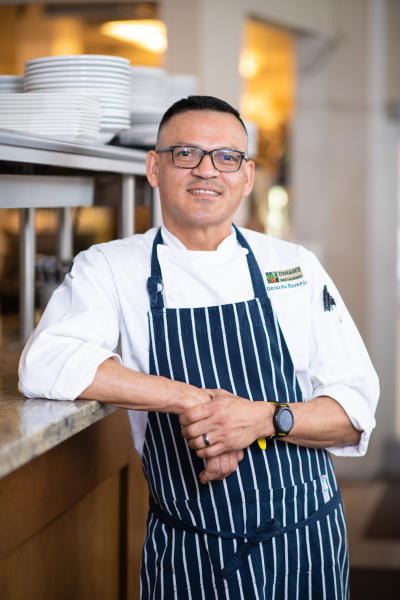 Bio:
Rooted in the Bay Area for over 25 years, Chef Gerardo Naranjo brings a stealth approach to bold flavors. A stint at famed Mediterranean haunt Dio Deka set the stage for almost a decade at the south bay favorite, Alexander's Steakhouse. Under the tutelage of Michelin Star Chef Jeffery Stout, Chef Gerardo incorporated Asian influences into his California-inspired cuisine. A hidden gem and local favorite, Dinah's Poolside Restaurant is open for breakfast, lunch, and dinner daily.

Dominic's at Oyster Point Yacht Club 
Mike Ramirez, Executive Chef
 

Bio:
Ismael "Mike" Ramirez has a long history with Dominic's at Oyster Point, having been involved with the company since 1992. Since taking the role of executive chef in 2000, Chef Mike has worked to support the community and enhance the flavor of Dominic's at Oyster Point's offerings by incorporating fresh, local ingredients. He develops and creates new dishes with respect to the availability of ingredients in our local farms to impress their clients.

Half Moon Bay Brewing Company 
Juan "Kiko" Moreno, Kitchen Manager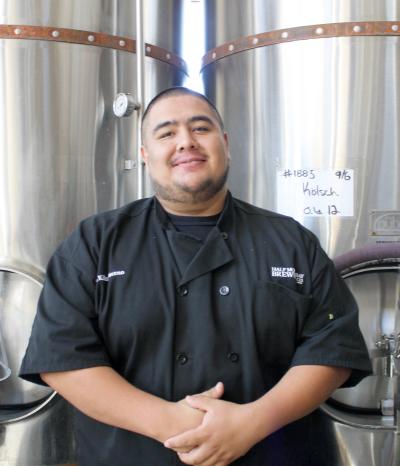 Bio:
Kiko's self-taught culinary journey began at an early age. He grew up in a community of cooks where he would start mock "Top Chef" cooking contests with his best friend Ramone. He started working at the Half Moon Bay Brewing Company in 2013 as a dishwasher and quickly moved up the ladder to work the pantry, the grill, private events, and is now the Kitchen Manager. Kiko's love of Japanese cuisine has resulted in creative menu specials including Kiko's Wings, made with his special housemade teriyaki, and grilled Ahi tuna with ginger avocado sauce.

Half Moon Bay Lodge
Eric Bradtmiller, Executive Chef

 

Bio:
Executive Chef Eric Bradtmiller started his culinary journey at the prestigious New England Culinary Institute as an honors graduate in 1989. Shortly after, the sought-after new graduate was recruited as an apprentice to Teberio restaurant in Georgetown & Le Cadeau restaurant in Aspen. After spending some time in Hong Kong, Chef Eric wanted to test his sea legs. Hired as Executive Chef of the Yacht Sea Angel and traveling numerous times from Sausalito to Puerto Rico, he finally found paradise at the Half Moon Bay Lodge in beautiful Half Moon Bay, California.

 
Harley Farms Goat Dairy
Dee Harley, Owner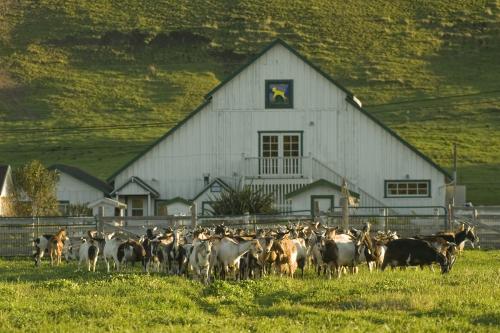 Bio:
Dee Harley began farming over 20 years ago. She was awarded the 2007 San Mateo County Farmer of the Year. As a teenager in Yorkshire, Dee was selected for HRH Prince Charles' youth expedition project, Operation Raleigh, which encourages self-confidence and leadership through adventure, exploration, and community service. Dee traveled to Honduras and never looked back. Harley Farms is proud to serve the community of Pescadero, California, with handmade food, work for local people, high-school students, and people with special needs and as a community meeting place.

 
Joy Sushi
Hee, Head Chef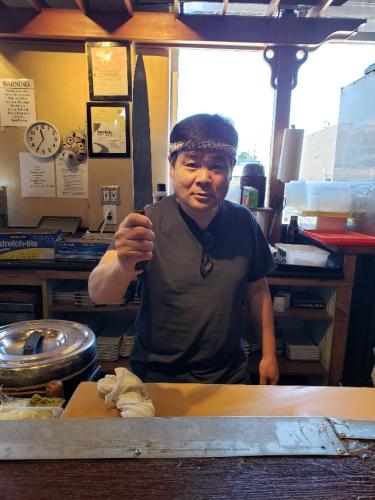 Bio:
Hee was born & raised in Korea and came to America when he was 30 years old. He started making sushi in San Francisco for 10 years and has been working at Joy Sushi since 2007. Hee has excellent skills, takes care of raw fish, and makes delicious sushi rice.
Kincaid's
Marck Viloria Corcino, Executive Chef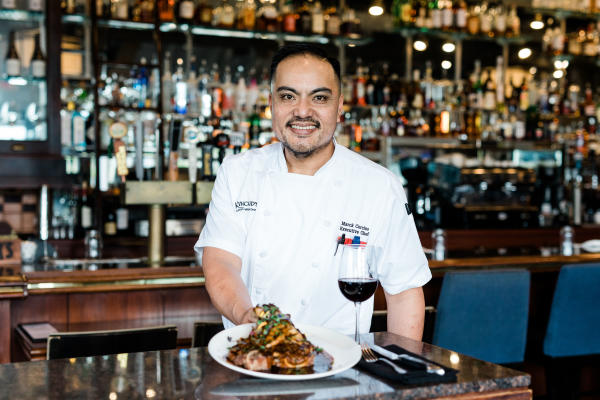 Bio:
Born and raised in the beautiful islands of Hawaii, native to migrant parents of the Philippines, Marck was inspired by local indigenous cuisine from youth.  With a flourishing large family, Marck was always around family cooking for large parties.  His father Roque understood the craft and respect for food that was local, organic, and sustainability with understanding the importance of respect when harvesting as well as butchering. 

Marck's early career started in nursing at the same time going to culinary school.  His mother Jovita "Betty" taught him kindness and compassion towards people and to respect and treat others like how you want to be treated.  When doing side catering gigs for the hospitals Marck worked for, a physician he worked very closely with inspired him to continue his pursuit and passion towards cooking.  Marck has never looked back since. 

He graduated with Dean honors at the Art Institute of California, Los Angeles in Santa Monica, with a Bachelor's degree in Culinary Management, with other deemed awards such as first in class with management position and student of the year.  He worked under the tutelage and mentorship of Kurt Struwe CEC, CDC, CCE, PhD.  and they still are good friends to this day.  Marck has worked for notable chefs like Wolfgang Gussmack, Ludovic Lefebvre, and Paul Muller, Eddie Lam, Thomas Charoen, Ariel Fox, and Patrick Chavret.  Early travels for his culinary fare included countries like France, China, Philippines, Boston, New York, and Las Vegas.  Throughout his travels, Marck has acquired a palate for robust, and simplicity.  He has worked in major gala events such as the Hallmark Women's Appreciation Dinner, Grammy Awards, and hosted private celebrity dinners at their homes as well as premier movie screenings.

Marck will always have an appreciation for home cooking, his roots, and culture.  His love for the skill of slow cooking has always challenged him with ways to pursue his brick and mortar in the near future which he will dedicate to his son Gabriel Sage.  Marck is currently Executive Chef for Kincaid's in Burlingame.  A classic American fine dining restaurant at the beautiful Bayfront in Burlingame California.

 
Navio (Ritz-Carlton, Half Moon Bay) 
Xavier Salomon, Executive Chef 
 

Bio:

Fourth in his family, and only second in The Ritz-Carlton Hotel Company to earn the title Maître Cuisinier de France (French Master Chef), Xavier Salomon is a fifth-generation restaurateur with a passion for food that began at his family's kitchen table in Savoie, France. His European tenure includes training under Jo Rostang at his Michelin three-star restaurant La Bonne Auberge in Antibes, France. Chef Salomon continued his education at Le Bateau Ivre in Courcheval and graduated from Thonon les Bains Culinary Academy.

In 1991 he joined The Ritz-Carlton Hotel Company as the executive chef at The Ritz-Carlton, Aspen, and in 1996, he moved to Atlanta as executive chef at The Ritz-Carlton, Buckhead. Chef Salomon joined The Ritz-Carlton, Half Moon Bay in July 2001, where he oversees all dining experiences at the Northern California resort, including the signature fine dining restaurant Navio, The Conservatory, Ocean Terrace, and 17,000-square-feet of banquet and wedding suites and ballrooms.

 
Pasta Moon 
Kim Levin, Chef and Owner
 

Bio:
It all started with my first trip down the coast, which brought me to HWY 92 dotted with local fruit & vegetable stands. My personal love for fresh ingredients grew into a key element of the Pasta Moon concept as I came to know the local farmers and their quality products; all part of the coastal lifestyle I found so inviting here in Half Moon Bay.

Pasta Moon started out as a passionate concept where I could keep myself busy and enjoy the lifestyle of a small coastal town. Originally Pasta Moon was a place for people to dine on cuisine derived from locally grown organic produce, fish, meats, and cheese supplied from local ranchers and dairies. Soon however my love for Italian cuisine compelled an ever-growing compulsion to express my creativity in the kitchen and had me composing variations on classic Italian dishes. Half Moon Bay is the perfect spot for this culinary adventure, I couldn't resist this unique location that offered my ideal in terms of ingredients, and the peaceful pace of such a lovely rural area nestled on the coast, surrounded by a spectacular beach and natural setting.

Pasta Moon, an innovative footprint of Italian cuisine right here on the Californian coast, over 30 years of making house-made pasta, pizzas and desserts, divine according to Michelin! Other main protagonists on the contemporary Pasta Moon Menu which revolves around the farm to table concept: organic produce, the catch of the day, and only the finest cuts of meats and poultry. We are so proud to welcome you to our new home, starting in 2019, featuring a refined and elegant ambiance that will lend a genuine warmth that will linger in your senses.
 

Quattro (Four Seasons Silicon Valley) 
Martín Morelli , Executive Sous Chef
 

Bio:
A member of the Four Seasons Hotel Silicon Valley culinary team since 2013, Martín Morelli started as Sous Chef and has brought more than 15 years of culinary experience to the Hotel. Now Executive Sous Chef, Martin oversees the Hotel's culinary team. Martín's career began in his home country of Uruguay, following his graduation from the Escuela Superior de Hoteleria, Gastronomia y Turismo at the U.T., as the Commis Chef at the former Four Seasons Resort Carmelo. From 2003 to 2010, Martín dedicated his time to the resort, where he worked in such culinary roles as Commis Chef, Demi Chef de Partie, and Chef de Partie. Martín also was the Chef de Partie at Four Seasons Resort Costa Rica at Peninsula Papagayo for more than two years and spent a year as the Sous Chef and Chef de Cuisine at Joya Restaurant in Palo Alto.

Originally from Montevideo, the arts and culture capital of Uruguay, Martín has always had an appreciation for avant-garde techniques while remaining loyal to his minimalist culinary roots. His innate creativity and enthusiasm for experimentation have led him through various kitchens in South, Central, and North America. Martín artfully executes innovative menus showcasing the culinary vibrancy of the region.

When not in the kitchen, Martín enjoys spending his free time with his wife Noelia and two children Matías and Olivia, exploring the diverse culinary scene of the Bay Area while further developing his photography skills.
 

Que SeRaw SeRaw 
Kerry Bitner, Chef and Owner
 

Bio:
Kerry Bitner purchased Que SeRaw SeRaw in January of 2015. She is passionate about preparing raw, organic, plant-based food that is delicious and convenient and she is excited to offer her customers healthy choices that taste great and help them feel great. She is also an advocate for shifting to a more plant-based diet because it's more sustainable for the planet. Kerry has been a nutrition enthusiast experimenting at home with raw food preparation for many years. She has taken classes with several leaders in the raw food movement including David Wolfe, Elaina Love and Victoria Butenko. She had a successful prior career as a television commercial and news producer and editor and is now applying her planning, logistics and project management experience towards operating a thriving restaurant. She is thrilled to be running her business five minutes from her home and looking forward to new opportunities to collaborate with and give back to the local community. When she isn't dreaming up new plant-based recipes, Kerry enjoys spending time with her family and friends, running, practicing yoga, traveling, watching movies and gardening.

 
Sam's Chowder House 
Lewis Rossman, Executive Chef/Partner
 


Bio:
Lewis Rossman, the award-winning Executive Chef/Partner for Sam's Chowder House, has contributed to the success of some of the Bay Area's top dining spots.  As Executive Chef of Cetrella in Half Moon Bay, California, he won the San Francisco Chronicle "Top 100 Bay Area Restaurants" three years running, and "Culinary Hospitality Restaurant of the Year" by Sante, the Magazine for Restaurant Professionals.  As Chef de Cuisine at Acquerello, rated Wine Spectator's "10 best Italian Restaurants in the U.S.", Rossman worked closely with chef Suzette Gresham.

Rossman is originally from rural Buck's County, a charming area outside of Philadelphia
filled with farmlands and wineries, reminiscent of California's Napa Valley.  After graduating from the California Culinary Academy, and working at the San Francisco Marriott Hotel, he traveled throughout the Mediterranean where he learned more about simple, rustic cooking, inspiring his keen enthusiasm for incorporating local farmer's produce into his menus. For further inspiration, Rossman looks to his childhood memories spent on the eastern seaboard and the great meals he enjoyed at the fish houses on the Atlantic.  He has established long-lasting relationships with specialty farmers around Half Moon Bay and today his mantra remains sustainable, fresh, local when possible and always seasonal. The ingredients and produce in the fields of Half Moon Bay in the morning often finds its way onto the salad plate at Sam's by evening.  This passion for fine, fresh ingredients is evident from the house-made dressings, sauces, and house-made desserts served at the restaurant. 

At Sam's Chowder House, Rossman participates in the overall management and directs all back-of-the-house operations. He is a partner and thought leader in all of the group's restaurant ventures.

The Sea by Alexander's Steakhouse
Yu Min Lin, Chef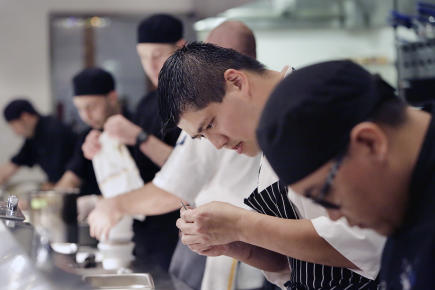 Bio: 
Yu Min Lin's approach to cooking is inspired by his extensive training and experience in both Japanese and French cuisine for over 20 years abroad and here in California. He aims to source wild, sustainable, and seasonal ingredients from land and sea. The goal is to bring out the natural flavors of freshness and present the dishes in a simple and pure form.

Since he was 14 years old, Yu Min began his culinary career as an apprentice and worked his way up to Executive Sushi Chef at Shintori Cuisine Japonaise in Taipei and Shanghai. During his 10 years at Shintori, Yu Min was also trained extensively under traditional Japanese chefs in Tokyo and Yokohama, honing his knife skills and knowledge to bring out the best of the highest quality fresh seafood.

After moving to Los Angeles in 2001, Yu Min took a position as a line cook at Water Grill where he worked with celebrated chef Michael Cimarusti. Chef Cimarusti's classical French cooking techniques have a great influence on Yu Min which is reflected in his cuisine.

Yu Min then accepted Chef Cimarusti's invitation as opening Sous Chef at Providence in 2005 and was promoted to Chef de Cuisine after two years. During his tenure at Providence, the restaurant was named "One of America's Top 50 Restaurants" by Gourmet Magazine, "Best Seafood Restaurant 2006" by LA Magazine, and awarded two stars by the Michelin Guide. To further develop his culinary skills and techniques, Yu Min performed stages at The French Laundry in Yountville and Manresa in Los Gatos.

While on a family trip to the San Francisco Bay Area, Yu Min was recruited by Alexander's Steakhouse to be it's opening Executive Chef at The Sea in Palo Alto. With his passion and impeccable culinary background, Yu Min aims to redefine the seafood culinary experiences in the Bay Area.

Chef Yu Min Lin has a sophisticated yet simple philosophy when it comes to his cuisine. Chef Lin's main focus is recreating traditional Japanese and French techniques to compose contemporary dishes. Taking fresh seasonal ingredients and transforming them into a culinary experience is Chef Lin's approach to introducing guests to his cuisine. Chef Lin procures most of his fresh produce from local growers at the Palo Alto Farmers Market every Sunday. He uses local farms including Tomatero Farm, Heirloom Organic Farm, Ecopia Farm, and Iacopi Farm to acquire the finest products available.

In his free time, Yu Min enjoys fishing, swimming, and tending his own organic vegetable garden at home with his wife, Diana and young daughter, Nerissa.
 

South San Francisco Conference Center Catering
Mikey Ramirez, Chef
 


Bio: 
Ismael "Mikey" Ramirez has a long history with Dominic's at Oyster Point and the South San Francisco Conference Center Catering having been involved with the company since 1992. Since taking the role of executive chef in 2000, Chef Mikey has worked to support the community and enhance the flavor of Dominic's at Oyster Point and the South San Francisco Conference Center's offerings by incorporating fresh, local ingredients. He develops and creates new dishes with respect to the availability of ingredients in our local farms to impress their clients.
 
---
NON-PARTNER WINNERS
Devil's Canyon Brewing Company 
Chris Garrett, Brewmaster and Owner​
Bio:
At Devil's Canyon, Brewmaster Chris Garrett sources local ingredients and products whenever possible. Their specialty beer releases include local and responsibly sourced ingredients and many of their barrel-aged products include fresh local fruit. Devil's Canyon's handcrafted root beer is brewed with locally sourced honey and they partner with their neighboring vintners by featuring their locally made wine in their event center. Their commitment to sustainability begins with the support of the immediate community.
 
The Family Chef
Amy Fothergill, Chef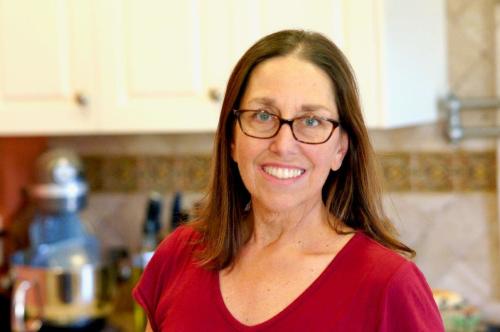 Bio: 
Chef Amy Fothergill's special diet journey began in 2007 when she had to start cooking gluten-free and dairy-free for her daughter. In order to accomplish this daunting task, she used her training and years of experience in the kitchen to teach herself a new way of cooking and baking. She experimented with the ingredients and techniques necessary for recreating traditional dishes into equally delicious gluten-free versions. Most people say they can't tell the difference.

Currently, she is a speaker, author, instructor, foodservice consultant, blogger, and food photographer. Her cookbook, The Warm Kitchen: Gluten-Free Recipes Anyone Can Make and Everyone Will Love, is award-winning and has been used to start a few gluten-free businesses. Additionally, she is the owner of The Family Chef Gluten-Free Baking, a cottage food operation in San Mateo County, where she bakes up tasty gluten-free products using fresh ingredients she finds from the farmer's markets and local stores. You can get more information about her at www.amythefamilychef.com.
 
Miramar Beach Restaurant
Francisco Jeronimo, Executive Chef
 

Bio:
Chef Francisco Jeronimo lives in Half Moon Bay with his wife and three kids. His passion for cooking began when I was eighteen years old. In the past, he has worked for many local restaurants in Half Moon Bay and attended culinary school to learn the basics of cooking and to remain current with developing trends. He currently oversees the kitchen at Miramar Beach Restaurant as the Executive Chef, where, for the past 25 years, his responsibilities have been to plan menus, make purchases, and manage the kitchen staff.
 
Miramar Farms
Robin McKnight, Executive Chef
 

Bio:
Robin McKnight has been the Chef at Miramar Farms since 2015.  As Chef, Robin has fostered a cuisine philosophy that reflects Miramar Farms' values of supporting local farmers and food providers, promoting sustainable food choices and serving healthy and delicious meals to their clients.  

Prior to joining Miramar Farms, Robin spent 30 years as a magazine sales director, serving as the marketing and sales lead for magazines such as Rolling Stone, Glamour, Lucky and Allure. Robin left the business world to pursue her love of cooking and trained at the Tante Marie cooking school in San Francisco.  Robin lives in El Granada with her husband Allen and their Wheaten Terrier, Buster.  
 

Moonside Bakery and Cafe
Isidro Contreras, Chef
 

Bio:
Isidro Contreras began working at the Moonside Bakery and Café 25 years ago training from the ground up from owner and Certified Master Pastry Chef Thomas Grauke the bakery end of the business. He has also self-trained on the kitchen menu turning it into a delicious complement to our baked goods.  He is always striving for a plate that incorporates fresh ingredients made from scratch!
 

NOLA, Milagros & Town
Jeremy Cheng, Chef
 
Bio:
Chef Jeremy Cheng was born in the Philippines, where he lived for part of his childhood. His parents come from a Chinese background and food has always been a relevant topic in his family, to the point that he remarks that "Every time [he] visit[s] a family member the first thing they say to [him] is, 'Have you eaten yet?'" He began cooking at the age of 12, learning from his parents, who are both great cooks. He has worked at various restaurants in the Bay Area including 231 Ellsworth, Kingfish, A Tavola, Town, Milagros, and Nola. Currently, he works as the Executive Chef for the Avenir Restaurant Group's Town in San Carlos, where they aim to serve great food, simply prepared with the best products.
 

The Grill House
James Hayes, Chef & Owner
 

Bio:
James Hayes brings his extensive experience in hospitality and customer service into developing and maintaining the back of the house operations for The Grill House. James' primary responsibilities include developing the cuisine and cultural experience as well as training, hiring, mentoring, and developing staff in all aspects of food hospitality.

James brings 17 years of professional experience to the restaurant. James began his food hospitality career working as a kitchen manager at an Italian restaurant in San Diego. He then worked in partnership with Chef Dane Mechlin, American Personal Chef of the Year Award winner, where he learned fine dining cuisine, techniques, and service. Using his tutelage and guidance, James catered events for many high profile clients including members of the San Francisco 49ers and Stanford football teams, as well as the Palo Alto Junior Museum and The Tech Museum of Innovation in San Jose.