MEET OUR LOCAL PRODUCERS
BREWERIES
Freewheel Brewing Company
Orion Lakota, Head Brewer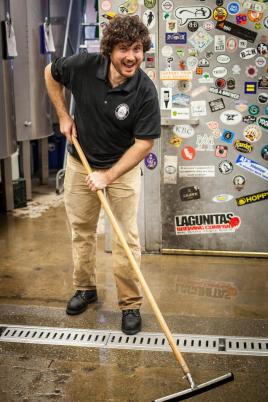 Orion started in October 2017. He is a man of many talents and spent years as a stone carver in addition to brewing for over a decade. Originally from Vermont, he relocated to the Bay 15 years ago. Outside of work, Orion is an experienced telemark skier, Burning Man legend and world traveler.

 
Half Moon Bay Brewing Company
James Costa, Brewmaster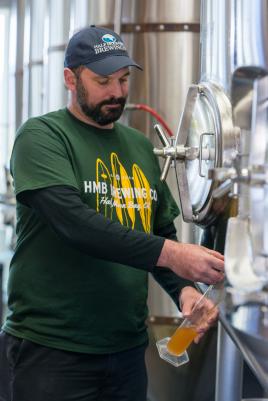 Over the last 20 years, James Costa has worked at some of Northern California's most notable craft breweries, assisting in the creation of some truly spectacular beers, like Bear Republic's famous Racer 5. At the Half Moon Bay Brewing Company, he's introduced a number of award-winning beers including Full Swing IPA and Tunnel Vision IPA, not to mention California's first beer made using recycled water. James' personal brewing philosophy: "creating world-class beer out of a combination of the finest ingredients and innovative, modern techniques".
---
DISTILLERIES
Tripp Distillery
Jason Tripp, Owner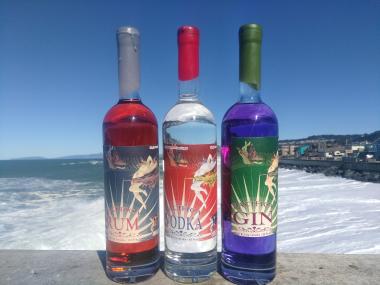 Tripp Distillery is a family owned business located on the Pacific coast, just south of San Francisco, CA.  Head distiller, Jason Tripp, masterfully distills the finest organic ingredients in our hand-made, 220 gallon still, which runs about half the speed of traditional pot stills.  This slower speed allows for more chemical interaction between copper and alcohol molecules and, along with the cool coastal air, temperature and humidity profiles are comparable to Scotland, allowing our barrels to mature the spirits gracefully. 
---
FARMS
 
Brisa de Año Ranch
Cole Mazariegos-Anastassiou​, Owner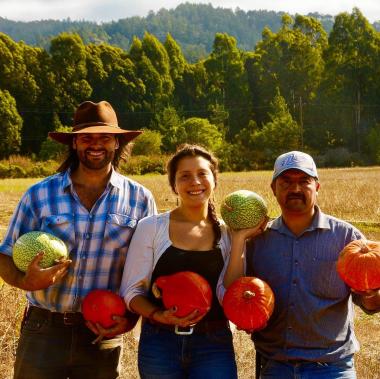 Brisa de Año Ranch is a small, organic farm located in beautiful Pescadero. Located only 45 minutes from the San Francisco Bay Area and nestled alongside Año Nuevo State Park & the Pacific Ocean, Brisa de Año loves to provide our local communities with locally grown organic food grown in ecologically diverse farmland.

Brisa de Año was founded in January 2018 by Cole Mazariegos-Anastassiou, Verónica Mazariegos-Anastassiou, & Cristóbal Cruz Hernández. Run and worked by these three farmers/friends, they grow a diverse range of fruits, vegetables, and flowers - well over different 50 crops in total!

With reverence and respect for the land, they know that as farmers, they have a tremendous responsibility to promote biodiversity and to restore the ecological processes that sustain us all. They also try to ensure that all communities have access to the food they work so hard to grow.

You may join their CSA and receive a weekly diverse box of our freshly harvested seasonal produce or order directly on our online store at www.brisaranch.com. You can also find their produce at the Pie Ranch Farmstand in Pescadero, the Half Moon Bay Farmers' Market on Saturdays, and the Burlingame Farmers' Market on Sundays.
 

Cozzolino's 
Tony Cozzolino, Owner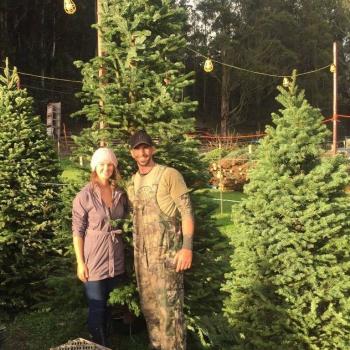 Cozzolino's is a family run company from Half Moon Bay, CA. Alex and Sharon Cozzolino have been farming flowers and vegetables on the coast since 1970. Their son Tony Cozzolino is a fourth generation farmer. Tony is the owner of Cozzolino Pumpkins and Cozzolino Christmas Trees. He and his wife Stephanie are at farmer's markets year-round with fresh eggs, sprouts, and microgreens, as well as other seasonal farm products.

Cozzolino's has a Christmas tree lot located at 501 San Mateo Rd. in Half Moon Bay. It is open daily from the day after Thanksgiving until Christmas. Weekday hours are 1PM-7PM. Weekend hours are 10AM-8PM. 

Cozzolino's has a pumpkin patch in the fall at Pastorino's Farm in Half Moon Bay. You can find nearly all varieties of pumpkins there in many colors and sizes.

 
Farm Fatales
Erin Tormey, Founder
Erin Tormey is the founder of both Coastside Farmers' Markets, and she is also a small, "1st Generation" farmer. She is converting her place into a heritage apple orchard and expects to have a collection of rare and unusual apples to sell in a couple more years. Meanwhile, she joins her fellow vendors at the Pacifica location by bringing her gorgeously colored pastured eggs to Market each week. The Farm Fatales are her mixed flock of threatened and/or recovering heritage breed hens. The ladies have a free run of 48 acres of pristine, never chemically assaulted pasture and keep hydrated with a rainwater catchment system. The hens spend their days out in the sun, nothing on natural forage supplemented with organic feed and hand-ground (no kidding) organic flax seed, resulting in eggs with ultra-high levels of Vitamin D and Omega-3s and beautifully balanced lipids. Erin has learned a lot from her fellow farmers over the years and is also a really creative cook. She would be more than happy to answer any food and farm-related questions!

 
Fifth Crow Farm
John Vars, Mike Irving & Teresa Kurtak, Owners

Fifth Crow is owned by three partners: John Vars, Mike Irving, and Teresa Kurtak. Though they are pretty young for farmers, each of them has over a decade of farming experience. The three of them met at and are graduates of the UCSC Farm & Garden program.

 
Half Moon Honey 
Gary & Teri Butler, Owners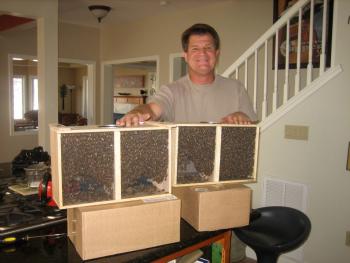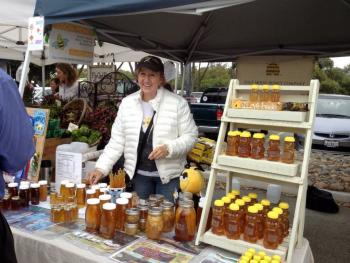 Harley Farms
Deborah (Dee) Harley, Owner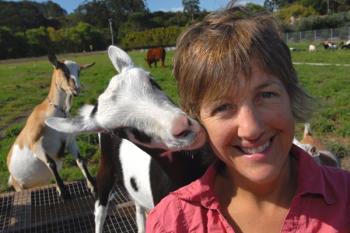 Dee Harley began farming over 20 years ago. She was awarded the 2007 San Mateo County Farmer of the Year. As a teenager in Yorkshire, Dee was selected for HRH Prince Charles' youth expedition project, Operation Raleigh, which encourages self-confidence and leadership through adventure, exploration and community service. Dee traveled to Honduras and never looked back. Harley Farms is proud to serve the community of Pescadero, California, with handmade food, work for local people, high-school students and people with special needs, and as a community meeting place.

 
Iacopi Farms
Louis & Mike Iacopi, Owners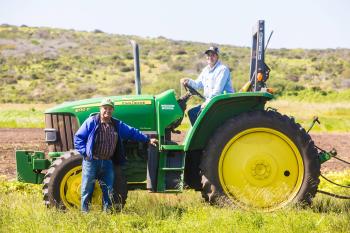 Since 1962, father and son team Louis and Mike Iacopi have been farming 200 acres in the cool, seaside town of Half Moon Bay. A three-generation farming family originally from central Italy, they are best known for their fresh shelling and dry bean varieties including Italian butter, cranberry, borlotti, gigante, and cannellini. These heirloom varieties were brought to California in the 1930s by the family's patriarch, Michele Iacopi, and are cherished by some of the most prominent restaurants in Napa, Sonoma and San Francisco counties.

Father and son use farming methods that are respectful of California's scarce water supply. More than half of what Iacopi Farms grows is "dry-farmed" meaning it is grown without any water. The natural moisture of California's foggy coast, combined with special soil tilling techniques, enables them to grow much of what they plant with little or no irrigation. They use both mechanical and hand cultivating methods to promote healthy soil nutrition.

Iacopi Farms also grows fava beans, blue lake and romano beans, English peas, sugar snap peas, Swiss chard, kale, and broccoli. Most crops are harvested by hand, enabling Iacopi Farms to filter out imperfections and select only the highest quality products.

You can find them and purchase directly at the College of San Mateo Farmers' Markets. Click here for more Farmers' Markets information.
 
Jacobs Farms
Larry Jacob, Owner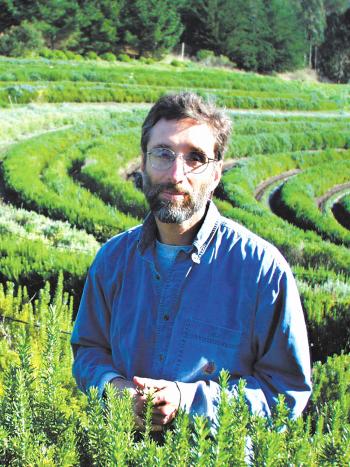 Jelich Ranch
Cindie & Phil White, Owners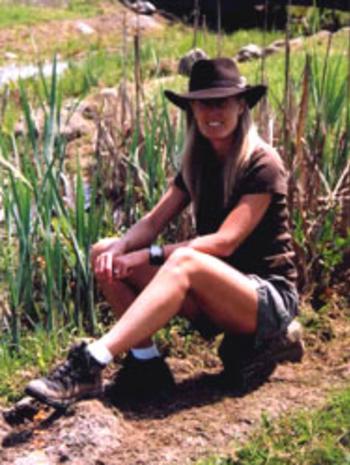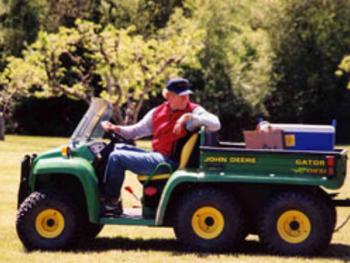 Phil was born and raised in Pana, Illinois, population 6,000.  As a young boy, he worked on his Uncle Virgil's farm, managing the chickens, bailing hay, and mowing. With his small-town farming roots, Phil is right at home on this ranch.  These days Phil spends a lot of time managing the business operations at Jelich Ranch, overseeing new projects, and often rolls up his sleeves to offer Skip a hand (or two) in the orchard.
Cindie was raised in Portola Valley, where her parents Manuel and Linda Lozano, still reside. As a young girl, she remembers buying fruit from Walter Jelich at Jelich Ranch and attending Portola Valley School (currently the Town Center) located next door to the ranch. Cindie is a nature enthusiast who enjoys sharing her on-going discoveries with children and adults. At the ranch, she develops curriculums and host camps, tours, and field trips.
In May of 2000, we purchased the century-old 14-acre historic 'Jelich Ranch', from the Jelich family. Rather than subdivide and turn the valuable Silicon Valley parcel into a residential development project, we've chosen to focus on the preservation of history and nature. Since 2000, we've been working hard to develop the orchard as an organic enterprise by cleaning up the property, restoring the orchard, replacing diseased trees, and adding new fruit varieties. The ranch has been certified organic since October 2003.

 
Markegard Family
Erik & Doniga Markegard, Owners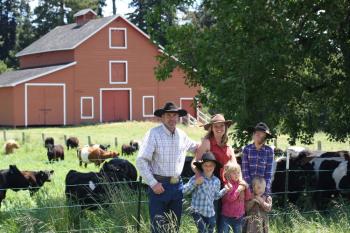 Erik Markegard is a 6th generation cattle rancher. He was raised on a 2000 acre cattle ranch in San Mateo County. Erik worked alongside his father, Larry Markegard as a youth managing or leasing all of the ranches for Peter Folgerand then Neil Young. These lands included the Broken Arrow, Djerassi, SMIP, Eisenhut, Isenburg, McCreery Moore, and San Gregorio ranches. Erik started his own cow/calf business, Flying M Cattle Company in 1985. Two years later he started managing and then leasing the TOTO ranch. When Erik met his wife, Doniga they transformed the cow/calf operation into 100% grass-fed to meet the growing demands for healthy, local, sustainably raised beef.

Doniga comes to ranching with a background in nature and permaculture. This has given her a perspective on the real risks that we are facing as a species. In her youth, she was mentored by some of the leading wildlife trackers, naturalists, and Native spiritual elders. She spent years alone and with a small group of passionate youth in the Western Washington Wilderness learning the ways of the ancestors, immersing in nature, bird language, survival skills, and wildlife tracking.
Along with her husband and four children, Doniga owns and operates Markegard Family Grass-Fed LLC raising grass-fed beef, lamb, pastured pork and dairy supplying the Bay Area with local, nutrient-dense foods. The family ranch leases land throughout the Bay Area spanning over 8000 acres. Doniga's work expands beyond her family ranch into policy and advocacy. She has organized a stakeholder working group at the State Capital for small dairy herds. She then took the lead on legislation that would enable family farms to be more sustainable and utilize pasture in an economical and productive way.
Doniga's deep observation experience aids in her ability to monitor grassland health, biodiversity and to manage land based on the principles and patterns found in nature. Doniga is passionate about the large-scale restoration of Western Rangelands through cattle grazing. The Markegard Family has forged partnerships with some of the largest land trust groups in California, private landowners, as well as regional open space parks. Each ranch has a grazing plan and conservation management plan developed in conjunction with landowners and the Natural Resource Conservation Service. She is dedicated to finding ways to regenerate lands and community through ranching practices that build soil, sequester carbon, capture and purify water and enhance habitat.

 
Miramar Farms
Jayne & Mark Battey, Founders & Owners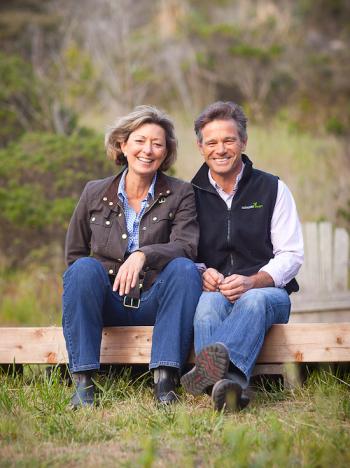 Mark and Jayne Battey founded Miramar Farms in late 2012 with the vision of serving both corporate and community leaders. In addition to building and running their own successful consulting firm for over 15 years, they each have unique leadership and board experience in the corporate, not-for-profit, and public sectors.
Jayne Battey is an entrepreneur and environmental leader with a track record of building highly successful teams in both the for-profit and non-profit areas. Over the past three years, Jayne's professional focus has shifted to mentoring and advising organizational leaders with a mission to help develop high-functioning, sustainable leadership teams. In addition to her work at Miramar Farms, Jayne is a facilitator with the Stanford Graduate School of Business Women in Management program. Just prior to founding Miramar Farms, Jayne spent three years as the Director of Land and Environmental Management for Pacific Gas and Electric Company. Prior to that, Jayne was the Executive Director of the Stewardship Council and Co-founder of Essex Environmental.
Mark Battey has over thirty years experience leading business, government and non-profit organizations. Mark was Chief Deputy Controller for California where he managed an $11 billion Revenue Anticipation Warrant bond sale, supervised the policy team for the Controller, and served on a variety of state finance boards including CalPERS and CalSTRS. He was co-founder and Managing Director for Essex Environmental, Inc., an environmental consulting company that was sold to TRC, Inc. in 2002.

 
Pie Ranch
Jered Lawson & Nancy Vail, Co-Founders & Co-Directors
Before co-founding Pie Ranch in 2003, Jered worked with various organizations in California that share a common goal of influencing the way people relate to themselves, each other and the land around them through the development of healthy, local and just food systems. Jered leads the organization's regional advocacy efforts, joins in farm operations, and works with the Board of Directors to raise the necessary support to fulfill the mission and infrastructure improvements of Pie Ranch. Jered lives on the farm with his partner Nancy and their children, Lucas & Rosa and loves to surf when time allows.
Nancy is a broadly experienced sustainable food systems farmer, advocate, educator, and leader. Previous to co-founding Pie Ranch in 2003, Nancy worked on a number of farms abroad and throughout the United States, eventually landing at UC Santa Cruz's Center for Agroecology and Sustainable Food Systems (CASFS) where she farmed and taught for over a decade. Nancy is passionate about linking justice with food and farming efforts, leads the organization in strategic planning and oversees educational programs and farm production. Nancy lives at Pie Ranch with Jered and their children, Rosa and Lucas. She also enjoys playing the fiddle at the monthly barn dance with the band, The County Line Pickers.

 
Potrero Nuevo Farm
Christine Pielenz, Owner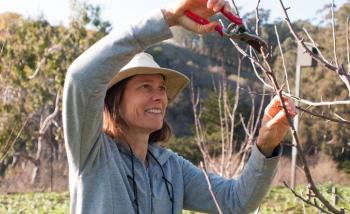 Christine hails from Germany. After coming to San Francisco in 1995 she founded the family foundation Potrero Nuevo Fund with her husband, Bill, which supports after-school arts education, school garden programs and sustainable architecture for low-income communities. She always has enjoyed growing her own vegetables; in 2008 she decided she needed more space to grow things and bought Potrero Nuevo Farm.

 
Root Down Farm
Dede Boies, Owner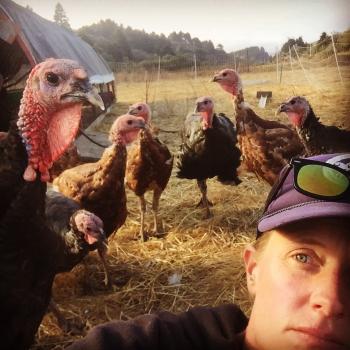 Dede grew up in the suburbs of New Jersey and didn't like even watering the house plants; let alone working in the garden. Yet, after graduating from college and moving west to San Francisco, she discovered her love for being outside, getting dirty and growing food through WWOOFing in Hawaii and New Zealand.
In 2008, she moved to Pescadero to apprentice with Pie Ranch for two years. While at Pie, she was able to soak up knowledge from Jered and Nancy (and Lucas and Rosa) and learned a lot about vegetables, livestock, teaching and juggling through experiential learning. From there she worked at Harley Farms, overseeing their kidding operation, and caring for and raising the newborn goats.
After leaving Harley Farms for a season in Maine at Seal Cove Farm goat dairy, she was pulled back to California and introduced to Kate and Jeff and Echo Valley Farm in neighboring Loma Mar, CA. There she helped develop and manage their 7-acre mixed vegetable and animal farmstead, and gained a wealth of knowledge through their openness and willingness to try almost anything. She stayed at Echo Valley for three years before joining forces with P.O.S.T. and landing in this beautiful valley to start Root Down Farm. 
Dede is passionate about humanely raising healthy, happy animals and her passion grows deeper when educating and connecting folks to the meat they chose to eat. Other than coaching high school basketball in the winter, running a farm, and snuggling the zoo inside the house, Dede also spends her time running the nearby trails, drinking cups of creamy black tea, talking about what's for dinner, and convincing folks she isn't Ellen Degeneres.

 
Tunitas Creek Family
Joanne Andreotti, Richard & David Holtz, Founders & Owners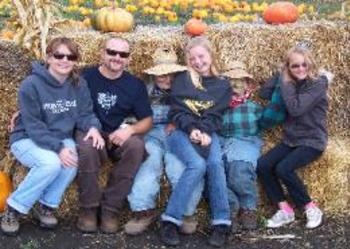 Tunitas Creek Family Farm was formed in 1998 By Joanne Andreotti and her Sons Richard & David Holtz. They have continuously farmed their property without the use of chemicals or synthetic pesticides, committing to growing quality produce in a natural way. Since then they have grown crops that include Pumpkins, Squash, Gourds, Corn, Peas, Beans, Garlic, and Herbs. Crops have been marketed to consumers directly through delivery, Farmers Markets, and on-farm sales. Wholesale purchases have been made by produce brokers, restaurants, small grocers and other farms. But to really appreciate how our farm came to be we have to honor our family's beginnings.
Joanne's father Dino Andreotti immigrated to Half Moon Bay in 1921 at the age of 17. He left his family in Molina di Quasa in the Tuscany region of Italy, to farm the fertile coast side. After 5 years of toil with partners, Dino set out on his own and began farming on Tunitas Creek Rd. He found much success with lettuce, peas, beans but especially his artichokes. He met Julia Benedetti and after a long courtship, they married and moved their farming operations to Kelly Ave. His son Dino E. Andreotti still runs the Andreotti Family Farm with wife Terry and their children.
Joanne and her sons always had an affinity for farm life. As children, Richard and David would sell pumpkins and gourds in front of their home on Main st during Pumpkin Festival weekend. When Joanne wed Gerald Marsh, they farmed and sold pumpkins and Fall decor at his Double M Farms pumpkin patch on Highway 92. Gerald had farmed pumpkins, hay, peas, and beans since he was a child. He took great care to teach and impart whatever knowledge he could to Richard and David.
In 1998, we were able to acquire a piece of family history when one of the Tunitas parcels Dino farmed so long ago, became available. Since then our family has worked together to preserve traditional farming and incorporate sustainable practices to produce fresh, healthy produce. We are proud to be Certified Organic by the California Certified Organic Farmers.

 
Webb Ranch
Webb Family, Owners
Webb Ranch began in 1922, under the guidance of George Webb and his wife, Florence. George developed fields of strawberries, blackberries, and raspberries, and delivered the produce to the local markets. Stanley Webb, the youngest of Webb Seniors six children, assumed management of the ranch in 1958, after completing service in the US Air Force.
Stan's entrepreneurial spirit oversaw the growth of Webb Ranch, by expanding the farming produce to include crops of corn, green beans, squash, pumpkins, tomatoes, bell peppers. In addition to the farming of produce, Stanley raised Red Oat Hay on the local Stanford University Lands.
Horse boarding to the public began in 1960, and has grown to our present day stable of 250 horses! Generations of equestrians have enjoyed the Webb Ranch and continue to do so today, contributing to the family atmosphere of the ranch life.
Webb Ranch has been owned and operated by the Webb Family since 1922, with the 5th generation currently living on and taking part in daily operations of the ranch. It is the Webb Family's wish to continue with the family tradition of providing a warm, friendly, safe and fun family environment to the equestrian and equine friends and to continue to produce and provide the highest and freshest quality produce to our community and customers.
---


FLOWERS
 
Bianchi Flowers
BJ Burns, Owner

---


WINERIES
Domenico Winery
Dominick Chirichillo, Owners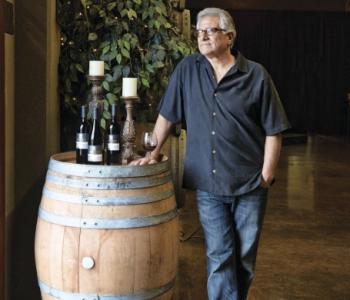 Domenico Winery is a family owned and operated boutique winery in San Carlos, California. We specialize in Cal-Italia varietals and have been making award-winning wine for over 20 years. Our vineyard is located in the Sierra Foothills in Amador County, California, where our two estate wines, Syrah and Primitivo, are grown. We make over 20 varietals in-house and source the finest and most premium grapes from other AVA's (American Viticultural Areas) in California such as: Napa Valley, Sonoma Coast, Santa Cruz Mountains, Russian River, and Lodi. In July 2019 we are transitioning our tasting room into a Osteria! Keeping up with tradition, our Osteria will showcase traditional Italian small plates and pizzas prepared with the highest quality California ingredients, award-winning wine (by the bottle, glass, tasting, and on tap), and timeless Italian hospitality and community.

 
Cuvee Wine Cellars
Paul Rogerville, Proprietor & Winemaker
After 25 years in the financial and corporate world, Paul spent the last 20 as the owner of a successful construction company. Somewhere amidst running a business built on brick, concrete, and plaster, he made the trek to Napa and thus began his love affair with grapes. In 1989, his friend Pat Smith introduced Paul to home winemaking and ten years later they made their first wine together.
Paul spent the majority of his free time over the past decade or so making wine and expanding his knowledge through classes at UC Davis, hands-on training and working with other accomplished winemakers. He has begun moving away from construction in order to become a full-time vintner, his true passion and running Cuvee Wine Cellars.

 
Flying Suitcase Wines
Vinther Family, Owners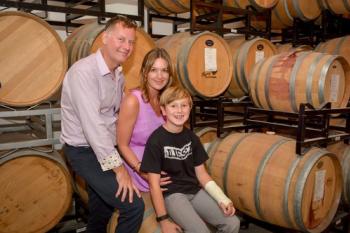 Our fairytale begins in 2007 when winemaker Anders Vinther and his wife Vikki moved from Denmark to California with their 3-month-old son, Kristoffer. As a Quality executive at a local biotech firm, Anders already had a solid background in biochemistry as well as a passion for good wines. With regular trips to the Wine Country, the couple never dreamed that one day they'd own their own winery and be producing award-winning wines. What began as an experiment with a colleague and fellow winemaker, became the winery's first release, a 2012 Sauvignon Blanc from Lodi, which would launch Flying Suitcase Wines.

 
Sante Arcangeli Family Wines
John Benedetti, Owner & Winemaker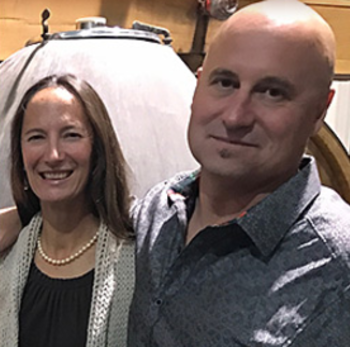 "Sante Arcangeli" is a person. Or, I should say, was a person. He was my Great Grandfather. He died in 1934 at the very young age of 47, but not before fathering 3 remarkable children and building a historic business on the north coast of California, in the small farming town of Pescadero. The children were Louise, Livia, and Alfredo, and the business later became known as Arcangeli Grocery Company (aka Norm's Market), a world-famous bakery and gourmet market, at the hands of Sante's grandson, Norm Benedetti (my dad) and my mom Shirley. It's now owned by Sante's great-grandchildren, my brothers, Mike and Don. I decided to name the winery after my Great Grandfather as a means of honoring all those in my family who came before me and provided me with the tools to do what I love to do.
Why the backstory?
Well, a byproduct of all of this was a wine cellar under "the store". My dad began laying up some pretty sought-after French and California wines in the 70s and turned me on to wine somewhat early in life. When most people my age were content with Natty Lite or Pabst, I was acquiring a taste for 20-year-old Chateauneuf du Pape. Problematic for a college kid on a college kid's budget. The solution: start making my own. Why not, right? I mean, I lived smack in the middle of one of the best Pinot Noir growing regions on the planet. And, thanks to constant exposure to fine food and wine, I acquired a knack for making things taste good at a very early age.
I still believe that knowing your target is the single most important step toward making anything taste good.  That means, in this case, enjoying great wine made by others almost constantly.  Rough gig.
Having taught myself to brew beer in my late teens/the early 20s, I segued to wine in my mid-30s after many years of successful and creative brewing, with the help of Ryan Beauregard, the Brassfield family, and James MacPhail, all of whom acted in varying capacities as friends, mentors, and teachers. It started as a hobby. Now it's a hobby gone haywire. My first barrel of wine was pinot noir, fermented with native yeast, from a very rare Santa Cruz Mountains vineyard. Jumped right into the deep end of the pool, with a goal to make delicate, layered, nuanced pinot noir and chardonnay in Santa Cruz.

 
Thomas Fogarty Winery
Thomas Fogarty & Michaela Martella, Founders & Owners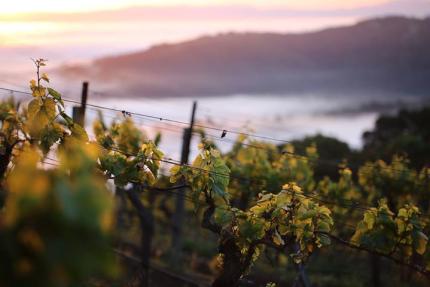 Thomas Fogarty Winery is borne of the confluence of innovation, opportunity, and experience. Founders Thomas Fogarty and Michael Martella collaborated to create what was to become one of the most notable and celebrated Estate Wine Producers in California.
In 1976 Dr. Thomas Fogarty, a practicing heart surgeon and noted inventor of medical devices decided that he would dedicate his approximately 350 acres in the north end of the Santa Cruz Mountains to open space. For inclusion in the "Williamson Act", the property would need an active agricultural purpose. The idea appealed to Dr. Fogarty, but he was undecided as to what types of crops he would cultivate. Initially, Dr. Fogarty considered planting the entire property to Kiwi fruit, but thankfully he reconsidered after a few fellow Stanford physicians introduced him to the wines of Burgundy and local producers David Bruce, Mount Eden and Ridge.
Once he had made the decision to plant the Estate to the cool-weather varieties Pinot Noir and Chardonnay, a mutual acquaintance introduced Dr. Fogarty to Michael Martella, a fourth generation grape grower in California. In 1977 Martella and Fogarty began removing brush to plant the first two vineyards on the property. Over the next four years, with the occasional advice and guidance of Santa Cruz Mountain pioneers Jeffrey Patterson, Jim, and Bob Varner and Jim Beauregard, the six "core" vineyards of the Fogarty Estate were planted.
The almost thirty acres under vine are today farmed organically with minimal (if any) irrigation, and the property remains in the Williamson Act, which means that the entire Estate of 350 acres is preserved as Heritage Oak and Fir forest.
Now, Thomas Fogarty Winery carries forward the vision of our founders, Dr. Thomas Fogarty, and Michael Martella, hand-farming and raising these wines from the small mountain vineyards of our Estate. We hope you will enjoy and share the passion for these small lots of lovingly created wines.