Nominate Your Business for An Award
As Fresh As It Gets
Applications for the 2019-2020 As Fresh As It Gets Awards are now closed.

We will be uploading the 2020-2021 applications soon. If you would like more information about next year's applications, please contact Nova Maldonado at nova@smccvb.com.
Why should you apply for a San Mateo County: As Fresh As It Gets Award?
 
You want your customers and potential customers to know that you serve the freshest local fare;
You want to be able to add the line, "Recipient of a 2019-2020 San Mateo County As Fresh As It Gets Award" to your menus and promotional literature;
You want to receive an award to display prominently in your place of business;
Your chef would like the honor of being designated an "As Fresh As It Gets Chef."

What do Award Winners receive?
 
Each Award Winner will receive a San Mateo County: As Fresh As It Gets Award Certificate, an Award Plaque for display at their business, and a commemorative polo shirt, as well as commendations from their respective local, state, and federal government officials. Additionally, Award Winners have the opportunity to have their chefs promoted in profiles (including an image and a brief biography) on our Meet the Chefs page and are able to join the San Mateo County/Silicon Valley Convention and Visitors Bureau at a discounted rate. Find more information on Bureau Partnership here.

Is your business eligible for a San Mateo County: As Fresh As It Gets Award? Find out below!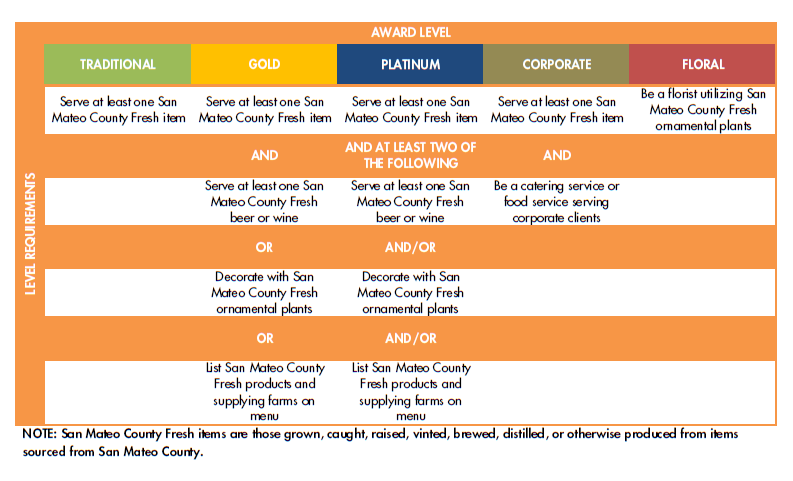 Apply Here!

If your business is eligible, please download the online application and email it to nova@visitsmcsv.com or mail it to us at the following address:
ATTN: As Fresh As It Gets
111 Anza Blvd, Suite 410
Burlingame, CA 94010

Past Award Winner?

If your business has won an award in the past and still qualifies this year, remember to renew your application for this year's awards ceremony. Please download the online renewal application and follow the instructions above.

Not Eligible But Want To Be?

Contact Nova Maldonado at nova@visitsmcsv.com or call 650.348.7600 for more information on local producers and to sign up for our As Fresh As It Gets mailing list.