Sports Hall of Fame
NEW THIS YEAR!

The Board of Directors of the San Mateo County Historical Association is pleased to announce that the Association will be sponsoring the 2019 Peninsula Sports Hall of Fame.

The event was sponsored by the San Mateo County/Silicon Valley Convention & Visitors Bureau from 2011 to 2018 and by the San Mateo County Times in its earliest years.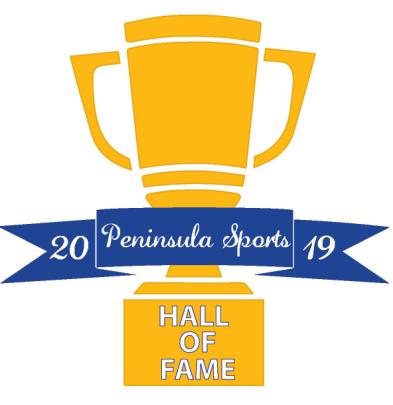 This year, the Historical Association will be hosting a reception on Thursday, April 25 at the San Mateo County History Museum. The inductions will take place in the Museum's historic Courtroom "A".

The cost will be $20 for members in advance or $25 at the door, and $35 in advance for non-members or $40 at the door. Non-members who purchase two or more tickets will receive a complimentary individual-level museum membership.

The emcee will be KNBR's Marty Lurie.

ONLINE TICKET PURCHASE

Click here to purchase tickets online.
 
---

THIS YEAR'S INDUCTEES INCLUDE:

Nicole Carroll, College of San Mateo - A world-class javelin thrower who starred at CSM and Fresno State, she was a two-time American champion and a member of the 1996 U.S. Olympic team.
Pat Lewis, Mills, Oceana, and Jefferson High Schools - A productive track and field coach for 50 years on the Peninsula, he specialized in tutoring male and female athletes in throwing events (shotput and discus).
Gino Della Libera, San Mateo High School - A football and track and field standout, he took his considerable skills to Arizona State University where was an integral part of an undefeated 1957 Sun Devils football team.
Eric Reveno, Menlo School - A basketball state champion at Menlo School, he later played at Stanford and became the head coach at Portland University, earning league Coach of the Year honors.
Tod Spieker, Menlo-Atherton High School - An outstanding swimmer at Menlo-Atherton and UCLA, and later in masters' age-group competition, he has had a major impact on aquatics locally and nationally.
John Ward, Carlmont High School - An ex-San Mateo County supervisor, he has created and maintained a comprehensive website that charts the long history of Northern California semi-pro/amateur baseball.

Questions?

Please contact the San Mateo County Historical Association at 650.299.0104 or email info@historysmc.org. You may also visit the Sports Hall of Fame's official website for more information.
 
---

ABOUT THE PENINSULA SPORTS HALL OF FAME
Since 1989, the Peninsula Sports Hall of Fame has honored local legends who have inspired others with their athletic ability, coaching skills, and/or sports management skills and have raised the level of importance of sports on the Peninsula. The Hall of Fame, located here at the San Mateo County History Museum, has grown to include more than 250 people including Olympians, professional athletes, coaches, and many others.
We are extremely proud of each of the inductees. Here is a list of all the past winners.