SAN MATEO COUNTY IS FULLY REOPENED!
After more than a year since the original Shelter in Place Order went into effect and 291 days since California's County Tier System was put in place, today California formally retires the Tier System and generally aligns its policies with that of the CDC. This has been a long journey for us all here in San Mateo County.  A journey filled with anxiety, stress, false restarts, and for some, recovering from the COVID virus. 

Everyday life will now feel a lot like before COVID-19. Restaurants, shopping malls, hotels, movie theaters, and most everyday places will now open as normal with no capacity limits or social distancing required. We assure you that our local businesses will continue to be committed to staying in compliance with all health and safety protocols and we are all eager to welcome YOU back!
 
---
WHAT'S ALLOWED IN SAN MATEO COUNTY?

As of June 15, San Mateo County will see capacity limits and physical distancing requirements lifted for most businesses and activities. Based on the honor system (self-attestation), vaccinated individuals are not required to wear masks while unvaccinated are required to wear masks. Masks are also required for air travel and public transportation. Please keep in mind that individual private businesses may impose individual requirements.

In regards to meetings in San Mateo County, masks are required for large indoor events with over 5,000 people and outdoor events with over 10,000. These requirements and recommendations will be in place through October 1. The state will assess conditions by September 1 to determine whether updated requirements or recommendations are needed beyond October 1, 2021.

ADDITIONAL RESOURCES
 
---
Our "Reopened & Ready" Pledge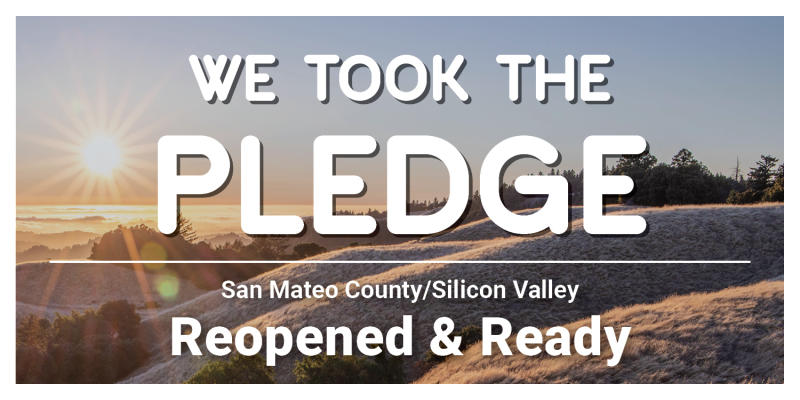 The San Mateo County/Silicon Valley region is known for its resilience and innovative ways to succeed and continue to move forward. As we move forward with our reopening, local businesses are pledging to take every precaution to keep YOU safe and healthy while visiting our destination.
As San Mateo County & Silicon Valley business partners, we PLEDGE to:
Use face coverings.
Ensure hand sanitizer is readily available.
Practice and encourage physical distancing.
Follow CDC cleaning protocols.
Continuously innovate to reduce touch points.
Provide our staff with COVID-19 awareness training.

We are proud that more and more San Mateo County and Silicon Valley businesses are taking the "Reopened & Ready" pledge, with more joining daily. See the full list of participating businesses below.