WE ARE REOPENED AND READY FOR YOUR VISIT - WE'VE MISSED YOU!

As the San Francisco Bay Area continues to move forward in these unprecedented times, the safety and security of our residents and visitors remain our top priority. Local hotels, restaurants, attractions, and other businesses in San Mateo County and Palo Alto understand the importance of following commercial sanitation and safety protocols, and all continue to work extremely hard in order to reach these goals.

As a destination, we are committed to continuing to work closely with local and state government agencies to stay informed and in compliance with all health and safety orders to prevent the spread of this disease. Therefore, below we've listed the latest travel updates that we hope are helpful when you're planning your next visit. In addition, local businesses have begun a pledge to be "Reopened & Ready" and promise to take every precaution to keep visitors safe and healthy as we move through the phases of reopening in our region.

Together, we're committed to be "Reopened & Ready" to welcome YOU back!
 
---
CURRENT STATUS IN SAN MATEO COUNTY

On January 25, Governor Newsom lifted California's Stay at Home Order for all regions of the state. As a result, San Mateo County has returned to the Widespread (Purple) tier under the Blueprint for a Safer Economy. As a reminder, the Purple Tier once again allows Outdoor Dining, Retail at 25% indoor capacity, and it is also anticipated that hotels will be allowed to accept guests beyond essential travelers. Learn more about what is currently allowed by the type of industry.

Governor Gavin Newsom is also urging individuals arriving or returning from other states or countries who do not meet the essential traveler criteria to quarantine for a minimum of 10 days after arrival in California. Read more about the travel advisory for leisure and non-essential travel.
Additionally, in an effort to thwart the import of variant strains of the virus, the Biden Administration has imposed an international travel ban affecting inbound traffic from these countries. U.S. citizens returning from travel abroad must show proof of negative COVID test and abide by applicable quarantine rules.  

WHAT'S OPEN FOR BUSINESS?
 
Hotels (for essential travel only)
Restaurants (outdoor dining, takeout, and delivery only)
Retail & Shopping Malls (open indoors at 25% capacity)
Parks (limited parking, some restrictions – check in advance)
Pillar Point Harbor (except picnic areas, including barbecues and picnic tables)
Wineries & Tasting Rooms (outdoors only)
Museums, Art Centers & Zoos (outdoors only)
Worship Services (outdoors only)
Libraries (max of 25% capacity)
Hair Salons, Nail Salons, and Barbershops (open indoors with modifications)
Gyms, fitness centers​ , and yoga studios (outdoors only)
Cardrooms (outdoors only in San Mateo County)
Grocery Stores (max of 50% capacity)
Essential Businesses (gas stations, banks, hospitals, etc.)
For more information:
Blueprint for a Safer Economy (State of California)
Stay at Home Q&A (State of California)
San Mateo County Health Services
Santa Clara County Public Health
Our "Reopened & Ready" Pledge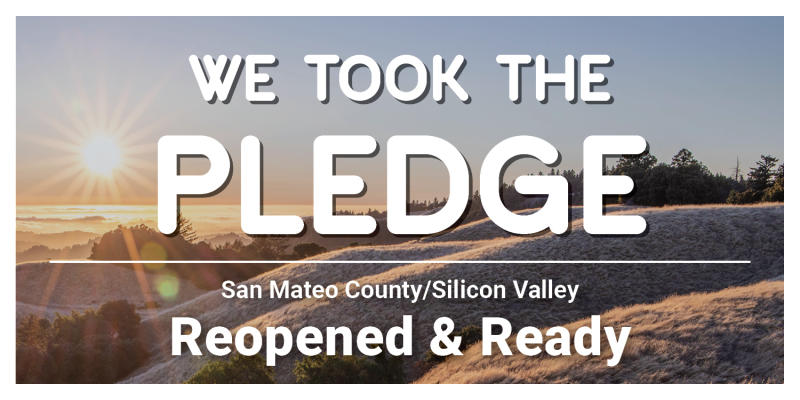 The San Mateo County/Silicon Valley region is known for its resilience and innovative ways to succeed and continue to move forward. As we continue to move forward with our reopening, local businesses are pledging to take every precaution to keep YOU safe and healthy while visiting our destination.
As San Mateo County & Silicon Valley business partners, we PLEDGE to:
Use face coverings.
Ensure hand sanitizer is readily available.
Practice and encourage physical distancing.
Follow CDC cleaning protocols.
Continuously innovate to reduce touch points.
Provide our staff with COVID-19 awareness training.

We are proud that more and more San Mateo County and Silicon Valley businesses are taking the "Reopened & Ready" pledge, with more joining daily. See the full list of participating businesses below.
 
---

WHAT YOU CAN DO

When visiting San Mateo County and Silicon Valley, we ask that all visitors please follow the same health and safety guidelines that our local residents are following (as mandated by state & county officials):
Wear a face-covering inside all indoor public spaces, public transportation, workplaces, and other locations as mandated by the California Department of Public Health.
Practice social distancing, allowing six feet of space between you and others (household members excluded).
Wash hands frequently with soap and water and/or use hand sanitizer.
Limit mixing with people you don't live with.
Stay home if you feel sick.
If you experience symptoms while traveling, please self-quarantine and seek guidance from any of the resources below.
ADDITIONAL RESOURCES
 
---