COVID-19 TRAVEL UPDATES IN SAN MATEO COUNTY
UPDATES ON INTERNATIONAL TRAVEL

The Biden Administration announced that the U.S. will reopen its borders to international visitors on November 8, 2021. Individuals traveling to the U.S. from overseas will be required to provide proof of COVID-19 vaccination and a negative COVID-19 test taken within three days of their departure. Masking will continue to be required on flights, and enhanced contact tracing will be employed for international visitors. However, international travelers will no longer be subject to quarantine mandates. Depending on where you are traveling to after San Mateo County, international travelers might need to show another negative COVID-19 test.

INDOOR MASK MANDATE & PROOF OF VACCINATION

We were all extremely jubilant when California fully reopened on June 15, 2021! However, in an effort to minimize the impact of the Delta Variant, on August 3, 2021, the San Mateo County Health Department implemented an indoor mask requirement which includes activities such as indoor dining, events, shopping, and gyms. Activities in an outdoor setting such as outdoor dining, outdoor yoga, etc. do not require masking.

Neighboring counties of San Francisco, Marin, Sonoma, Contra Costa, Santa Clara, and the City of Berkeley all have the same requirement.

In addition, the City of San Francisco now requires patrons to show proof of vaccination for indoor dining, events, shopping, and gyms. Proof of vaccination is a requirement – negative COVID tests or self-attestation are not accepted.

PLEASE NOTE: San Mateo County DOES NOT have this proof of vaccination requirement.

UPDATES ON LARGE GATHERINGS IN SAN MATEO COUNTY

For all indoor events of 1,000 people or more, proof of vaccination is required. Self-attestation or a negative COVID test will not be accepted starting September 20, 2021. Face coverings are now required. 
For all outdoor events of 10,000 people or more,  proof of vaccination is highly encouraged. Self-attestation or a negative COVID test may be used at the discretion of the event's organizer. Face coverings are also required.

These requirements for large gatherings are uniform throughout the State of California.

ADDITIONAL RESOURCES
 
---
Our "Reopened & Ready" Pledge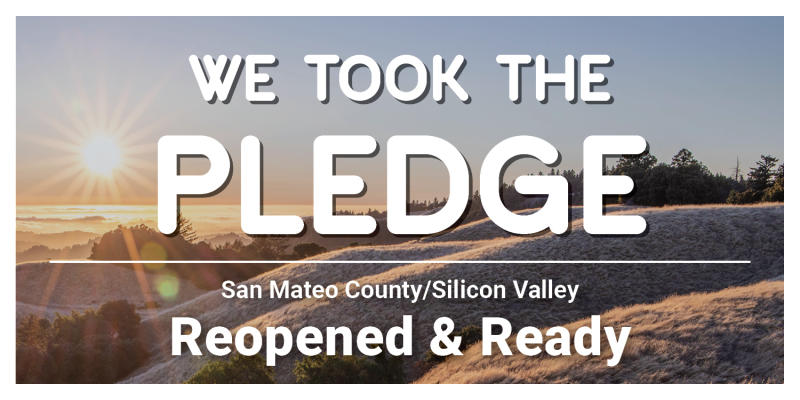 The San Mateo County/Silicon Valley region is known for its resilience and innovative ways to succeed and continue to move forward. As we move forward with our reopening, local businesses are pledging to take every precaution to keep YOU safe and healthy while visiting our destination.
As San Mateo County & Silicon Valley business partners, we PLEDGE to:
Use face coverings.
Ensure hand sanitizer is readily available.
Practice and encourage physical distancing.
Follow CDC cleaning protocols.
Continuously innovate to reduce touch points.
Provide our staff with COVID-19 awareness training.

We are proud that more and more San Mateo County and Silicon Valley businesses are taking the "Reopened & Ready" pledge, with more joining daily. See the full list of participating businesses below.