As we continue into the summer months, we wanted to share ways to continue to show support to local businesses, producers, and farms. Therefore, we've put together a list of some of the local Farmers' Markets in San Mateo County and Silicon Valley that are currently open for your convenience. All of these amazing Farmers' Markets are offering fresh, local produce for you and your family!
If you're visiting, let's remember to please wear a face covering when you are out in public spaces and keep a physical distance of at least 6 feet. If we do not follow guidelines, Farmers Markets are at high risk of shutting down.

Coastside Farmers' Markets

Currently, the Coastside Farmers Markets remain open since they are considered essential shopping. This is great news since these markets serve the entire coastside community from Pacifica down to Pescadero and are designed to link coastside residents with their local neighbors - farmers, ranchers, fishermen and artists that produce some of the most nutritious and fresh food in the world!
The Half Moon Bay Coastside Farmers' Market, located at Shoreline Station (225 Cabrillo Highway), is open on Saturdays from 9:00 AM to 1:00 PM from April to December, while the Pacifica Coastside Farmer's Market, located at Rockaway Beach, is open on Wednesdays from 2:30 PM to 6:30 PM. 
Representing the south coast farmers is the Pescadero Grown Farmers' Market. Located at 251 Stage Road, the local market in Pescadero is open from June through October on Thursdays from 3:00 PM to 7:00 PM.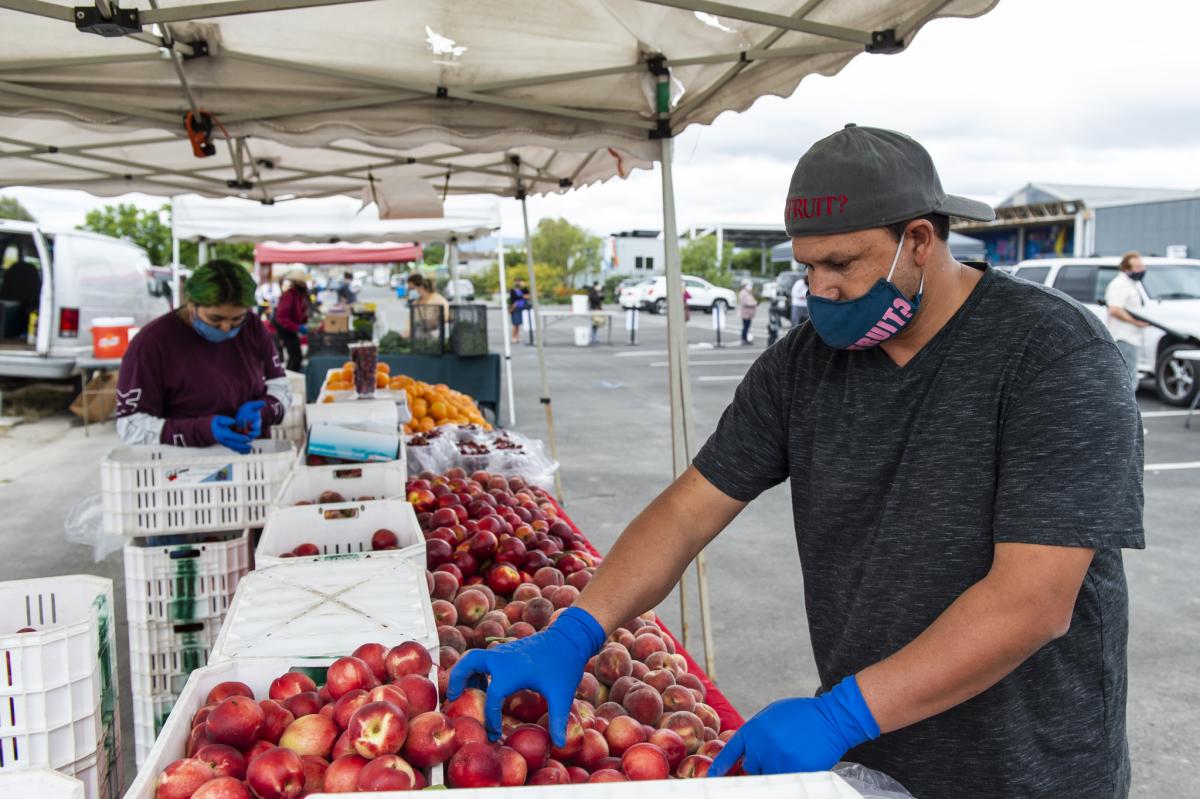 Photo of East Palo Alto Community Farmers' Market, courtesy of Bloomhouse
If planning a visit, please be advised that there are no longer samples, demonstrations, music, and made-to-order foods. In addition, occupancy in the markets is now limited to no more than 50 individuals at any given time, and they have instituted a one-way traffic pattern.
They also ask that only one adult per household attends the market to shop, that folks please do not make plans to meet and shop with friends, and that visits are short. This is to ensure the line moves swiftly so as many people in the community can access the region's most fresh produce in the safest way possible. Additionally, the first 45 minutes each day are reserved for seniors and folks with health compromises/immune deficiencies.

Bayside Farmers' Markets

Starting north, the Brisbane Community Farmers' Market, located at 11 Old County Rd, is open on Thursdays from 3:00 PM to 7:00 PM. From fresh fruits and veggies to gorgeous flowers, pizza, pasta, hummus, kettle corn, and even artisan dairy products, this market offers many local vendors to choose from.
The City of Daly City also offers a Certified Farmers' Market at the Serramonte Shopping Center (3 Serramonte Center), year-round on Thursdays and Saturdays from 9:00 AM to 1:00 PM. With 55 farm stands, including over 200 table feet of Asian vegetables and a vast variety of Indian, French, German, and Italian vegetables and bakeries, this market is popular for locals and visitors alike!
The City of Millbrae offers the Millbrae Certified Farmers' Market at 200 Broadway in the City Parking Lot between La Cruz and Victoria Ave. This year-round market runs on Saturdays from 8:00 AM to 1:00 PM. Meanwhile, the Burlingame's Fresh Market is located at 1300 Burlingame Ave. and takes place Thursdays from May through November from 3:00 PM to 7:00 PM, and Sundays year-round from 9:00 AM to 1:30 PM. Operated by the Burlingame Chamber of Commerce, the market features California growers delivering seasonal produce and flowers.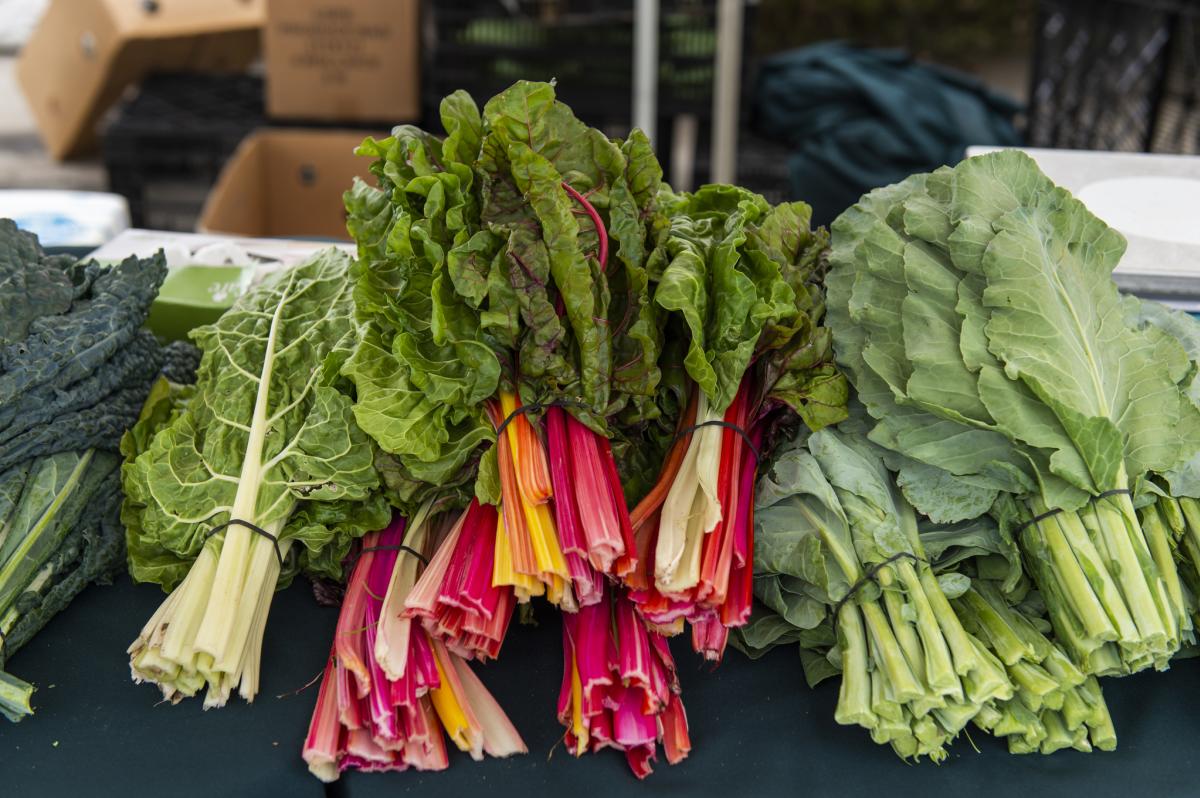 Photo of East Palo Alto Community Farmers' Market, courtesy of Bloomhouse
Continuing south, we have the San Mateo Farmers' Market, located at the College of San Mateo (700 W. Hillsdale Blvd.). This year-round market operates on Saturdays from 9:00 AM to 1:00 PM and features fresh, seasonal produce provided by local farmers and ranchers.
In Foster City, the Foster City Certified Farmers' Market located at 1010 Metro Center Blvd. is open year-round on Saturdays from 9:00 AM to 1:00 PM. Featuring a wide array of fresh fruits and vegetables, you'll be sure to find delicious produce while supporting local farms and businesses.

The Belmont Certified Farmers' Market, located on El Camino Real and O'Neill Avenue in the Caltrain station parking lot, runs on Sundays from 9:00 AM to 1:00 PM, year-round! This market offers the best of California's agriculture direct from the farmer to you. Here you will find fruits, vegetables, nuts, freshly baked bread and pastries, fresh flowers and so much more.

Silicon Valley Farmers' Markets

The Menlo Park Certified Farmers' Market occurs year-round on Sundays from 9:00 AM to 1:00 PM. Located in the parking lot on Chestnut St. between Santa Cruz Ave. and Menlo Ave. (1050 Chestnut St.), this non-profit community-based market is sponsored by the local LIONS club, with a mission to contribute to the Quality of Life in their community.
In East Palo Alto, you'll find the Community Farmers' Market located at the Bloomhouse parking lot on 2555 Pulgas Ave. Open from May through November from 10:30 AM to 2:00 PM, this market is a crucial resource for ensuring healthy and affordable food access for the community, while supporting local family farms. This farmers' market also accepts CalFresh EBT (SNAP) and Market Match, a great program that gives shoppers paying with CalFresh extra spending money for fresh, local produce. Here is a full list of Farmers Markets that offer this program!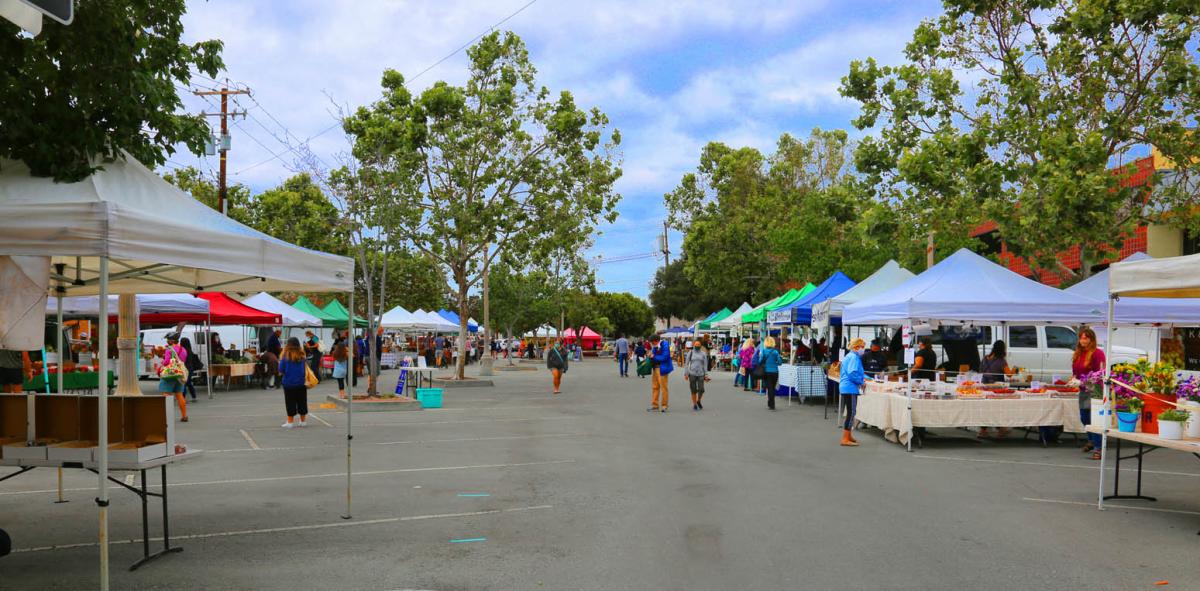 Photo courtesy of Jitze Couperus

Friendly Reminder

Please keep in mind that these are just some suggestions. If you do not feel comfortable venturing out to Farmers Markets at this time, do not feel pressured! We all have our own comfort level when it comes to leaving the house during this pandemic. We assure you that all these locations will welcome you with open arms when YOU are ready!
 Nonetheless, if you DO feel comfortable heading to Farmers Markets, please share your experiences with us by tagging us in your photos @visit_smc_sv, and using the hashtag #playbythebay. Stay safe!
 
---

See all that San Mateo County/Silicon Valley has to offer! Download our visitor guide today and start planning your trip!