Lucky for you, this year, Valentine's Day falls on the President's Day holiday weekend - and you know what that means...THREE DAY WEEKEND! Just because we are in a pandemic doesn't mean we can't get extra romantic and share the love with our special someone. We are here to help you with some fun, out-of-the-box ideas for this romantic weekend, so here are some of the best valentine's day ideas in San Mateo County & Silicon Valley!

A CHANGE OF SCENERY

San Mateo County/Silicon Valley is currently open for business. The pandemic forced us into a shelter-in-place order which was recently lifted, and now our hotels are open for leisure visitors, yay!

If you are anything like me, bored by being home all day, then you are in need of a change of scenery to get you into the romantic mood. Our beautiful region has 140 hotel options to choose from, and we all know there is nothing like a San Mateo County Valentine's Day getaway! Opt to bring your special someone to Half Moon Bay and stay at either the oceanfront Beach House Hotel or the Oceano Hotel & Spa, both excellent choices for a romantic getaway and within walking distance to restaurants with amazing outdoor dining options such as Sam's Chowder House and Half Moon Bay Brewing Company.

If you would like to stay near San Francisco Bay, a few recommendations would be the DoubleTree by Hilton San Francisco Airport North, the Pullman San Francisco Bay (their Valentine's Day package includes a bottle of house champagne and a bouquet of flowers), or the AC Hotel San Francisco Airport/Oyster Point Waterfront. Learn more about other hotels in San Mateo County & Silicon Valley.

PRO TIP: Check out our hotel Valentine's Day Hotel Packages below for current offers and discounts!
DAY TRIP ADVENTURES 

Whether you stay at a hotel or are just visiting for the day, San Mateo County is the perfect destination for day trips! Check out some of my favorite ideas for fun, adventurous, and of course, romantic Valentine's Day adventures in San Mateo County:

1. How about a romantic beach picnic curated for the perfect Valentine's Day surprise! Domenico Winery and Gateway Global have teamed together to offer a 2-hour, all-inclusive luxury experience for two, that includes: an amazing ocean-view set-up with stylized blankets, pillows, coffee table complete with table set-up, and a champagne bucket filled with sparkling wine and two keepsake metal flutes, a chilled cheese plate and a gourmet meal for two, and to top it off a dessert box to share. Learn more about this amazing experience.

2. Filoli is one place that embodies romance at every corner and a visit is one of the best romantic ideas we can think of! This luxurious garden and historic house come alive with seasonal blooms to admire, winding pathways where you can get lost to steal a kiss and incredible views for that perfect Valentine's Day selfie with your sweetie. On special display for the season are over 50 bonsai trees never before on display to the public, and some of these spectacular miniatures even date back to 1917!
3. Why not woo your special someone with a trip to San Mateo County's very own goat farm! Harley Farms in Pescadero is the perfect spot for a fun day trip no matter what the season. On the way, I suggest a stop at Arcangeli Grocery Co. right down the street from Harley Farms – grab the fixings for a picnic: a bottle of the Sante Arcangeli Family Wine (the Pinot is my favorite!), a loaf of their famous Garlic Herb & Artichoke Bread and some deli meats. When you arrive at Harley Farms, visit their cheese shop and browse the adorable wooden barn farm shop. While there, select some goat cheese and local honey to add to your picnic. Sit on a bale of hay, admire the cute baby goats, and indulge in your truly local, "As Fresh as it Gets" picnic. Make sure to stop at Pigeon Point Lighthouse on your way home for the perfect sunset picture, because nothing is more romantic than catching the sunset over the Pacific Ocean.

PRO TIP:  Bring a small cooler and grab a box of homemade goat cheese ravioli on your way out to make for your valentine's dinner. You will not be disappointed!

4. If you are really looking to spice things up and get adventurous on Valentine's Day, might I suggest renting an electric bike from ECOBike Adventures. What better way to get the blood flowing than a fun bike ride around the San Mateo County peninsula? Electric bikes equalize athletic ability, so everyone can have fun and enjoy the ride. For the ideal adventure, book a hotel night stay at the pet-friendly San Francisco Airport Marriott Waterfront in Burlingame. ECOBike Adventures will deliver bikes, helmets, and locks right to the front lobby, cruise the San Francisco Bay Trail by bike, then ride over to nearby New England Lobster Market & Eatery for some aphrodisiac oysters and lobster rolls. Then cruise back to the hotel for a romantic night together…wink, wink!

5. Looking for a fun event to do from the safety of your home this Valentine's Day? Be sure to check out all the great virtual wine tasting classes offered by the San Francisco Wine School. One of our favorites combines food and wine and is offered on February 14, Intro to Food Pairing. Want more options? Check out more great stay at home virtual events.
MUST-HAVE VALENTINES GOODIES

Valentine's Day is not complete until you indulge in chocolate! And there is no better chocolate in Half Moon Bay than the craft, artisanal confections created by SWEET55.  These melt-in-your-mouth morsels are the perfect gift for your loved ones. Owner Ursula Schnyder will make sure you leave the shop with the perfect chocolates, wrapped up in the most delightful packaging. She has adorable seasonal creations, and for Valentine's Day, the heart chocolates are a must! 
PRO TIP: Order online or call 650.440.4330 to order in advance for quick pick up.
Another great way to brighten someone's Valentine's Day is with fresh flowers. One of our favorite local spots to purchase bouquets is Blossoms Flower Shop at the Hillsdale Shopping Center.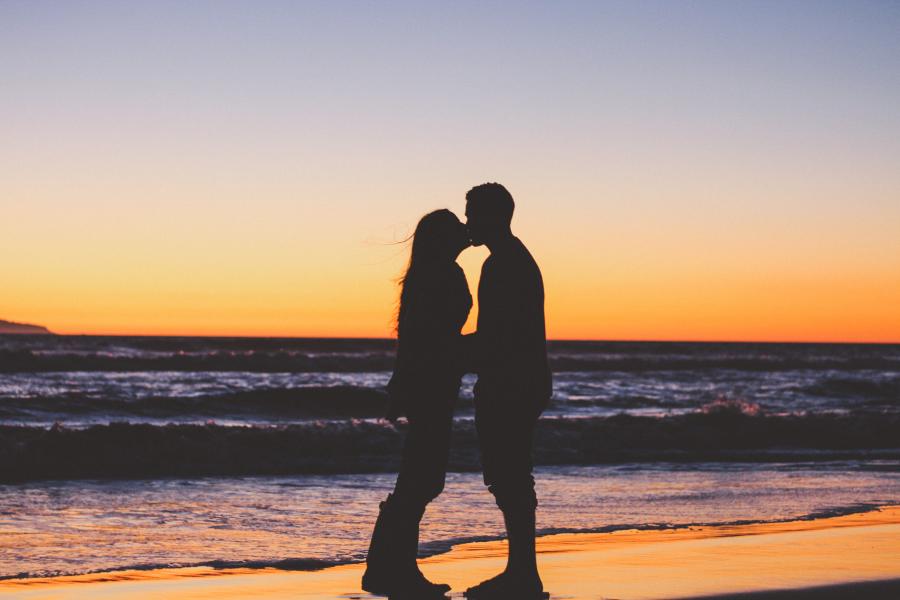 MEMORABLE VALENTINE'S DINNER

Consider supporting a local business this Valentine's Day and order take-out or catering for your loved ones. A few of our favorite menus: 
1. California Catering Company - Set Menu for February 14, Valentine's Day, includes: a starter salad, filet mignon, grilled Salmon, sides, and dessert! Only $22 per person, and add wine/champagne for $10.

2. Kincaid's - 4 Course Menu for Two, options include: crab cakes, grilled prawns, lobster bisque, grilled salmon with lobster beurre blanc, molten chocolate cake with bourbon and Ghirardelli chocolate sauce and so much more! $100 per couple. Place your order today!

3. Domenico Winery - Valentine's 'Heat at Home' Dinner for Two, options include: crab-stuffed filet mignon, crab-stuffed chicken breasts, vegetarian and vegan options, as well as add-ons and dessert options.

4. Taste Catering -  Check out the 'Amour Box' Valentine's Meal for Two - With this purchase, you'll receive a lovely, French-inspired meal to share with your Valentine in the comfort of your home.  As well, you are donating to Hospitality Helps and providing 2 meals for those in need in the Bay Area.

5. Que SeRaw SeRaw – Check out their delicious vegan and raw Valentine's menu. They are offering items such as red velvet truffles, rose dark chocolate bark, and 'Fudge-a-roon Heart'.

6. Half Moon Bay Brewing Company - This year's Valentine's Day Entree: Local halibut with roasted fennel mashed potatoes, asparagus, shiitake, and oyster mushrooms, topped with a pineapple berre blanc sauce. This special will be available for the entire holiday weekend, starting Friday 2/12 through Sunday 2/14. They will be open for takeout and patio dining on Valentine's Day from 11 am-8 pm.

We know the pandemic has been difficult, to say the least, but these Valentine's Day ideas are sure to reignite your passion. So get out of those sweatpants, grab your loved one, and get out to explore the best of the San Francisco Bay Area!
---

See all that San Mateo County/Silicon Valley has to offer! Order a Visitor Guide today and start planning your trip!